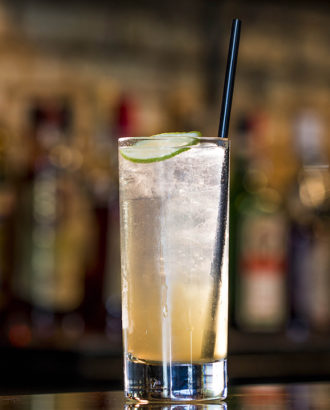 The classic gin and tonic gets a Mediterranean twist with the addition of soft white port and tangy lime cordial.
1½ oz. white port
½ oz. gin
½ oz. lime cordial (buy a commercial one, or DIY with the recipe below)
Tonic water
Tools: mixing glass, barspoon
Glass: collins
Garnish: lime wheel
Combine ingredients, except tonic water, in a mixing glass with ice and stir until chilled. Strain into a highball with fresh ice. Top with tonic water. Garnish.
Lime Cordial
12 medium-sized Persian limes
1 to 2 cups of sugar depending on how much juice is yielded.
Wash the limes first to remove wax or any chemicals. Then zest, making sure you avoid the pith as much as possible. Save the rest of the limes for later. Combine the lime peels and one cup of sugar together in an airtight container and muddle until oils express from the peels into the sugar. Let sit at room temperature overnight.
In a new jar, juice the limes from before and strain using a fine strainer and put in the fridge overnight. After 24 hours, measure the juice to make sure it's equal to the amount of sugar you muddled with the lime peels (and add sugar if needed to even out the ratio between sugar and juice). Combine the juice, peels and sugar all together and stir until dissolved. Let the mixture infuse for about 30 minutes. Strain and bottle. Keep refrigerated. It can remain fresh for about a month.
Benjamin Krick, Juniper Tar, San Antonio