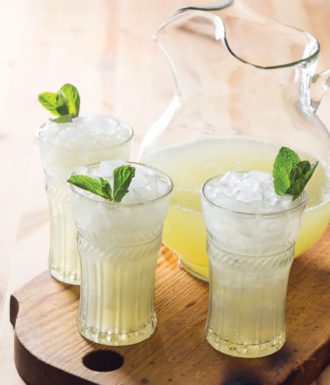 Summer gatherings are ideal for the cooling power of mint-laced Mojitos, and this version uses mint syrup to make the drink a little easier.
9 oz. white rum
4 ½ oz. fresh lime juice
3 oz. mint syrup
10 oz. chilled soda water
Combine the rum, lime juice and mint syrup in a pitcher and chill for at least 1 hour. When ready to serve, stir in the soda water and add crushed ice. Garnish with a mint bouquet. Serves 6.
Mint Syrup
6-8 sprigs fresh mint
16 oz. rich simple syrup (2:1)
Bring a small saucepan of water to a boil. Gather the mint by the stems and plunge into the boiling water for 15 seconds. Remove the mint from the boiling water and immediately submerge in a bowl of ice water for 1 minute. Pat dry on a clean towel. Remove the leaves and add to a blender with the simple syrup. Blend for 1 minute, then fine-strain into a clean bottle. Keep refrigerated for up to 2 weeks.
Jeffrey Morgenthaler, Jeffreymorgenthaler.com