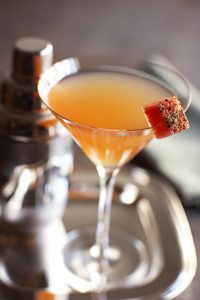 Honey makes a fantastic cocktail ingredient, especially in syrups. This recipe combines honey with  peppercorns in a syrup that pairs with fresh watermelon, lemon juice and gin.
1 1/2 oz. gin
3/4 oz. black pepper honey syrup (see below)
1 oz. fresh watermelon juice
1/2 oz. fresh lemon juice
Ice cubes
Tools: muddler, shaker, strainer
Glass: cocktail
Garnish: cube of watermelon dipped in ground pepper
Muddle the watermelon in a shaker, add the remaining ingredients and shake with ice. Double strain into a chilled glass and garnish with a cube of watermelon dipped on one side into ground black pepper.
Black Pepper Syrup: Add 4 tablespoons of black peppercorns to a hot pan and heat gently until you can smell them. Remove from heat. Boil 2 cups of water and add the peppercorns. Cook for 3-5 minutes, then remove from the heat and strain the solids out. Measure the remaining liquid and add enough water to bring it back to two cups. Return to the heat and stir in 2 cups of honey until dissolved. Cool, transfer to a bottle and refrigerate for up to 2 weeks.
H. Joseph Ehrmann, Elixir, San Francisco