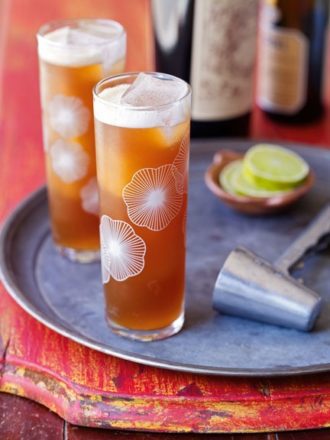 You won't find many cities with as strong an affinity for Fernet Branca as San Francisco. Like the generations of Italian Americans that call the city home, locals sip the bracing Italian amaro—which is a staple ingredient in cocktails across San Francisco—straight as a digestif or followed by a chaser of ginger ale. One of 50 recipes featured in Imbibe's book The American Cocktail, this Eva Peron cocktail (whose name is inspired by another Fernet-loving culture: Argentina) combines the classic combo of Fernet and ginger for a potent cocktail that proves bitter can be bella.
1 oz. Fernet Branca
1 oz. Carpano Antica sweet vermouth
1 oz. ginger liqueur
1 oz. fresh lime juice
1 oz. ginger beer
Tools: cocktail shaker, strainer
Glass: Collins
Garnish: lime wheel
Combine the Fernet Branca, sweet vermouth, ginger liqueur and lime juice in an ice-filled shaker. Shake well and strain into an ice-filled Collins glass. Top with ginger beer and garnish.
Darren Crawford for Bourbon & Branch, San Francisco