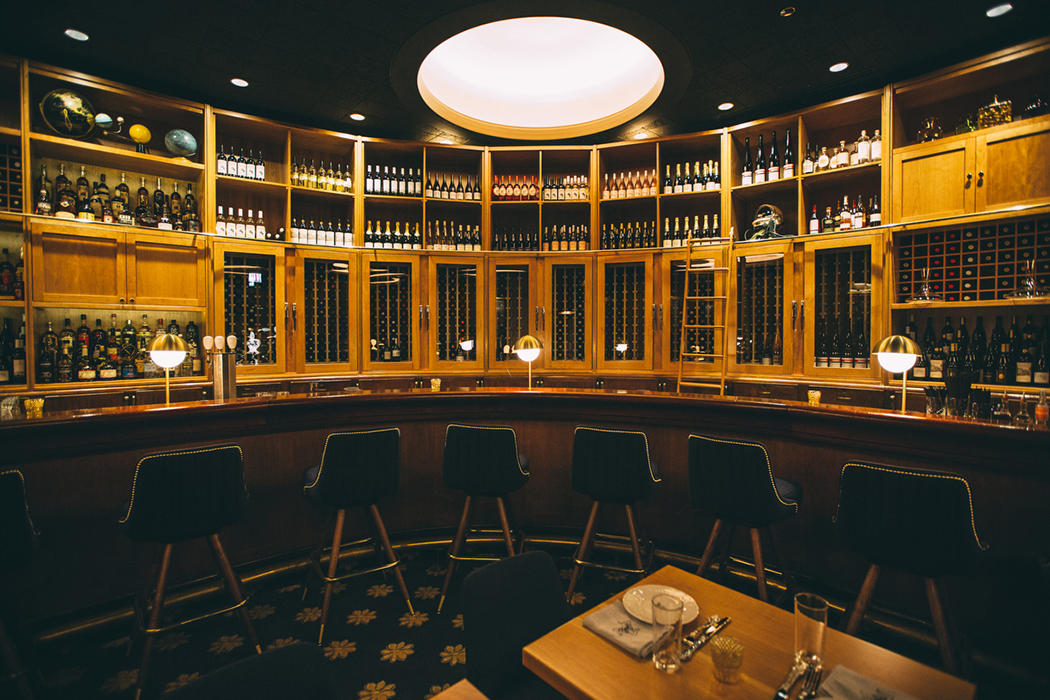 In the May/June 2015 issue, we featured a sweeping look at the history of craft cocktails in Chicago. The city's dynamic crew of talented drink makers continues to grow, so we're highlighting a few bars that have opened since that story first went to print. Here are five new Chicago spots that are raising the standards for good drinks.
Chicago Athletic Association
The new face of the recently renovated Chicago Athletic Association Hotel can be summed up in one word: grandiose. There's much to be said for the jaw-droppingly beautiful architectural elements that remain intact throughout the historic building–but we're here to talk about the four new bars located within its walls. Orchestrated by Land and Sea Dept. (Longman & Eagle, Parson's Chicken and Fish) and overseen by bar master Paul McGee, the bar programs differ slightly from concept to concept. The Game Room (complete with a full bocce-ball court, shuffleboard and a variety of board games) keeps things playful, quirky and lighthearted with a frozen Fernet and blackberry cocktail and whimsical highballs (including the room's eponymous drink); The Cherry Room is an elegant, Mad Men-esque den that puts vintage and classic Chicago-centric cocktails in the spotlight; and the apothecary-like, eight-seat micro-speakeasy The Milk Room serves an impressive array of vintage drinks made with equally vintage spirits (such as obscure bottles of Chartreuse). And the bright, lounge-like rooftop bar overlooking Millennium Park and it's iconic landmarks matches the delicious cocktails at Cindy's (not managed by McGee) with an equally impressive view.
Presidio
Taking inspiration from the West Coast-style of drink making, feisty local consulting company The Dogma Group (Clint Rogers, Brian Sturgulewski and Alex Renshaw) crafted a program ripe with carefully chosen agave spirits, fresh fruits and herbs. Part of the menu is dedicated to "classics from the Bay," with drinks including a traditional Pisco Punch and a Tommy's Margarita as nods to the bar's San Francisco inspiration, while the other half showcases the team's mixing prowess with originals like the perky Flash in the Pan cocktail. There's also a great selection of wine and beer from California for those looking to drink in more of the Golden State's abundance.
Pub Royale
You don't see many India-inspired pubs with excellent drink programs, but the latest from Chicago's Heisler Hospitality (Sportsman's Club, Trenchermen, Lone Wolf) has successfully taken on this mission. An eclectic craft-beer list curated by beverage director Michael McAvena (Publican) provides a solid baseline for the drinks program, with a boozy mango lassi and small list of creative "cups" composing the cocktail side of the menu. The four cups are inspired by the classic Pimm's Cup, and are made with a local iteration of the British liqueur from Letherbee Distillers. Our favorite is the Royale Cup #4, a mashup of the classic Pimm's Cup and tropical Jungle Bird cocktails.
Broken Shaker
After resounding success with their first Miami location, the team behind the Freehand Hotel delivered its special brand of boutique tropical vibes to the Windy City earlier this month. The Chicago outpost of the James Beard Award-nominated bar isn't a cookie-cutter replica of the original; befitting the local climate, the Chicago bar is completely indoors and stuffed with cozy nooks and fireplaces, with glassware made by local artisans and a menu that will rotate seasonally (instead of every three weeks like in Miami). Freddie Sarkis (Sable, Celeste) manages the drinks offerings, which are broken into Broken Shaker staples and Chicago-inspired tipples. They've set a new standard for creativity with selections like the Sherry Cobbler on tap and The Godmother, a delectable blend of roasted corn reduction, amontillado sherry, citrus and Mezcal Vida, dressed with chapulin (grasshopper) herb salt.
The Betty
Located in a sweeping 5,000 square-foot warehouse-like space in the Fulton Market district, the newest restaurant and bar from the Footman Hospitality team (Bangers & Lace) looked to retro Chicago taverns for visual inspiration, and to modern drink trends to inspire the beverage menu. Veteran barkeep Peter Vestinos (Naha, Sepia, Winchester) directs a versatile program where gin plays a large role, with a rotating gin-and-tonic table-service option that lets guests do the mixing themselves. Cozy up in one of the overstuffed armchairs for a nightcap (they offer three, including a milk punch made with agricole rum, jamaican rum, ginger liqueur, spices and clarified milk), or sit at a table for an aperitif and some of the tasty nibbles from chef Rachel Dow (who originally cut her chops as executive sous chef at avec).