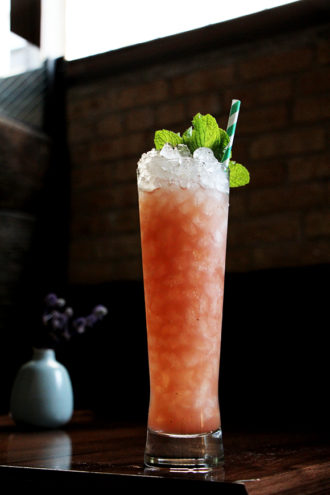 Chicago's Presidio infuses a West Coast sensibility into their excellent cocktail program, highlighting fresh juices, herbs and seasonal ingredients. The Flash in the Pan tastes like sunshine in a glass, as perky grapefruit and tart cherry tease out juniper notes from the gin, while pops of black peppercorn add a little zest to the mix.
2 oz. Junipero Gin (Anchor Distilling)
1½ oz. grapefruit juice
¼ oz. fresh lime juice
¾ oz. tart cherry black pepper syrup
Tools: shaker, strainer
Glass: Collins
Garnish: fresh cracked black pepper and mint
Combine all of the ingredients in a shaker with ice and shake to chill. Strain into a glass filled with crushed ice. Sprinkle fresh cracked pepper over the top of the ice, then garnish.
Tart Cherry Black Pepper Syrup
4 oz. Tellicherry black peppercorns
32 oz. 100% tart cherry juice
32 oz. white granulated sugar
Heat the peppercorns in a pan on medium heat for 10 minutes. Pour into a blender. Add the cherry juice and sugar. Blend until the sugar dissolves. Pour into an airtight container and let sit for 24 hours. After 24 hours, strain through chinois and cool. Makes about 4 cups.
The Dogma Group, Presidio, Chicago