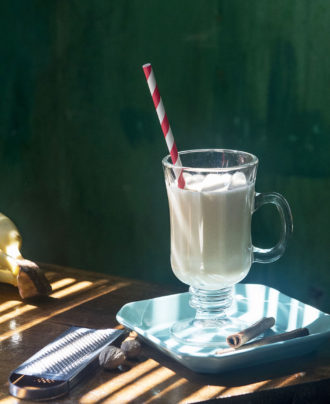 Taking notes from the classic Bananas Foster recipe, this holiday cocktail featured in the new Cuban Cocktails book tastes like a tropical hot buttered rum.
1 oz. spiced rum
1 oz. banana-infused rum
4 oz. water
½ oz. demerara syrup
½ Tbs. unsalted butter
Tools: saucepan, whisk
Glass: mug
Garnish: cinnamon and nutmeg
Combine the ingredients in a pan and bring to a boil while whisking. Pour into a mug and top with grated cinnamon and nutmeg.
Banana-Infused Rum
1 750mL bottle demerara 151 rum
3 very ripe bananas
In a large bowl, mash the bananas and add the rum. Chill for 48 hours in the refrigerator, and then fine strain. The rum will keep indefinitely in your liquor cabinet.
Reprinted with permission from Cuban Cocktails published in 2015 by Sterling Epicure, an imprint of Sterling Publishing Co., Inc. © DeRossi Global LLC. Photography by Gabi Porter