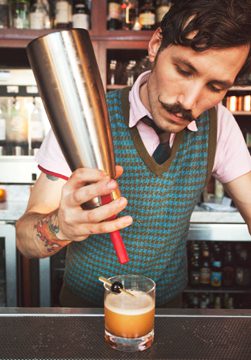 Bergamot-infused bourbon meets with an apple cidery tang and a touch of ginger in this cocktail from Austin bartender Adam Bryan. Bryan tops the drink with a ginger liqueur foam from an iSi charger, but you can simply add a splash of the liqueur to the cocktail shaker.
2 oz. Earl Grey-infused bourbon (see below)
1/2 oz. apple cider vinegar
1/4 oz. simple syrup (1:1)
1/4 oz. ginger liqueur
1/4 oz. fresh lemon juice
Tools: shaker, strainer
Glass: Old Fashioned
Garnish: brandied cherry
Combine all ingredients with ice and shake. Strain into an Old Fashioned glass and garnish.
Earl Grey-infused bourbon: Combine 2 oz. of loose Earl Grey tea leaves in 750 ml. of bourbon. Let steep for 24 hours and strain into a glass bottle.
Adam Bryan, Bar Congress, Austin