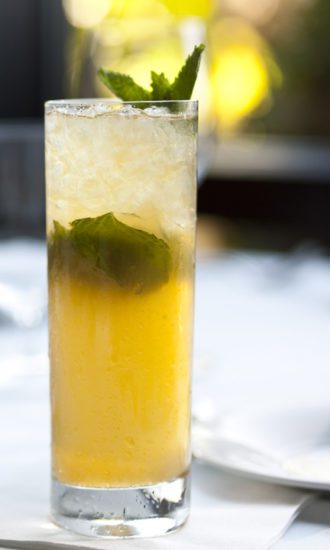 This could be the ultimate breakfast cocktail. Created by Jeff Hagley at Atlanta's Restaurant Eugene, the drink plays off the classic southern flavors of sweet tea and mint, and adds orange juice to the mix. Just add sausage and biscuits.
3 mint leaves
1 1/2 oz. bourbon
3/4 oz. Bärenjäger honey liqueur
1 oz. fresh orange juice
4 oz. brewed orange pekoe tea, chilled
Tools: shaker, strainer
Glass: Collins, chilled
Garnish: mint sprig
Fill a shaker with ice. Bruise 3 mint leaves between your fingers, then add them to the shaker. Add bourbon, Bärenjäger and orange juice. Shake and strain into a chilled, ice-filled Collins glass. Top with brewed tea, then garnish.
Jeff Hagley for Restaurant Eugene, Atlanta