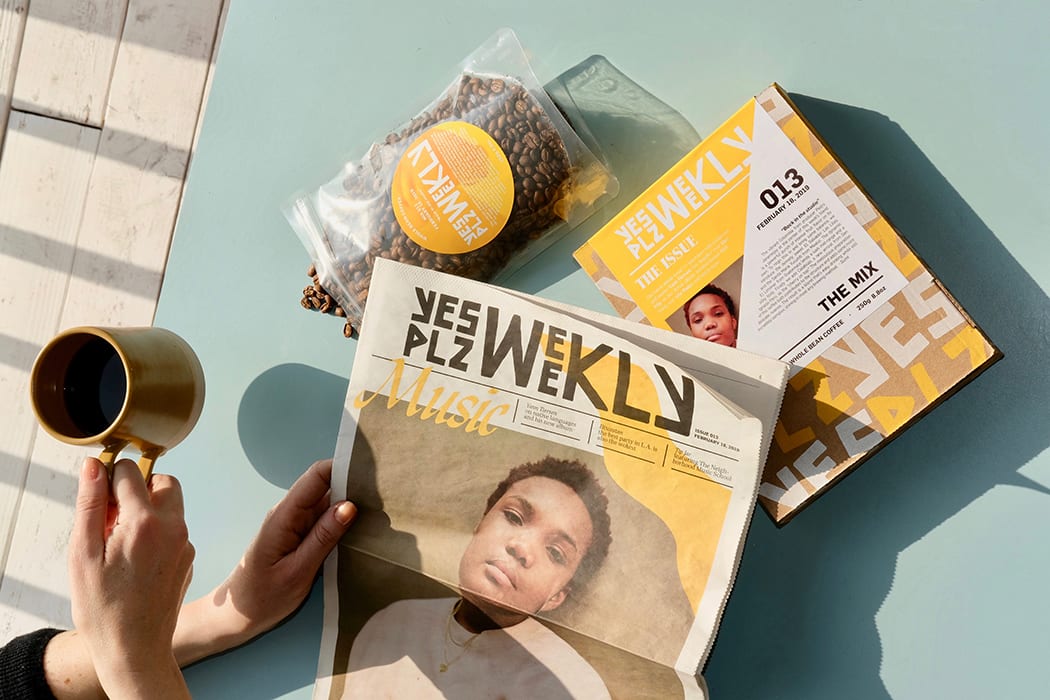 When Tony "Tonx" Konecny sold his eponymous subscription coffee roasting service to Blue Bottle in 2014, he assumed he was closing that chapter of his career. "I was pretty sure after selling Tonx Coffee I didn't have a strong desire to ever do this again," Konecny says. But, as any forward-thinking entrepreneur would, Konecny stowed away the name of his next venture in his back pocket. The name, Yes Plz, seemed light-hearted and fun, an endorsement you'd nonchalantly relay via text. "It just felt like the extreme casualness of that was in contrast to how stiff and formal everything was," says Konecny. "People looking for these multisyllabic or high-minded culinary terms for their coffee company names, and I just wanted to see things go in a different direction."
Konecny had spent over a decade in specialty coffee. He'd worked as head roaster for Victrola Coffee, he'd helped open Chicago-based Intelligentsia's first Los Angeles location, and he founded Tonx Coffee in 2011, where he brought on self-taught roasting star Sumi Ali. Ali had been involved in the industry since he was a teen, running Atlanta's Condesa Coffee before linking up with Intelligentsia in Los Angeles, then opening locations for G&B Coffee before joining Konecny at Tonx. Turned out they both had the same question about the approach of many coffee companies today: Does it have to be so serious? "They make good coffee seem like it's sitting at the summit of this mountain that very few can climb, and I think that's really disempowering," Konecny says. And so they decided to bring things back down to Earth.
In May 2018, Konecny and Ali launched a Kickstarter campaign for their Los Angeles-based coffee subscription service called, you guessed it, Yes Plz, which they billed as "an insanely delicious, ever-evolving mix of the best coffees, roasted fresh, and a gratuitously eclectic print magazine produced each week by our small team of weirdos." They reached their funding goal in one week.
By 2018, the market was teaming with coffee subscription services. Commercial coffee chains offered them as did smaller roasters and companies sourcing from a smattering of roasteries. But to Konecny and Ali, none of these offerings were really inspiring people to enjoy coffee at home. "Five years [after Tonx Coffee], it still felt like there was nobody with hardcore coffee chops putting the home coffee consumer first," Konecny says. "The people who buy a bag, take it home and brew it themselves are the customers we should care about the most."
The way Yes Plz sees it, coffee enjoyment begins in the home. And as roaster, the question for Ali was: "How do I deliver something that's going to be the lowest friction way for someone to have a successful coffee experience at home?" The answer, they found (at least in part), is blends. "In the last few years blending has kind of become the coffee dumpster for roasters, where maybe the coffees are a little old, or the cheap stuff, or it's just there for wholesale customers and no one really cares about it," says Ali. Instead, Ali and Konecny see exceptional blends as a way to even out the highs and lows caused by the wild differences in coffees, which can sometimes alienate drinkers—a pathway to a perfectly balanced brew.
Another shift from the industry standard? No tasting notes. Throughout his career, Ali had seen consumers react with confusion to the descriptions offered in tasting notes. " 'I don't know what a starfruit tastes like,' or '…Is this white peach? I don't know, it kind of just tastes like coffee,' " he says. Yes Plz just wants to know, do you think this tastes good? Success!
Beyond the beans, Yes Plz aims to return to a more "analog" coffee experience. Each shipment includes a 'zine (with Konecny at the helm) that tackles topics ranging from the American prison system to musician interviews with the likes of Orville Peck and Japanese all-woman punk band CHAI. "In the ideal coffee bar, there's this salon environment where you're going to meet all these interesting people from different walks of life that you might not encounter in normal 'day to day' existence. Inside the pages of the 'zine, we can give you those voices and perspectives," Konecny says. The way they imagine it, customers brew the beans in their preferred style, grab their favorite mug, find a comfy seat, then read and sip.
November marks the one-year anniversary for Yes Plz, which has grown to include nearly 1,000 active accounts in 49 states, and Konecny and Ali are already looking to expand internationally, with lofty aspirations for pop-up events and even a record label. But for now, they just want to make sure you like what's in your cup. "Let's make coffee at home fun again," says Ali.
---
Did you enjoy this article? Get more of the best of liquid culture when you sign up for a print or digital subscription to Imbibe Magazine. Click here for special savings!