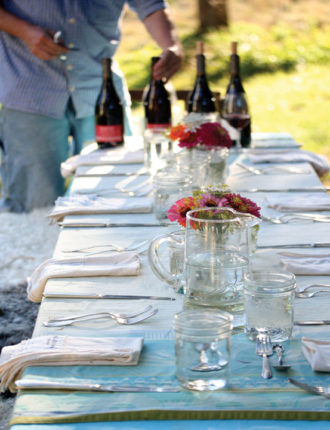 Want to host an outdoor wine dinner of your own? In the newly released The Picnic: Recipes and Inspiration from Basket to Blanket, co-authors Marnie Hanel, Andrea Slonecker and Jen Stevenson offer tips for making the most of outdoor parties, with lots of picnic-ready recipes. Here are a few highlights:
Make the most of Mason jars. From a utensil caddy to a cocktail shaker to a compost collector, Mason jars are worth their weight when it comes to outdoor dining. Plus, the lid and screw-tight ring keeps contents inside the jar during transport. They also double as drinking glasses, and you can keep bugs at bay by removing the lid, topping the jar with a piece of paper with a hole for a straw, and securing by twisting the ring back into place.
Forget me not. There's nothing worse than setting up your spread, then realizing you've forgotten a key element. A few things to remember? Wine/bottle openers (a utility tool with a corkscrew also works in a pinch), a multi-purpose knife and a cutting board that can be used for both prep and presentation.
Bottle up. Prebatched and bottled cocktails help simplify picnicking and are a great way to get the party started before you uncork the wine. Whip up a big batch of aperitifs and funnel into large swing-top bottles ahead of time and portion into smaller glasses, topping with ice and seltzer when ready to drink, or for single-serving sizes, cap smaller bottles (with bottle caps and a crown capper) and chill until ready to drink (just remember that single-serving bottles are best suited to fizz-free cocktails).
Double-duty ice. Instead of opening that bag of ice and dumping it into your cooler, keep it packaged and place the bag on top of your goods—this will keep the contents from getting soggy and give you instant ice to scoop from and add to drinks. Also, freeze water bottles ahead of time to help keep the chest cool—as the water melts the bottles work double duty as water jugs.