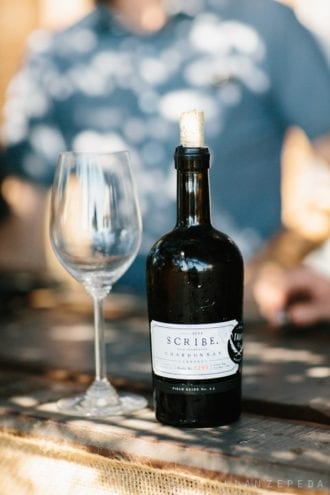 Finding ways to stand out on wine shelves can be increasingly tough. With so many wineries setting themselves apart with innovative production techniques and label designs, what's the next frontier? For a handful of producers, it's the shape of the bottle itself.
Wineries like Scribe, Ca' Momi, La Sirena and Uproot have been experimenting with shorter, smaller, squatty-looking bottles. For Andrew and Adam Mariani at Scribe Winery, a petite 500 mL. bottle is used to house a skin-fermented Chardonnay. "Everything about the wine is atypical, so it made sense for the bottle to be as well," the Mariani brothers explain, adding that their favorite part of the design is the bottle's curves. "The smaller format distinguishes this Chardonnay from our other Chardonnay bottlings, is a nod to some of our favorite skin-contact wines from Italy and Slovenia who sometimes use alternate format bottles, and fits well in a purse or back pocket."
For Heidi Barrett, owner of La Sirena Winery and Barrett & Barrett Wines, the squat shape of the Pirate Treasured bottle reminded her of the look of classic Port bottles. "I looked at it more like a rum bottle shape to suit the theme of the wine," she says.
Similarly, the resemblance to Port bottles was part of the appeal For Uproot Wines, which bottled a Sauvignon Blanc in the new shape. "There are so many traditions in the wine business, especially bottle design, that it was nice to break the mold," says Uproot partner Greg Scheinfeld. "This is weird to say because I drink wine all the time, but for people who don't drink a lot, it's the perfect bottle for two good-sized glasses of wine and nothing goes to waste."
And at Ca'Momi, the allure of the Corta bottle was that it was designed based on an ancient Italian bottle style that was originally made for royalty. "We like how it looks so precious and is deceptively petite," says marketing director Paul Englert. "We were originally attracted to the bottle for its style and aesthetics, but it has a lower carbon footprint due to its lighter weight and smaller case dimensions, and easier portability when you're taking a bottle to a restaurant or friend's house."
Sinceodd shapes might pose a challenge for retail shelves and wine racks (and for bottling lines), it may not be a trend that will transform the industry on a large scale, but Mariani expects more brands to play around with the concept. "I think people are starting to get more excited about alternative formats, weather it's 500 mLs, cans (we're making one), or liters," he says. "They just make more sense for some wines. I think we'll see people continue to experiment. It's wide open, it's still the Wild West."