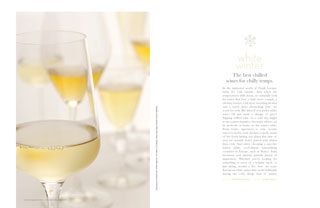 In the immortal words of Frank Loesser, baby, it's cold outside. And when the temperatures shift down, we naturally look for wines that have a little more oomph, a chewier texture, a bit more warming alcohol and a touch more rib-sticking fruit—we reach for reds. But what if you prefer white wine? Or just want a change of pace? Sipping chilled wine on a cold day might seem counter-intuitive, but many whites can be perfectly at home on the winter table. From festive appetizers to rich, creamy sauces to herby roast chicken or pork, many of the foods hitting our plates this time of year are actually better paired with whites than reds. And when choosing a sure-fire winter white, cool-climate winemaking countries in Europe, such as France, Italy, Germany and Austria, provide plenty of inspiration. Whether you're looking for something to serve at a holiday meal, or just sitting around a fire, here are some European white wines that work brilliantly during the cold, damp days of winter.
Chardonnay
Over the last decade, over-oaked, over-ripe Chards dominated the market, leaving serious wine enthusiasts scoffing at the idea of drinking this varietal. But those clever winemakers in France—especially in Burgundy—have stayed on the traditional course with Chardonnays, making wines that offer the characteristic intensity and heft of the grape, but with plenty of mouth-cleansing acidity.
Burgundian winemakers make two types of Chardonnay. Those from the Chablis area generally eschew oak altogether, sticking with a straight stainless-steel regimen. Full-bodied yet crisp, these wines are perfect with the rich sauces of winter. The ideal match is the winter-warming pauchouse, a Burgundian fish stew with butter and cream, but any shellfish dipped in butter will create an impeccable match. Try the Drouhin-Vaudon Chablis Reserve ($30) and Jadot's Chablis ($26), both with a bit more power and better-balanced acidity than you usually find at the price.
The rest of Burgundy often uses a hint of oak, but with a deft touch that brings a light vanilla aroma, depth and complexity. And both Drouhin and Jadot's lightly oaked Meursaults ($45) possess the area's characteristic nuttiness. Wine importing legend Kermit Lynch is a Burgundy lover who is constantly on the hunt for bargains. Try the lower end of his list of Burgundies—wines like the Henri Perrusset Macon-Farges ($19) or Domaine de la Cadette Bourgogne Blanc ($16), both of which have enough tangy acidity for a rich roast turkey or chicken.
Gewürztraminer
Gewürztraminer is grown all over the world, but the terroir of France's Alsace region and Italy's Alto Adige both suit the grape flawlessly. These flavor-packed wines are heavily perfumed with aromas of roses and lychee and just enough spice to make it a good match with food, particularly spicy Asian dishes.
The Alsace versions vary from bone dry to a honeyed sweetness, so it's important to get help from a salesperson or sommelier who can explain what you're buying. Albert Mann's Gewürztraminer Steingrubler ($37) is a consistent favorite for its reasonable price and the explosion of floral aromas. Trimbach's Gewürztraminer "Cuvée des Seigneurs de Ribeaupierre"($40) is another winner. They only make it in the best years, and it's among the most well-structured Gewürztraminers on the market—dry with an ideal balance between perfumed aromas and spicy flavors. It's the perfect accompaniment to a festive ham or any pork-based dish.
Italian Gewürztraminers come from the Alto Adige area, up against the Dolomite mountains. They also range in sweetness, though not to the degree of those from Alsace. They also tend to be less viscous in the mouth and usually cap out at about 13 percent alcohol. Every large winery makes Gewürztraminer, but two of the most successful are Tiefenbrunner's Südtirol Castel Turmhof ($20), a great choice for folks who like a little acid in their Gewürz, and for a splurge, the J. Hofstätter Kolbenhof Gewürztraminer ($50), a perfectly balanced wine that can age gracefully for up to 20 years. These wines are delicious complements to a not-too-sweet apple pie.
Grüner Veltliner
Though virtually every winemaking country is experimenting with this grape (pronounced GROON-er VELT-linn-er), no one, not even other old world makers, have been able to touch Austria's Grüner. Its most exciting trait—and the one that makes it the perfect winter wine—is the unforgettably heavy hit of white pepper in the aroma.
One dependable bottle is the Schloss Gobelsburg Grüner Veltliner Gobelsburger ($14). A bargain wine with heaps of character and complexity, it's the perfect mate for traditional foods like schnitzel, or zesty mustard- and herb-crusted roast chicken or pork. It also complements Indian cuisine nicely.
The best Austrian Grüner Veltliners tend to exceed $50, sometimes more. In that price category, there are hundreds of tiny brands, but not all are worth the money, so if you want to try some of the more obscure Grüner Veltliners, be sure to have a knowledgeable wine shop steward help steer you to the best choices. Otherwise, two names you can easily trust year after year are F.X. Pichler ($27 to $100) and Familie Nigl ($15 to $50).
Pinot Blanc/Pinot Bianco
Despite Pinot Blanc's delicious apple aromas and rich mouthfeel, it suffers an image problem from being over-cropped until the wine ended up often becoming watery and boring. But things are changing quickly. Although the grape is originally French, Italy is the place that has claimed it as its future, especially in the foothills of the spectacular Dolomite Mountains. The Alto Adige area is covered with Pinot Bianco vines, and almost all of the wineries make more than one version. Many are even experimenting with oak, often with good results.
A good bet is the St. Michael-Eppan Alto Adige Pinot Bianco ($13). It's spectacular with a rich mouthfeel and huge green apple aromas—certainly one of the best of Italy's Pinot Bianco at a fantastic price. Another prime example is the Alois Lageder Pinot Bianco ($14). Both are spot-on matches for creamy, cheesy dishes like vegetable gratins.
France's versions, known as Pinot Blanc, come mostly from Alsace and are a touch less apple-y with more minerals and chalk. Though not profound wines, they're still nuanced, and the best of them can stand up to rich meat stews. To really understand what a prime Alsace winemaker can do with this often simple grape, look for a bottle of Domaine Marcel Deiss Pinot Blanc Bergheim ($20), a full-bodied, fruity wine that's incredibly food-friendly.
Pinot Gris
In Italian hands, Pinot Gris (aka Pinot Grigio) tends to be light and crisp—perfect for summer. But the people of Alsace make Pinot Gris with huge extraction and powerful fragrances—perfect for fall and winter. In fact, they don't think twice about serving it with baeckeoffe, their rib-sticking multi-meat stew, or the potent sauerkraut and sausage dish choucroute Alsacienne.
For the full-bore approach, try Zind-Humbrecht's Pinot Gris ($18) with 15.8 percent alcohol. Or for something a little lower in alcohol, try Trimbach's Pinot Gris Reserve ($19), which is widely available and always reliable. The Zind-Humbrecht has the power to match up with foie gras, and both are excellent with roasted pork loin.
In Italy, the best Pinot Grigios come from the cool areas in northeast Italy, especially in the Alto Adige. Cantina di Terlano Pinot Grigio ($16) is a big-boned wine that will do well with rich cream sauces. Collio is another notable wine area in northeast Italy, bordering Slovenia. Marco Felluga's Pinot Grigio Mongris ($18) has just a kiss of oak, which adds some depth, and it's a perfect match with an
ything that incorporates polenta.
Riesling
Riesling is probably the ideal winter white grape. The drier versions work with roast turkey and ham, while the sweeter varieties can be dessert in and of themselves. As a bonus, the colder regions (except Alsace) yield low-alcohol wines, often under 10 percent, which means you don't feel quite as sluggish the next morning as you would after a Rabelaisian night drinking 16 percent alcohol Pinot Gris.
Though good Rieslings come from all over the world, Germany is most famous for the style. German Rieslings are labeled by their sweetness, and as that sweetness goes up, so does the price. If you can't make sense of the confusing German labels and don't know the wines, then ask a wine steward to point you to the best buys. Having a rustic pear tart? Go with a sweet Riesling, such as Weingut Robert Weil's Kiedricher Gräfenberg Riesling Auslese ($60). Looking for a match for shellfish? Try a dry version, such as S. A. Prüm's Ürziger Würzgarten Riesling Kabinett ($25).
Sparkling Wines
People often ask if there's a single perfect style of wine for all foods. The answer is sparkling wine. The carbonation works in tandem with the wine's bright acidity to create a sort of scrubbing bubbles for the mouth. Really, any food works, but sparklers are particularly welcome with rich pastry- or cheese-heavy hors d'oeuvres, fried nibbles, and salty or spicy entrees flecked with things like bacon or capers.
Sparkling wines come in every price range, like the delicious and inexpensive offerings from Italy's Trentino and Alto Adige. Two that are always worth searching out are Ferrari Brut ($25) and Cavit's Luneta Prosecco ($11). Italians drink Prosecco casually, without fanfare. It's not Champagne, but for budget-minded drinkers, it's a great alternative. Drink it as an aperitif with passed appetizers, secure in the fact that, unless the app is very sweet, this wine will match seamlessly.
True Champagnes, i.e. from the Champagne region of France, range from mid-$20 all the way up to the rare Salon Blanc de Blancs, Le Mesnil-sur-Oger, which can set you back $300 or more. For a splurge that won't break the bank, try Ruinart Blanc de Blancs ($60), a toasty, floral sparkler with balanced acidity. Because of their cost, Champagnes are often relegated to celebrations, which is a shame since their faultless balance and bubbles make them perfectly food-friendly. And if you're trying to track down a very dry Champagne, remember that the French call their drier wines "Brut" and the more sugary versions "Extra Dry."
Dessert Wines
While ultra-sweet wines can seem heavy and cloying in the summer, come fall and winter, they make wonderful meal-enders, either as a separate course or in support of a rich cheese or slightly salty dessert. Despite the frequent misconception that dry = good, sweet = bad in wine, many of the world's best-tasting wines are in fact sweet, whether Sauternes, Trockenbeerenausleses, Sélection de Grains Nobles or Eisweins.
The dessert wines from Alsace tend to be robust and intense, sometimes overpoweringly so, while those from Germany, Austria and Northeastern Italy generally offer a bit more restraint, along with nectar-like flavors and floral aromatics. These wines deserve to be served on their own, though they can stand up well to the powerful flavors of Roquefort and other strong blue cheeses.
Because of local growing regulations and limited demand in the U.S., dessert wines from France, Italy, Germany and Austria tend to cost more than similar wines from New World countries, and the best Old World examples can be elusive stateside. But you can feel confident in any sweet wine from the recommended wineries under the Gewürztraminer, Grüner Veltliner, Pinot Blanc, Pinot Gris or Riesling headings above. Brands to especially look for include Albert Mann, Trimbach, Tiefenbrunner, F.X. Pichler, Familie Nigl, Alois Lageder, Domaine Marcel Deiss, Zind-Humbrecht, Cantina di Terlano, Marco Felluga, Weingut Robert Weil, and S. A. Prüm.
If you're in the mood to splurge, look for any wine by Austrian master Alois Kracher. Though his wines can be priced into the stratosphere, he does make one wine for the rest of us. The Alois Kracher Cuvee Beerenauslese is a blend of Chardonnay and Welschriesling, and for $35, you can enjoy a glimpse of his masterful style.
The German master Ernst Loosen brings the price down of his opulent Beerenauslese by offering small bottles, so you can find Dr. Loosen Riesling Beerenauslese for just $20. This wine has a luxurious mouthfeel and opulent aromas of the finest German Beerenauslese, so if a small quantity will do, it's a perfect introduction to German dessert wines.