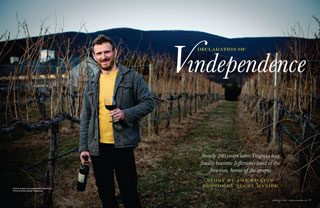 Driving south on Route 29, heading toward the heart of Virginia's Monticello viticultural area, it's easy to understand why Thomas Jefferson was so madly, deeply in love with the countryside here, and why he held such unwavering hope for growing his beloved vitis vinifera on its lush and lovely land. In the distance is the enchanting indigo majesty of the Blue Ridge Mountains. At the roadside, the curving, grassy-green landscape rolls along, rimmed by white split-rail fences and studded with fluffy sheep, black-and-white dairy cows, and shiny-coated horses.
But while Virginia's bucolic beauty seems to promise an agricultural paradise, the Founding Father could never really figure out how to get those grapes to grow—not for lack of trying. Jefferson brought cuttings from 23 vitis vinifera varietals back to Virginia from Europe with visions of vintage cork-popping dancing in his head, but sadly for the agrarian-loving leader, he would only live to watch them wither and die during his early 19th-century experiments from the rootstock-nibbling pest, phylloxera. If only the third President of the United States could see it and sip it now. The 1970s brought the first serious efforts to grow Virginia wine since Jefferson's early attempts. Now nearly 190 wineries call the state home, making it the fifth-largest wine-producing state in the country.
This success hasn't come without its challenges. The fickle, gloves-off weather patterns of the East Coast make grape-growing a series of vintage-to-vintage trials and tribulations. But ask any of the tenacious, challenge-loving winemakers among the Virginia's six official AVAs why they put up with it, and they'll tell you the same thing: They're addicted to the challenge of making a great wine when they haven't a clue what Mother Nature might hurl at them, and they relish the chance to show the world what they can do and which varietals thrive best in America's Old Dominion state.
An Italian's American Revolution
The 800-acre Barboursville Vineyards estate is arguably where Virginia's successful modern-day winemaking really began. After visiting the U.S. during the 1976 bicentennial, Italian-native Gianni Zonin—a member of one of the more prominent family-owned wine producers in Italy, with more than 4,000 acres of vine land spread across seven of Italy's grape-growing regions—fell in love with Monticello and the surrounding areas that now make up some of Virginia's best and brightest winemaking regions. But it wasn't just the Jeffersonian history that drew him in. He was struck by how similar the climate was to his native Vicenza in Northern Italy. The former estate of James Barbour, governor of Virginia during the War of 1812, was up for grabs, and so Barboursville Vineyards was born.
Today, under the deft hand of winemaker Luca Paschina, the winery has grown to be one of the largest producers in the area. It crafts about 40,000 cases annually from 13 varietals, with nods to the homeland like the 2008 Nebbiolo, which is faintly floral on the nose but with some great blackberry and cherry fruit, and a grounding note of tobacco. And the 2006 passito-style Malvaxia (they spell Malvasia with an "x" at Barboursville, just for kicks) smells of chestnut honey and apricots and is devilishly luscious on the tongue.
Barboursville Vineyards, 17655 Winery Rd., Barboursville, Va.; 540-832-3824
Growing Wine
To discuss Virginia wine and not invoke the name Gabriele Rausse is like talking about the American Revolution and skipping over, say, a guy named George Washington. "They all tell me I was going to fail," says Rausse in his thick Italian accent. And why not? When he arrived on the scene in 1976—as Gianni Zonin's pick to bring a little Italian vineyard management know-how to Charlottesville—there wasn't much happening on the wine scene in Virginia. Only one winery was attempting to grow vitis vinifera, and mostly Chardonnay at that. Still, Rausse felt drawn to the area. "It chose me," he says.
Encouraged by the challenge, he was determined to make Virginia a world-class wine-producing region. "You can plant if a plant is in the right place," he says simply, so that's what he went about figuring out. His initial failures were tough: In his first planting, he lost 30 percent of his crop. By 1983, though, he'd successfully grafted 19 of Thomas Jefferson's original 23 failed European varietals onto healthy rootstock, a feat that has earned him the sometime nickname of "Father of Virginia Viticulture."
Rausse started his own winery in Charlottesville in 1998, and when he's not crafting outstanding Viognier or surprisingly elegant Cabernet Sauvignon (a varietal not well known for its success in Virginia, but under Rausse's spell, is elegant and earthy in both his oaked and unoaked versions), he's fittingly the Associate Director of Gardens and Grounds at Monticello. Rausse does not keep a tasting room, but you can pick several of them up at the Greenwood Gourmet Grocery, which has the largest selection of Virginia wine for sale in the area.
Gabriele Rausse Winery, PO Box 3956, Charlottesville, Va.; 434-296-5328
Greenwood Gourmet Grocery, 6701 Rockfish Gap Turnpike, Crozet, Va.; 540-456-6431
Reds With Cred
The beautiful, vaulted-ceiling tasting room at Veritas, where empty bottles and barrels double as wall art and broad, leather couches and long wooden tables make for comfortable, at-your-leisure tasting, is enough to make you want to linger. But their reds truly make it difficult to leave. Since opening in 2002, British ex-pat Andrew Hodson and his daughter, Emily, have given a nod to their homeland with a plummy Port-style wine they like to call Othello and a plush Claret made of 55 percent Merlot, 30 percent Cabernet Franc, and a bit of Petit Verdot.
As to that latter grape, in January 2011 Veritas released its first 100 percent Petit Verdot—rich with black cherries and licorice, and a bright, minty edge. For that wine, he and Emily go for a more extracted style by extending the maceration on the skins for three weeks, which shows in this wine's deep, rich ruby color. Says Hodson, "I think it's the future of Virginia wine."
Veritas, 145 Saddleback Farm, Afton, Va.; 540-456-8000
French-Inspired Sparklers
To taste Claude Thibaut's creamy 2006 vintage Blanc de Blanc—all nougat and pears with a bracing green apple finish—is to wish that there were more than just 25 cases of the stuff made. Thankfully, there will be more where that came from, as Champagne-native Thibaut and his notable talents are here to stay. After coming to the States and crafting a 25th anniversary sparkling wine for Kendall-Jackson in Napa from 2000 to 2002, he wound up in Charlottesville, Va., in 2003, crafting the sparkling wines for Kluge Estate Winery that would soon become renowned.
By 2005, Thibaut struck out on his own, partnering with Champagne producer Manuel Janisson to create their own 2,000-bottle label, Thibaut-Janisson. Working almost exclusively with Chardonnay (he also makes a tasty, strawberry and cherry scented-sparkling rosé for Veritas, which can be sampled in their tasting room in Afton), Thibaut is excessively careful about when his grapes are picked in order to maintain his trademark green-apple finish. "In Virginia, there is a very short window to pick Champagne grapes, otherwise you'll go from green apple into white pear and, finally, pineapple."
Thibaut also works without a tasting room, but his wines are in shops across the state, like Whole Foods and Dean & Deluca, and Restaurant Eve in Alexandria keeps his sparkling wine on the list, too. Oh, and his Blanc de Chardonnay was served at last year's White House state dinner—not too shabby.
Thibaut Janisson, 1413 Dairy Rd., Charlottesville, Va.; 434-996-3307
Caring for the Land
When you pull into King Family Vineyards' 327-acre farm in Crozet, you quickly get the idea that being a good land steward is high on the priority list. On the left you'll see a broad swathe of open wetlands and a sign explaining it's a waterfowl restoration habitat, which the Kings established in a partnership with the North Atlantic Wetland Conservation Commission. On the right sit 15 acres of vines, from which the Kings' mostly estate-harvested wines are produced.
Winemaker and Rhône native Matthieu Finot takes a non-interventionist bent, opting for unfiltered wines that express the character of the land from which they come. "A good winemaker is doing nothing," he says. "The work should be done in the vineyard." Here, that means the harvesting, sorting and de-stemming are all done by hand for this boutique, 5,000-case operation that first put down vines in 1998.
Amble into the tasting room, where beneath a deer-antler chandelier you can sample Finot's skillful touch with oak, from his elegant, well-balanced 2009 Cabernet Franc, full of strawberries, plums and spice, to his 2009 Chardonnay, which undergoes malolactic fermentation and lee-stirring in barrels, resulting in a beautiful lemon-meringue and gently tropical-vanilla quality.
King Family Vineyards, 6550 Roseland Farm, Crozet, Va.; 434-823-7800
All-Estate-Grown
One of the newer kids on the block, owners David and Margo Pollak of Pollak Vineyards only opened their rustic-sleek, white clapboard tasting room in 2008, although they purchased the 100-acre farmland and put down vines for their all-estate-grown winery in 2003. Still, this was no whim for the former West Coast couple: They were bitten by the wine bug back in the 1970s, when the excitement of what could be in Napa spurred David to invest in one of the first wineries to give it a go in Carneros.
Of the eight varietals grown here, the reds really shine, like their 2008 Merlot, with its super soft, round tannins, black-cherry fruit, and nice, long finish. It spends 14 months in half-new, half-neutral French oak, and the easy, food-friendly 2009 Durant Red, a medium-light-bodied blend of equal parts Cabernet Franc and Merlot, reminiscent of a Beaujolais with a pretty strawberry aroma and just a little spice on the palate.

Pollak Vineyards, 330 Newtown Road, Greenwood, Va.; 540-456-8844