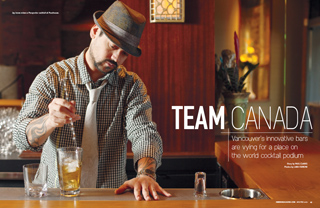 According to the murky vagaries of legend—and to Wikipedia, which can be pretty much the same thing—Rome was founded when a basket bearing the infant twins Romulus and Remus, sons of the god Mars, was snagged by the roots of a fig tree as the basket floated down the River Tiber. Nursed by a she-wolf on Palatine Hill, the twins are said to have established a city that would one day be the heart of an empire.
The founding of Vancouver, British Columbia, happened pretty much the same way—except instead of a basket on the Tiber, one of Vancouver's early founders came in a dugout canoe on Burrard Inlet. Instead of twins with divine parentage, he was a former steamship pilot known as "Gassy Jack"—his sobriquet a nod to his loquaciousness.
And instead of a city that would dominate and define Western civilization for centuries, Gassy Jack built a bar.
In the not quite 150 years since Gassy Jack Deighton erected the Globe Saloon, Vancouver has become a multicultural metropolis, a city of verdant parks, glass towers and a seemingly infinite number of takeout sushi spots. Like nearby Seattle, the Vancouver region is defined by sparkling bodies of water and snow-capped mountains, the latter so popular with skiers and snowboarders that this winter the area will host athletes from around the world who've come to compete in the Olympic Games. And as tens of thousands of Olympics spectators and fans venture out for evenings on the town, they'll find that Vancouver's top bartenders have been working on their best game as well. In a city that traces its origins in part to a talkative man who sold whisky to sawmill workers, Vancouver's bars are primed to compete on the world stage.
"I think the cocktail situation has reached the point where we've achieved some momentum, and it's just going to continue to grow," says David Wolowidnyk, bar manager at West, one of the city's top restaurants and bars. A career bartender, Wolowidnyk helped launch the Canadian Bartender's Guild last year and says that with the recent debut of craft-cocktail bars, such as The Diamond, Pourhouse and Corner Suite Bistro De Luxe, Vancouver is taking its cocktail culture to the next level. "With these places that have recently opened, the snowball is turning into a massive avalanche—it just keeps going."
That avalanche started around the turn of this century, when bartenders such as Chris Stearns, Jay Jones and Jamie Boudreau began to introduce creative cocktails to the then humdrum world of Vancouver bars. Challenged by obstacles like breathtakingly high import duties that make products such as tequila outlandishly expensive, and a lethargic government-run liquor system that means spirits that are considered essentials by American bartenders (such as straight rye whiskey, Cherry Heering and yellow Chartreuse) are either scarce or nonexistent in their bars, Vancouver bartenders have created a Galapagos of mixology, a place where cocktails have evolved independently from the rest of the drinking world. Using esoteric and hard-to-find products, such as Giffard liqueurs from France and niche vermouths from Italy, and raiding farmer's markets for Okanagan produce and restaurant kitchens for other ingredients, Vancouver bartenders have cultivated a cocktail scene that is distinctive yet robust—just in time for the Olympic crowds to order a round.
Gastown
Fittingly, several of Vancouver's top bars are in Gastown, the recently down-at-heel neighborhood of old brick buildings and odd-angled streets that was named for Gassy Jack and that grew up around his long-departed saloon, and that is enjoying a current-day renaissance. "Gastown has an amazing community feel," says Simon Kaulback, bar manager at Boneta, a restaurant and bar that opened in 2007 at the corner of West Cordova and Carrall. Kaulback says the bartenders who work at Gastown's growing number of craft-cocktail bars have developed a relationship that is collegial, not competitive, and that works to their mutual benefit. "We're such good friends—it's rare that a restaurateur will see the guy across the street as a friend. I've worked places where you wouldn't dream of going next door to borrow a bucket of ice; here, it'd be considered an insult if you didn't. You don't see that in a lot of places."
Boneta occupies a large, airy space, with works of local artists adorning the walls. The dinner menu is carefully crafted modern locavore, with fresh seafood, regional cheeses and house charcuterie, and the cocktail menu—created by Kaulback and co-owner Mark Brand, also a recognized craft bartender—shares the same level of devotion. The March '33, made with Alberta Premium 10-year-old Canadian whisky and Amaro Montenegro, a mildly bitter Italian amaro, is a revisioning of the classic Manhattan, and the Armada strikes into new territory, accenting tequila and oloroso sherry with Cinzano Orancio, an orange-flavored vermouth.
Just a block away is another recent addition to the city's cocktail scene: The Diamond, a classic bartender's bar with a crew of veteran Vancouver bartenders. Created by Brand and his partners Josh Pape (formerly the bar manager at Chambar) and Sophie Taverner (who tended bar at The Cascade Room), The Diamond opened last June in a second-floor space overlooking Gassy Jack Square, which is replete with a statue of Deighton perched atop a beer barrel. In addition to their regular dinner and drinks service, The Diamond offers occasional spirits seminars, hosts visiting bartenders and features other special amenities for dedicated cocktail aficionados.
The cocktail menu leans heavily toward contemporary classics, along with Diamond's interpretations. Modern standards, such as the scotch-based Penicillin and the Right Hook (a twist on the Red Hook that features Canadian whisky), are joined by house creations, such as the Tequila Martinez (made with bianco vermouth and peach bitters) and the lightly sweet and delicate Pera Floridita, with Havana Club rum, pear nectar and crème de cacao among the ingredients. (And while The Diamond is a great cocktail destination, its Asian-themed kitchen shouldn't be overlooked; the diners packing its 60-seat room are there for more than just the drinks.)
In the Crosstown region between Gastown and downtown, the Belgian restaurant Chambar offers cocktails creative enough to compete with the restaurant's impressive beer list. Bar manager Wendy McGuinness designed a drink menu that features cocktails such as the Strong Sour Type, which includes bourbon, oloroso sherry and apricot liqueur, and the Kingston Crown, with allspice-infused rum, mango juice and ginger beer.
On a busy pedestrian street a half-block from Gastown's landmark steam clock, Pourhouse, which opened in late September, is the area's newest cocktail destination. Remaining true to the neighborhood's historic character, Pourhouse evokes the era around the turn of the last century. The bar area is designed saloon style, with a bronze mirror wrapped with mahogany above the bar and a vintage boiler (adapted to dispense draught beer) centered on the back bar, with ice stations on either side. The bar is made from reclaimed Douglas fir first utilized in the 1920s, with a rustic appearance that matches the space's fir beams and cedar ceiling.
While the emphasis is on creative cocktails, the menu is tiny—three classic cocktails, plus another three original drinks—and the bar has been designed so that most bottles are out of sight. The goal, says co-owner Jay Jones, is to free customers from feeling constrained by menu options or the look of a stylish bottle, and to instead let the bartender custom-make a drink just for them. "Our guests' experience will always include a little bit of us; we don't want them to be influenced by the look of a bottle," Jones says. "We'll have an arsenal of drinks we hang our hat on that exemplifies our style, but the mood and style of the guest should determine the drink that's best for them."
Cocktail Kitchens
Vancouver has long had one of the most vibrant culinary scenes in North America. So it's no surprise that some of the city's best bars are located in excellent restaurants.
In an expansive, indulgent space in the South Granville neighborhood south of downtown, West is a world-class dining destination with a bar that's as impressive as its menu. Backed by an imposing wall of wine accessed by library steps, the bar is helmed by David Wolowidnyk, who oversees a drink program that manages to overcome the challenges posed by the province's liquor regulations by working closely with the restaurant's chefs.
"Since we can't get the diversity of alcohol products [that many bars in the U.S. can], a lot of us have embraced the kitchen," Wolowidnyk says. "We've done our best with taking flavor profiles that might not otherwise be associated with the bar, and running with that. We try to add a level of complexity, because perhaps we are at a loss of complexity when it comes to the availability of liquor."
West's four-page cocktail menu includes classics, such as the Delmonico and the Straights Sling, along with originals, such as Clearly the Heir—a stripped-down interpretation of a Bloody Mary with the British Columbia-made Victoria Gin, tomato water and celery bitters—and the Passage to India, made with mango liqueur, jalapeño and curry on a base of Havana Club rum. While the flavor combinations may look surprising on paper, in the glass they work in a remarkably elegant way.
In downtown Vancouver, the bartenders at MARKET by Jean-Georges—which opened early last year in the Shangri-La Hotel—also incorporate kitchen ingredients with great success. The house cocktail menu is the same as that at other restaurants operated by Jean-Georges Vongerichten, but bar manager Justin Tisdall encourages guests to let the bartender create something best suited to their tastes. "It's always a good idea to ask the bartender for something special," he says.
Market-fresh drinks and cocktails made with house ingredients can sometimes be exceedingly complex, resulting in flavors that seem murky or chaotic. Tisdall, however, uses a light hand to keep the flavors crisp and nuanced in drinks such as the Agua Turbias, which balances a mix of tequila, vermouth and Amaro Montenegro with a honey syrup flavored with cinnamon and allspice; or in a late-summer drink that matches bourbon with fresh watermelon, black pepper and lemon juice.
Further south, on a stretch of Granville Street with more than its fair share of boisterous bars and cacophonous clubs, bartenders at The Refinery also raid the restaurant's impressive kitchen. While the food menu features cured meats, pâtés and seafood, the bar offers drinks such as L'Epice Verte, made with Victoria Gin, Lillet, cucumber water and fresh chili. The bartenders also give vavoom to a base of Whistler Wheat Beer with doses of lemon juice, blackstrap molasses and a spicy house ginger beer; the result is a fire-and-brimstone effect that gives renewed vibrancy to the tired shandy.
According to general manager Lauren Mote, The Refinery is somewhat incongruous with its immediate neighborhood, but as more guests try the restaurant's innovative drinks, they're carving out a space for themselves. "Trying to create a food space on Granville is difficult, and creating a cocktail culture on Granville that doesn't include flavored vodkas and shooters is a challenge," Mote says. "Things like bitters and egg whites are weird here, but you can see the clientele coming around."
Classic Traditions
Vancouver's craft cocktail bars offer a curious mix of contemporary market-fresh drinks and by-the-book classics—sometimes in the same establishment. In the trendy Yaletown neighborhood, George Lounge has a techno-thumping ambience during the peak hours late at night, but at a slow point in the early evening, this dimly lit bar with twisting glass sculptures overhead offers an unparalleled cocktail experience.
Bar manager Shaun Layton keeps a large kitchen island behind the bar stocked with fresh herbs, fruits and house infusions, drawing from them to create drinks on an ambitious menu that includes classics, such as the Aviation, Martinez and Last Word, to originals, such as the rich and bitter Northern Lights and the Orchard Sour, made with bourbon, Giffard apricot liqueur and apricot puree.
In the Kitsilano neighborhood, bar manager Danielle Tatarin recently revamped the cocktail menu at DB Bistro, adding drinks such as Sleepy Horses—with bourbon, tamarind and poppy-seed tincture—and Sweet Intentions—with Canadian whisky, sweet vermouth and vanilla-infused green Chartreuse—to a classics-rich menu that includes the Hemingway Daiquiri and the Vieux Carre.
Those seeking to hew closer to classic-cocktail orthodoxy have several choices. In the South Main neighborhood, the Cascade Room can be slightly disarming at first, with a dark dive-bar vibe offset by an ambitious kitchen menu posted on a chalkboard over the bar, and a décor dominated by bits of British arcana, such as wartime "Keep Calm" posters and the visage of Queen Victoria glowering from the lampshades. Bar manager Nick Divine, who came to Vancouver after working at some of London's top bars, created a five-page cocktail menu in the guise of a CD cover, with drinks ranging from standards such as a Sazerac and Ramos Gin Fizz to more obscure classics, such as the gin-based Journalist.
Uva, in downtown Vancouver, is perhaps better known to locals as a wine bar with an emphasis on Italian and Canadian wines, but its cocktail program—designed by bar manager Brad Stanton—is modest yet impressive. In a spare, elegant space with modernist light fixtures offset by a 100-year-old terrazzo floor, Stanton prepares modern classics, such as the Red Hook and the Gin Gin Mule, along with vintage, aperitif-style drinks, such as the Astoria and the Campari-laced Lucien Gaudin.
In the heart of downtown, another of the city's newest additions places its flag firmly in the classic-cocktail camp. Co-owned by New York transplant and former Boneta bartender Steve Da Cruz, the Corner Suite Bistro Deluxe occupies a space just a block off busy Robson Street that is dominated by a long zinc-topped bar wrapped in black leather at its base.
"I love mixology and the invention of new drinks, but having that go-to list of standard bearers is essential," Da Cruz says of "The Genuine Article", Corner Suite's awesome 21-page drink menu. Including familiar drinks such as the White Lady and the Metropole, the menu also veers deeply into the back catalog of mixology with forgotten classics such as the whiskey-fired Police Gazette and the red-wine topped New York Sour.
When compared to pioneering cocktail destinations, such as New York or San Francisco, Vancouver has taken its time to embrace the cocktail renaissance. But if the recent changes in Vancouver are any indication of momentum, this northern neighbor is about to claim its place at the global bar. Maybe Gassy Jack sparked the development of an empire, after all.