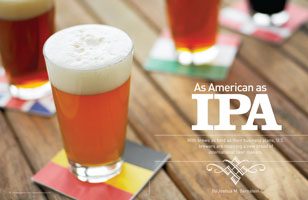 One day in 2000, Copenhagen, Denmark's Anders Kissmeyer, his wife and several friends boarded a plane bound for New York City. Annually, millions of Europeans make the voyage, but unlike many, the Empire State Building did not top Kissmeyer's itinerary. As the head of quality control for Carlsberg, Kissmeyer was keenly interested in checking out Brooklyn Brewery, part of America's craft-brewing vanguard.
At the industrial-Brooklyn brewery, the Danish contingent was greeted by brewmaster Garrett Oliver, who acted as tour guide and poured samples of his amber-hued, hopped-up Lager and nicely bittered East India Pale Ale. "I was blown away," recalls Kissmeyer, now 55. His wife and friends' response was equally explosive. "They started attacking me," he recalls, laughing. Though they'd never expressed interest in craft beer, "They said, 'Why isn't anyone making beers like this in Denmark?' I was defensive, but the more I thought about, the more I realized that I wanted to start a craft brewery."
Denmark at the time was dominated by lagers, with citizens "convinced that Carlsberg and Tuborg"—a lager also made by Carlsberg—"were the best in the world," Kissmeyer says. Yet the Carlsberg man could no longer toe the company line. He convinced an entrepreneur friend to invest in what became the Nørrebro Bryghus brewpub which, upon opening in September 2003, offered a liquid lineup that would be familiar to any American beer drinker. The lager recalled Brooklyn Brewery's. The amber ale echoed New Belgium's Fat Tire. And there was even an espresso stout. "My inspiration was American craft beers," Kissmeyer says of his brews, which attracted droves of enthusiastic drinkers eager to broaden their horizons.
These are not the United States' salad days. Bailouts barely keep the nation's economy treading water. Global conflicts have sent America's popularity rating plummeting. The country's manufacturing muscle has atrophied, overpowered by the might of China, Korea and Japan. Despite struggles, there's one sector in which America leads the charge, displaying its patented pluck and innovative spark and offering global inspiration: craft brewing. "Beer is practically the only thing America makes that other people want," says Will Shelton, 49, the vice president of beer importer Shelton Brothers and president of Massachusetts' High & Mighty Beer Company.
At the dawn of America's beer boom, the country's beer makers imitated the lagers and ales of Germany, Belgium and the U.K. Now the tap lines have turned, with the hoppy, uncompromising ales of breweries such as California's Stone and Ballast Point inspiring international brewers to agitate the sudsy status quo. In New Zealand, a land once accustomed to ho-hum lagers, Epic Brewing's Luke Nicholas has won over Kiwis with his powerfully hopped, American-influenced IPAs. Down in Mexicali, Mexico, Cucapá Brewing's U.S.-style pale ales rebut Corona, while Norway's Nøgne Ø has taken to brewing imperial stouts and double IPAs that would make any U.S. brewer proud. And at Japan's Baird Brewing, the Shizuoka Summer Mikan Ale, is made not only with local Satsuma fruit but also with citrusy American hops.
Ambassador IPA
The emblem of American craft brewing is the bitter, fragrant IPA. Though the style originated in England, stateside brewers have forever altered the formula, turning down malty caramel notes and cranking hops to 11. The modern American IPA, especially pungent West Coast renditions, is a gateway craft beer, recalibrating palates accustomed to light lagers. It's a blueprint replicated worldwide, as the British import has become an American export.
"An IPA's fruity, resinous flavors are a drastic departure from the beers many people are accustomed to drinking," explains Scottish brewer Martin Dickie, 29, a "frontline soldier in the craft beer revolution." In 2007, to rebel against what he called the "thoughtless, lackluster beer" dominating the U.K., Dickie and friend James Watt founded BrewDog in northeast Scotland. For research, the duo traveled to Southern California to visit hop-happy breweries such as Stone and AleSmith. Upon returning, they hit the marketplace with their Punk IPA, which incorporates the American hops Simcoe and Chinook, and their Hardcore imperial IPA "hopped to hell, then dry-hopped to hell too," according to the brewery's website. "When we started our brewery four years ago, there was no way you could sell a 9.2 percent IPA in a supermarket," Dickie says. Now, national chain Sainsbury's stocks Hardcore, while Tesco supermarkets sell BrewDog's Finest American Double IPA.
BrewDog shares its double IPA muse with many hop-mad European beersmiths. After a trip to San Diego's Craft Brewers Conference in 2004, the Nørrebro Bryghus team was so awestruck by California IPAs that they crafted the North Bridge Extreme—which soon summited RateBeer.com's imperial IPA rankings. "People were like, 'Who are these guys in Denmark with the No. 1 imperial IPA in the world?' " Kissmeyer recalls, laughing. Upon returning from the Great Alaska Beer & Barley Wine Festival in 2005, Hildegard van Ostaden, brewmaster at Ruiselede, Belgium's Urthel, devised the Hop-It double IPA dosed with European noble hops—as is the double IPA from the Netherlands' Bierbrouwerij Grand-Café Emelisse. And in 2006, after a college stint spent in California developing a taste for hoppy ales, Luke Nicholas, 40, the head brewer at Auckland, New Zealand's Epic Brewing, unleashed a collection of hop-forward pale ales and potent IPAs "to get people out of the mind-set that beers were yellow, cold and fizzy," Nicholas says. "People were like, 'What are you doing? That's too much flavor.' I totally freaked out New Zealand."
But shock quickly leads to acceptance. Since Epic launched, other Kiwi breweries have climbed aboard the hoppy bandwagon. New Zealand's long-running Tuatara now offers the fruity, herbaceous American Pale Ale, and newcomer 8 Wired has garnered fans with its Hopwired IPA. Not to be outdone, Nicholas' Hop Zombie is a dank, resinous double IPA with a familiar lineage: "We were inspired by Russian River's Pliny the Elder and Port Brewing's Mango [both from California]," Nicholas says. "We decided to raise the bar in New Zealand," Nicholas says.
A Style All Their Own
Being inspired by American craft brewing does not require venturing to flavor's extreme fringe. In fact, says Will Shelton, who imports cultish breweries including Epic and Denmark's Mikkeller, "what concerns me is the notion that America's more-is-better mentality defines the country's beer." Instead, Shelton explains, many international brewers are influenced by America's derring-do of paddling against the prevailing current. "Many international brewers were like, 'We're going to do things differently,' " Shelton says, with hops just one tool in the brewing shed.
Take Bryan Baird. After finishing grad school, the beer aficionado moved to Japan in 1995, a time when brewpubs and microbreweries were springing up nationwide there. Dissatisfied with his job, he decided to combine his two great passions: craft beer and Japanese culture. He returned to the U.S. to study at California's American Brewers Guild, apprenticed at Seattle's Redhook Ale and drove up and down the West Coast researching hundreds of breweries and brewpubs. In 2000, Baird moved to Japan's coastal Numazu and cofounded Baird Beer with his wife, Sayuri.
Entering Japan's be
er market was a dicey notion. The country's traditional culture places stigmas on business failure; modern craft brewing is a risky business known for goosing tradition. But as an outsider, "I was not afraid of failing in the same way that many Japanese are," says Baird, 44. Since Japan is accustomed to German-influenced lagers like Sapporo and Asahi, Baird made one of his first year-round beers the balanced, gently malty Teikoku IPA. "I was told that an IPA wouldn't fly," Baird recalls. "We proved them wrong."
While Baird crafts many hop-driven beers, the brewery is distinguished by his equation that blends Japanese sensibilities and American brewing: character = balance + complexity. The formula applies to all of Baird's beers (adorned with woodblock-print labels), whether a bittersweet porter or seasonal ale made with locally harvested fruits. "Similar to many U.S. craft breweries, we're introducing consumers to the rest of the beer-style world," Baird says.
That was the goal of Kjetil Jikiun, 47, cofounder and brewmaster of Grimstad, Norway's Nøgne Ø. As a commercial airline pilot, Jikiun fell under the spell of American craft breweries he encountered while traveling. The pilot purchased a homebrew kit, proved his brewing prowess and, inspired by Washington breweries Elysian and Hood Canal, launched Norway's inaugural craft brewery. "We had no commercial business plan. We just wanted to change Norwegian beer culture and bring these flavors to the public," Jikiun says.
From the start, Nøgne Ø worshipped at a hoppy altar, turning out IPAs that "people didn't understand," Jikiun says. "They'd say, 'This is not beer. People in Norway don't like these flavors.'" Over time, favorable press from an unlikely ally—wine writers—swayed public sentiment. Though the IPA is now Nøgne Ø's top seller, the brewery has begun moderating its hops usage, focusing on subtle saisons, thirst-quenching witbiers and even a Christmas ale inspired by Norway's winter-warming spiced wine gløgg. "We've come to understand harmony and balance," he says. What's emerged is a singular Scandinavian brewing identity.
Finding balance takes time, as does educating consumers not accustomed to novel beers. For instance, Baird Brewing provides retailers with manuals describing its beers and how they're best served. At Nørrebro Bryghus, the servers are indoctrinated into craft beer from day one. "We want to educate our customers about beer and beer-and-food pairings," Kissmeyer says. And BrewDog, which has opened several U.K. pubs, is adamant about serving quality craft beer (U.S. brews are offered alongside BrewDog's own beers and those of other pioneering European breweries) and employing knowledgeable staff. "It's a way to interact with non–craft beer drinkers, who soon become craft beer drinkers too," says Dickie.
Many Happy Returns
American craft brewing's global influence is no one-way street. Instead, it's become a two-way highway, with Europe's American-inspired beers making the reverse trip across the ocean. From Norway, HaandBryggeriet (the "hand brewery") crafts familiar, yet tweaked creations such as the Norwegian Porter aged in aquavit barrels and the dark and smoky Norwegian Wood spiced with juniper twigs and berries. From Italy's craft-beer hot bed, Birrificio del Ducato offers the Verdi Imperial Stout spiked with hot chilies, while Birra del Borgo adds American-centric Amarillo and Cascade hops to its ReAle Extra "Italian IPA." (On the flip side, Stone is actively seeking out a brewery location in Europe.)
Yet some of America's most cultishly revered beers are the boundary-stretching creations of Denmark's Mikkeller. Like a wandering gypsy, head brewer Mikkel Borg Bjergsø sets up in breweries across America and Europe to formulate brain-bending ales such as the "educational" ales concocted with different hops and yeast strains and the Beer Geek Brunch Weasel coffee stout made with Vietnamese beans "harvested" from civet cat droppings. Before Mikkeller's beers twinkled in America's eye, they were only sold at Copenhagen's Ølbutikken, a bottle shop owned by ardent homebrewer Jeppe Jarnit-Bjergsø—Mikkel's twin brother.
"We decided that he'd brew the beer, while I'd open the shop," says Jarnit-Bjergsø, 36. As his brother's bold creations gained acclaim, Jarnit-Bjergsø augmented the bottle selection with American brands, such as Rogue, Pretty Things and Jolly Pumpkin, which were acquired via an import company he founded. But what's the fun of hosting a party when you can join one too? In spring 2010, Jarnit-Bjergsø followed his brother's lead and launched his own gypsy brewery, Evil Twin.
"I look to the U.S. and Belgium for inspiration," he says of his peculiar potables. His Yin and Yang are a strapping stout and supercharged IPA designed to combine like the classic black and tan, while the Disco blends a strong, rich IPA with Chardonnay. Most Evil Twin beers are America-bound, which is great for building beer-geek buzz but terrible for the bottom line. Shipping tariffs can ratchet up a single 11.2-ounce bottle to $10 or $12, an issue echoed by Epic's Nicholas. "We're a small brewery in a small country a long way away," he says. "When our beers reach the East Coast, they can be pretty expensive."
Anders Kissmeyer also had sticker shock when he saw his Nørrebro brews selling for nearly $20 at a Boston beer store. Though he remains a consultant at Nørrebro, he's trying a different tack at Kissmeyer Beer and Brewing, which he launched in spring 2010. To shave shipping costs on his of-the-American-moment beers, such as the fruity Stockholm Syndrome Double IPA and tropical-tinged Citra Tripel, he's brewing in America's Northeast. In addition, the Shelton Brothers are planning to build a Massachusetts brewery. There, Will Shelton will craft his low-alcohol High & Mighty line, but "we'd like to start importing brewers, too," he says. "They'll be able to make beer of the same high quality, and we'll be able to sell it for far less."
Brewing in America also appeals to Evil Twin's Jarnit-Bjergsø. He contracted Santa Cruz, California's Uncommon Brewers to make a batch of his IPA, and he's trekked to Westbrook Brewing in Mount Pleasant, South Carolina, to brew too. "The only disadvantage I see is that it's difficult to call it a Danish craft beer when it's brewed in South Carolina," Jarnit-Bjergsø says, laughing. (Keeping the sibling rivalry stewing, his brother recently tapped California's Drake Brewing to craft Mikkeller's Invasion IPA.) Now, instead of constantly trekking overseas to fire up a brew kettle, Jarnit-Bjergsø is taking the drastic step of relocating his family to America, most likely Brooklyn. "We're having so much fun," he says, "it seems obvious to me to be in the U.S."