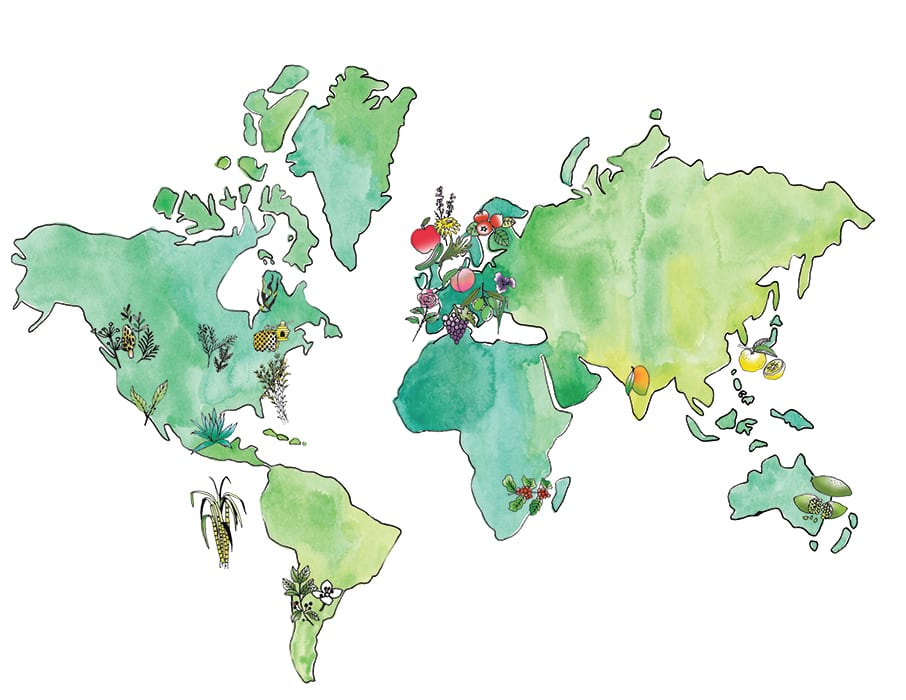 Whenever gin's story is told, countries like the United Kingdom and Holland are big parts of the historical conversation. But while Northern Europe and England have made their permanent marks on the gin world, the 21st century is seeing gin evolve in myriad directions. Now, distillers worldwide are part of gin's growing diaspora, with regional and cultural influences making their way into the bottle.
"It's exciting the way gin distillers around the world are telling stories about places, traditions and cultures," says Aaron Knoll, a Denver-based gin expert and author of Gin: The Art and Craft of the Artisan Revival. "That's the biggest evolution I've seen in the past few years. You have Australian distillers looking at what the aboriginal peoples were eating, and highlighting the botanical heritage. And South Africa could be the next place for exotic botanicals—the Cape is home to this floristic kingdom of plants unrelated to anything else in the world, plants that can tell the story of South Africa in gin. Gin's becoming a celebration of the earth's botanical heritage, where it used to be based just on what was available in Europe in the 17th and 18th centuries. This narrative of gin, and the story it tells, is a great entry point for the newbie."
As Knoll notes, classic styles of gin (as well as gin's predecessor, genever) were largely shaped by the kinds of botanicals that made their way to Dutch and English seaports during the age of exploration—juniper and citrus, along coriander and other spices. But as regulations change around the world, enabling a global boom in craft distillation, distillers are looking to their own botanical heritage for ways to make distinctive gins.
Today, Japanese distillers are turning to regional citrus varieties like yuzu, kabosu and amanatsu, found in Nikka Coffey Gin, or flavors like sakura flower and gyokuro tea, as in Roku Gin. Himalayan juniper, ginger and dried mango are distilled into India's Hapusa Himalayan Gin, while cascara from a coffee estate on South Africa's KwaZulu-Natal South Coast finds its way into D'Urban Scarlet Gin. Italian distillers evoke their culinary heritage by using Ligurian olives (Taggiasco ExtravirGin) or iris petals and bergamot (Peter in Florence), while lingonberries add a Scandinavian touch to Sweden's Hernö Gin and Finland's Helsinki Dry Gin.
Gin's becoming a celebration of the earth's botanical heritage, where it used to be based just on what was available in Europe in the 17th and 18th centuries.
In Northern California, the distillers at St. George Spirits put their focus on their home region right into the name of their Terroir Gin, aiming to evoke the experience of a visit to Marin County's Mount Tamalpais. "What we wanted to do was make sure that landscape was faithfully recreated," says Lance Winters, master distiller at St. George. In developing the gin, Winters and head distiller Dave Smith started with gin's core botanical, juniper, and used its piney character as a jumping-off point to bring in other aromatics and flavors, ranging from California bay laurel to Douglas fir and coastal sage. But while they had Northern California firmly in mind while creating the gin, they've found that this same combination of characteristics has proven evocative of a number of places. "We had the idea of this sense of place, and while we created it in a way we felt was faithfully reproducing the landscape of Mount Tam from an aromatic profile, there are people who've told us it brings back such strong memories of their home in Colorado that it brings them to tears," Winters says. "I've had people tell me it reminds them of hunting for mushrooms in Poland, and of their childhood in North Dakota. It has a sense of place, but it's a poetic sense of place—everybody can make it their own. I'll get all California woo-woo and say that since we see distillation as an art form, as with art, you can have 100 people look at something and each see something different. They're making [the gin] their own in a way that resonates with them emotionally."
With literally thousands of new gins coming not only from the U.S. and Europe, but from Mexico, South America and Australia, distillers are increasingly considering this sense of place when designing new gins. It's a global story that's gone on for centuries, and that may just be starting a new chapter. "We're just starting to scratch the surface," says Keli Rivers, a Brooklyn-based ambassador for Sipsmith. "You can make gin anywhere, from anything, as long as it has juniper—and juniper from different regions brings different things to gin. It embodies travel, and flavors from different regions—that's how gin started off, as a way to preserve these flavors, and gin does that better than any spirit I know. To see identity coming out of Mexico, South America, South Africa, using flavors from that area—I can get a little bit more of the color and culture that's going on there."
For more on the past, present and future of gin, be sure to check out the May/June 2019 issue, available here.
---
Did you enjoy this article? Get more of the best of liquid culture when you sign up for a print or digital subscription to Imbibe Magazine. Click here for special savings!