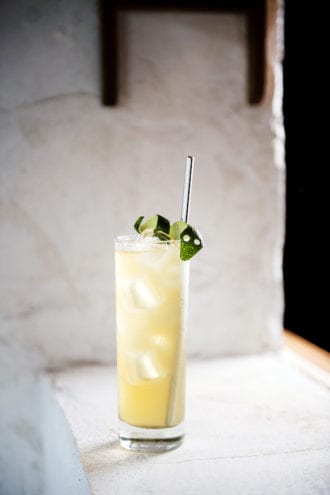 At Castalia in Detroit, each cocktail is based on one of the all-natural fragrances sold in the shop (read more about their approach here). This To Build a Fire is an herbal gin cocktail paired with the shop's Survival Instinct fragrance, which has notes of cedar, anise and rosemary.
2 oz. gin
½ oz. fresh lime juice
½ oz. brown simple syrup (1:1 brown sugar and water)
Ginger beer
1 gram of rosemary and lavender tincture (optional)
Tools: shaker
Glass: Collins
Garnish: lime twist
To create the smoky aroma, light a stick of palo santo wood and let the smoke fill the glass (this is optional). Add all the ingredients except the ginger beer to a shaker and shake with ice. Pour all the contents into the prepared glass, then top with ginger beer and garnish.
Herb tincture: Combine 2 grams of dried rosemary and 3 grams of dried lavender with 100 grams of a high-alcohol neutral spirit (like Everclear) in a sealable glass container. Let sit for 1 week, shaking once daily. Strain through a coffee filter and bottle for use.
Kevin Peterson, Castalia, Detroit
---
Did you enjoy this recipe? Sign up for our newsletter and get our favorite drink recipes of the moment in your inbox every month.