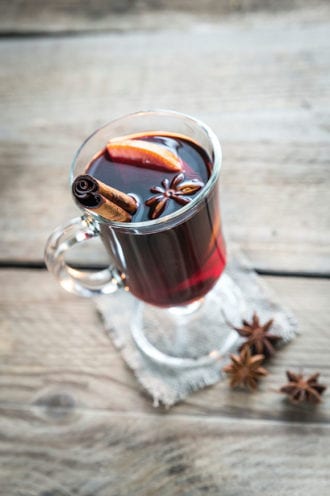 Nothing warms quite like a steamy mug of something spirited and spiced. Mulled wine (red or white), cider and even beer have been sipped for centuries, with cultures and countries around the globe putting their own spins on winter's ultimate warmers. Here are three to try.
Aquavit Mulled Wine
Chicago is no stranger to freezing temps, and when the thermometer drops, the team at The Whistler puts a big batch of spiced aquavit glog on the stove. In a large pot, combine 15 cracked cardamom pods, 15 whole cloves, 5 cinnamon sticks, ⅛ of a grated nutmeg, the peel of ½ an orange, and ¼ cup each raisins and raw, sliced almonds with 3 oz. of orgeat, 3½ oz. of demerara syrup (1:1), 750 ml. of red wine, 375 ml. of ruby port and 10 oz. of aquavit. Cover and let simmer (don't boil) for 1½-2 hours, stirring occasionally. Strain out the solids and pour into a preheated thermos or crockpot set to low, then serve.
Fireside Song
Cider is serious business at the aptly named Wassail on Manhattan's Lower East Side. When winter's chill hits the city, bartender Jade Sotak mixes her Fireside Song. A riff on classic mulled ciders, this drink adds Cynar and bourbon to the mix, while getting its wintry spice nuance from Angostura bitters and a splash of ginger. In a small saucepan, combine 2 oz. each hard and fresh ciders and heat until near boiling. In a preheated mug, add 1 oz. each of bourbon and Cynar with a dash of Angostura and ¼ oz. of ginger syrup (1:1). Top with heated ciders and garnish with a clove-studded lemon peel.
Mulled Ale
When it comes to mixing beer cocktails, Portland, Oregon–based bartender and writer Jacob Grier is a pro. In his book Cocktails on Tap: The Art of Mixing Spirits and Beer, Grier features several warming, spice-studded wintry brews. One of our favorites, the Mulled Ale, finds inspiration in a traditional spiced brew from Charles Dickens' day. In a medium saucepan over medium heat, combine 12 oz. of English-style ale, 1½ Tbsp. of brown sugar (or more, to taste), a thin orange wheel and a pinch each of ground cloves, ginger, cinnamon and grated nutmeg. Heat just until simmering, then pour into a large, warmed mug and top with 2 oz. of Cognac.