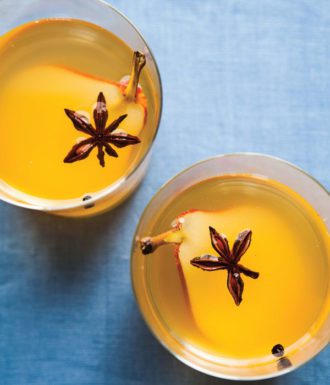 A simple switch—white wine for the more typical red—livens up this spicy, warming treat.
1 (750 ml.) bottle dry, fruity white wine, such as a dry Riesling or Viognier
2 Tbsp. honey
6 green cardamom pods
2 cinnamon sticks
2 star anise pods
2 large slices ginger
½ tsp. black peppercorns
Tools: saucepan, spoon
Glass: mug
Garnish: 1 firm red pear, such as Starkrimson, cored and thinly sliced
In a pot over low heat, warm the wine and honey. Once the honey is dissolved, add the cardamom pods, cinnamon sticks, star anise, ginger and peppercorns. Mull, covered, over the lowest heat for about 30 minutes, being careful to not let the mixture boil. To serve, divide the warm mulled wine among 4 mugs. Add 1 or 2 slices of red pear to each mug and, if desired, garnish with some of the spices used to mull the wine.
Reprinted with permission from Vibrant Food written and photographed by Kimberley Hasselbrink (Ten Speed Press, © 2014).