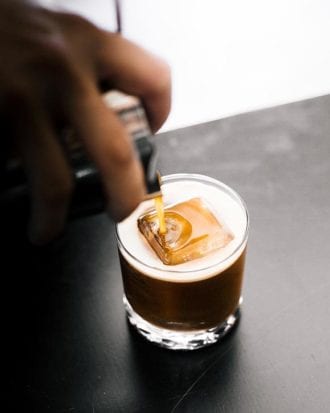 In an effort to encourage guests to slow down a bit and savor a drink instead just grabbing coffee on the go, the folks at Horizon Line in Des Moines elevate the presentation of their specialty drinks, like this Traveler, which is served in an Old Fashioned glass with a single large ice cube.
1 double shot espresso
2 dashes Angostura bitters
1 dash ground allspice
½ pump Monin vanilla syrup (or ¼ oz. vanilla syrup)
5 oz. Coca Cola (or other cola)
Tools: shaker, strainer
Glass: Old Fashioned
Combine the bitters, vanilla and allspice in a shaker with ice. Pull a shot of espresso, let it chill, then add it to the shaker and shake. Add the cola to the shaker (but don't shake) and strain into a glass with 1 large ice cube.
Brad Penna, Horizon Line, Des Moines, Iowa
---
Did you enjoy this recipe? Sign up for our newsletter and get our favorite drink recipes of the moment in your inbox every month.