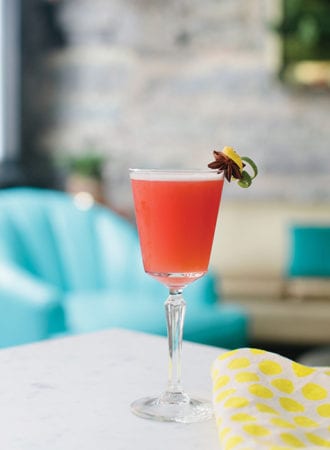 From the bar's tarot-themed cocktail menu, this drink, named for the card representing beginner's luck, matches pineapple and rhubarb with the gentle bitterness of an Italian aperitivo and the frothiness of egg white.
2 oz. pineapple-infused gin
¾ oz. Cappelletti Aperitivo Americano
¾ oz. rhubarb cordial
2 dashes cardamom bitters
1 fresh egg white (pasteurized if you like)
Tools: shaker, strainer, fine strainer
Glass: cocktail or coupe
Garnish: lime peel, star anise
Shake all the ingredients without ice until frothy, then shake again with ice to chill. Double strain into a chilled glass and garnish.
Pineapple-Infused Gin: Remove the skin and core from 1 ripe pineapple, then slice the fruit. Add the fruit to a sealable container and fill with gin; seal the container and place in the refrigerator for 1-3 weeks, tasting the gin periodically until the desired flavor is reached. Strain the liquid well and rebottle for use; keep refrigerated for up to 3 weeks.
Rhubarb Cordial: In a medium saucepan, combine 1½ lbs. of fresh, sliced rhubarb stalks (taking care to avoid the poisonous leaves), 2 oz. of fresh lemon juice, 3 dashes of Peychaud's bitters and 1½ cups of water. Bring the mixture to a boil, then reduce heat and simmer for around 30 minutes, until the rhubarb has become translucent. Strain out the solids, then add 1½ cups of white sugar and 1 oz. of brandy, stirring until the sugar has fully dissolved. Keep refrigerated for up to 2 weeks.
Justin Stamper for Matilda Midnight, The Dwell Hotel, Chattanooga, Tennessee
---
Did you enjoy this recipe? Sign up for our newsletter and get our favorite drink recipes of the moment in your inbox every month.