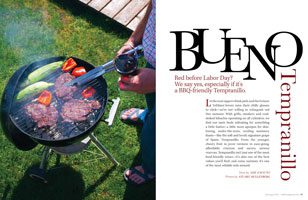 Let the rosé sippers think pink and the Grüner Veltliner-lovers raise their chilly glasses to clink—we're not willing to relinquish red this summer. With grills, smokers and coal-stoked hibachis operating on all cylinders, we find our taste buds salivating for something a little lustier; a little more apropos for skin-baring, under-the-stars, sizzling summery feasts—like the soft and lovely signature grape of Spain: Tempranillo. From the younger, cheery fruit in joven versions to easy-going, affordable crianzas and savory, serious reservas, Tempranillo isn't just one of the most food-friendly wines—it's also one of the best values you'll find; and come summer, it's one of the most reliable reds around.
Tempting Tinto
It's no wonder that Spain's favorite grape goes so well with summer's foods. After all, this is the culture that brought us tapas, pinxtos, gazpacho and jamón. And this thick-skinned, early ripening (temprano literally means early in Spanish), high-acid grape has for hundreds of years been the staple of some of Spain's most venerable producers, often blended with smaller amounts of other indigenous varietals like Garnacha and Mazuelo.
Today, Tempranillo is the most widely grown grape in Spain, with plantings in the Rioja region alone taking up nearly 80% of its vine land, and with more and more regions planting it, too—from Ribera del Duero to Toro to Navarra and Catalunya. It's so widely grown, in fact, that several regions even have their own nickname for it—Ull de Llebre in Catalunya, Cencibel in La Mancha, Tinto Fino and Tinto del Pais in Castile and León, and it even has a few nametags in neighboring Portugal (Tinta Roriz and Aragonêz).
But no matter what you call it, Tempranillo is the ultimate food-friendly red. "It's medium-bodied, not high in alcohol and doesn't have rough tannins," says Ana Fabiano, the trade director for Vibrant Rioja and author of an upcoming tome on the topic, The Wine Region of Rioja, due out in spring 2012. "Whether you're looking for a version with a bigger expression of fruit, more balance or more acidity, its versatility with food is incredible."
And within that innate versatility of the grape, there are different styles, allowing for ever-more menu choices for summertime soirees:
Joven
The word means "young," and that's exactly what joven-style Tempranillos are. Fresh, fruity and meant to drink early, these wines are allowed to spend up to 12 months in oak, but often the case is far less or, more often than not, none at all. These are great wines for light appetizers like grilled vegetables, simple suppers like trout or wild salmon on the grill, or just casual sipping.
Crianza
These wines are typically aged for at least one year in the barrel and at least one year in the bottle—but sometimes more on either end. In crianzas, you'll still get to experience the grape's super-fresh fruit, but with a mellowed sophistication that belies their general price-point: usually, you can find them for $15 or less. Incredibly versatile at the table, they can hang at a meal with everything from surf to turf.
Reserva
These wines rest for at least a year in the barrel (often more) and no less than two years in the bottle. And they're often incredible values for the time and care that go into making them. Says Fabiano, "There are reservas in the market from the greatest centenary bodegas at pricing that is half of what you'd see for a California Cabernet or a Tuscan reserve." Dried or grilled sausages make a great match for reservas because they beautifully tease out each other's inherent smoky flavors.
Gran
Reserva As Sinatra says, it was a very good year—and that's the only kind of year for a gran reserva. In addition to exceptional vintages, these wines patiently sleep for at least two years in oak barrels and three or more in the bottle. They're stunning, elegant and sought-after collectibles for the Tempranillo devotees. "These wines are very classic, and more serious," says Barcelona-based sommelier Meritxell Figueras. "They have more oak than fruit and smell like cigars. They are wines with high acidity and come from the Rioja Alta sub-region." If you've got a gran reserva you want to open, stick with something that can stand up to oak aging and lets the wine sing, suggests Gil Avital, wine director for New York's Boqueria. "Gran reservas need foods that are not overwhelming, and not too spicy. They do well with grilled meat that's not over-seasoned, which is very important," he says, adding that the myriad flavors in rubs and sauces can overwhelm a gran reserva's nuance.
'Nillo Know-How
Back in the mid-19th century when a little pest called Phylloxera nearly decimated the vineyards of France, many French winemakers took their talents on the road and headed to Spain to keep the wine flowing. Spanish grape growers and producers learned the ways of Bordeaux and Burgundy and, most notably, the importance of blending and long-term barrel aging, which has stuck with them since.
In the last couple of decades, a new generation of producers in Spain has been tinkering with the old ways, kicking the blending grapes to the curb and going straight-up with Tempranillo-centric versions and using French oak (prior, the Spanish—and many fans of Rioja to this day—preferred the effects of American oak on the grape), or a combination of both French and American, for aging, and some of that can be credited to the discovery of the charm of Spanish wines outside of Spain, with Tempranillo's popularity breaking through like a bull charging into the ring.
Which style is better remains a topic of hot debate. Some like letting Tempranillo's fruit-centric juiciness shine on its own; many others prefer the complementary effects that blending allows. "People can argue for days—or months!—about which style they like better, but both have a place in our world," says Avital. "The main difference is that Old World wines are meant to age. The main influence on Rioja specifically, and Spanish wine in general, is the French, who crossed the Pyrennes when Phylloxera killed their vines. Bordeaux and Burgundy are meant to be produced in a way to reach their peak in 10, 15 or even 25 years. This is what old-style Rioja is based on. A good example is [the classic Tempranillo producer] López de Heredia; they release later than anyone else. A gran reserva is to be aged a minimum of five years; López's current gran reserva release is 10 years old."
Still, says Avital, there are modern-style Spanish Tempranillos that have more than enough merit. "The main thing is these wines are approachable on release. For example, I don't think you'd enjoy Vega Sicilia [a famed Tempranillo-based producer from Ribera del Duero] if you drank it on first release. It would be too chewy, too big, too overwhelming. The tannins and fruit and acid need time in the bottle." For younger, more modern-style Tempranillos, the Navarra region, on the eastern border of Rioja, is a good place to look. "Navarra is closer to Rioja in style, but they tend to do 100% Tempranillos instead of blends. They're good summer reds. They don't use tons of oak, so they're much lighter and fresher.
Avital points to Señorío de Sarría as a great example, and he's also a fan of producers like Bodegas Roda in Rioja Alta. "They make wines that are silky and fruit-forward, but also dry and with great acidity. Also, the producer Dominio de Atauta [in Ribera del Duero] makes a modern-style Tempranillo that's chocolaty and all about the fruit and concentration. You can drink it because it's soft enough on first release."
Tempranillo has long been a grape that adapts. That's not to say that it's a Zelig of a varietal; it's more like someone who brings a few things into the dressing room and comes out looking good in all of them. And because of this, it's thriving all over Spain. For example, in both Ribera del Duero and Toro, Tempranillo grapes tend to be smaller and thicker-skinned, adapting and mutating over the years to the warmer climates there, yielding a more powerful and intense style of wine. "Sometimes Tempranillo in Ribera del Duero, which they call Tinta Fina, becomes more [wild]," says Figueras. "But it always has this incredible red mature fruit—like marmalade." The wines from Rioja, on the other hand, tend to be lighter in style.
True enough, from Rioja to Ribera del Duero to Toro, Pago, La Mancha and Catalunya, the essence of Tempranillo's food-friendliness and bright, cherry core stays constant, despite its location. Even New World spots, like the McLaren Vale region of Australia, the Central Coast of California, southern Oregon, and Texas Hill Country are having a go at the grape, with encouraging results. But it's still the allure of España that is unquestionably, now and forever, the benchmark that makes us raise our forks, sticky ribs or glasses in the air and declare: "Viva la Tempranillo!"