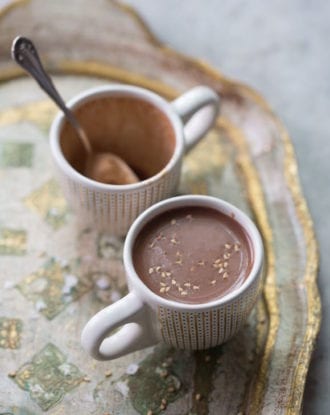 Inspired by travels through the Middle East, Ana Sortun and Maura Kilpatrick, co-owners of Cambridge café and bakery Sofra, incorporate the flavors of the region into many of their recipes. The addition of nutty tahini makes this hot chocolate extra rich and creamy.
8 oz. milk chocolate, chopped
8 oz. bittersweet chocolate (70 percent cacao), chopped
4½ cups whole milk
½ cup tahini
1½ teaspoons kosher salt
¼ cup toasted sesame seeds
Fleur de sel
Combine the chopped chocolates in a bowl and set aside. Combine the milk and tahini in a saucepan over medium heat. Bring to just under a boil, whisking to incorporate the tahini. Pour the milk mixture into the bowl of chocolate and set aside for 3 to 5 minutes, until the chocolate is almost melted. Stir with a rubber spatula until the chocolate is fully melted. Once the mixture is smooth, add the salt and whisk vigorously or use an immersion blender to blend until smooth and frothy. To serve, pour into small serving cups and top with toasted sesame seeds and a pinch of fleur de sel.
Reprinted with permission from Soframiz by Ana Sortun and Maura Kilpatrick, 2016. Published by Ten Speed Press, an imprint of Penguin Random House LLC.