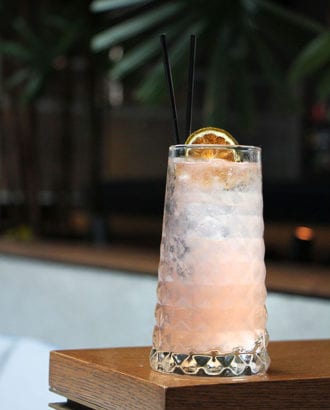 The classic Chilcano is a staple throughout Peru, and at Boleo in Chicago, the flavors of the drink rotate based on which fruits are in season, though by popular demand, their strawberry and guava version is available year-round. "In Peru, people would buy really cheap pisco, take it home and macerate it with whatever fruits they had at the time," says head bartender Jess Lambert. "It's like their Moscow Mule—they drink it with ginger ale and a squeeze of lime."
1½ oz. strawberry/guava-infused pisco
1½ oz. ginger syrup
½ oz. fresh lime juice
Soda water
Tools: shaker, strainer
Glass: Collins
Garnish: dehydrated citrus wheel (optional)
Combine the first three ingredients with ice in a shaker tin. Shake until chilled. Strain into an ice-filled Collins glass. Top with soda water and garnish. If you don't have a dehydrated citrus wheel, substitute with a fresh one.
Strawberry/Guava-Infused Pisco: Muddle 10-15 strawberries and 5-7 fresh guava fruits into a 750-ml. bottle of pisco. Let the batch infuse in the fridge for about 1 week, checking the flavor occasionally until it reaches your preferred strength. The longer it infuses, the more potent the fruit flavors will taste. Strain the fruit out of the bottle, then store liquid in the fridge.
Jess Lambert, Boleo, Chicago 
---
Get more great cocktail recipes when you sign up for our bi-monthly magazine. Subscribe now and save up to 59%—it's just $21.95 for one year or $32.95 for two years. Click here for details.