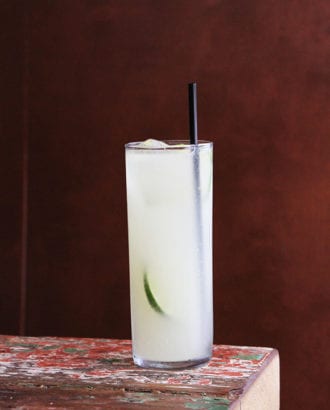 Far before the Moscow Mule exploded in popularity, Peruvians were mixing pisco and ginger ale as early as the 1800s, when Italian immigrants introduced a drink called the Buongiorno—grappa, lime juice and ginger beer—to locals. "When they ran out of grappa and substituted the local pisco, they started calling the drink 'chilcano', which was the name of a popular fish head soup. The story goes that both the soup and the drink were a hangover cure, so that's why the common name," says Catahoula bar manager Nathan Dalton.
In the second half of the 20th century, recipes started calling for simple syrup or bitters, but Dalton remains a purist with the recipe he serves at Catahoula (he does, however, use ginger beer rather than ginger ale). "A chilcano made with good ingredients is so elegant that it's a shame to cover up any of the flavors," he says. "I prefer an aromatic pisco or acholado pisco because the floral notes really shine through the ginger beer."
2 oz. pisco (Catahoula uses Campo Encanto's Moscatel)
¼ oz. fresh lime juice (we use key limes)
4 or 5 oz. ginger beer (Catahoula uses a housemade ginger beer, but Dalton also likes Fever-Tree)
Tools: barspoon
Glass: highball
Combine all the ingredients in a glass. Add ice and stir until chilled.
Nathan Dalton, Catahoula, New Orleans