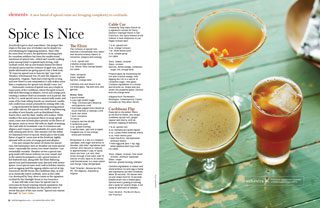 Everybody's got to start somewhere. The juniper bite of gin or the sour sear of whiskey can be simply too overwhelming for beginning drinkers. That's why for more than 50 years, the spirituous starting point for countless imbibers has been the vanilla-toned sweetness of spiced rum—which isn't exactly a selling point among today's acquired-taste-loving, craft-cocktail crowd. But as new brands feature the flavor of natural spices and the richness of aged rum, some spirits aficionados are giving spiced rum a fresh look. "It's time for spiced rum to have its day," says Todd Thrasher of Restaurant Eve, PX and The Majestic in Alexandria, Virginia. "Rum had a bad rap for so long  and now there's a rum renaissance; it only makes sense that a renaissance for spiced rum should come, too."
Homemade versions of spiced rum are a staple in many parts of the Caribbean, where the spirit is laced with such flavorings as allspice, cloves and orange peel, creating a mixture that's as aromatic as it is potent. But in the U.S., most spiced rum is commercially made, and some of the best-selling brands are sweetened, vanilla-rich confections meant primarily for mixing with cola.
Long dominated by labels featuring leering pirates and sailor tattoos, the spiced-rum shelf is experiencing an influx of new brands, such as BlackBeard from Puerto Rico, and the dark, vanilla-rich Kraken. While vanilla is the most prominent flavor in many spiced rums, some new arrivals place priority on the flavor of the spices, such as Seven Tiki with its depth of nutmeg; The Lash with its bombastic roar of cinnamon and allspice; and Cruzan 9, a remarkably dry spirit robust with nutmeg and cloves. This summer saw the debut of Chairman's Reserve Spiced, which places the heady flavor of aged St. Lucia rum at the forefront, lightly adorned with accents of orange peel and allspice.
Cola may remain the mixer-of-choice for spiced rum, but bartenders such as Thrasher say some spiced rums—especially the newer, less-sweet varieties—are remarkably versatile. Thrasher serves a spiced-rum grog made with lemon verbena tea year-round, and in the winter he prepares a cold, spiced version of  hot-buttered rum, along with The Elixir featuring spiced rum and housemade tonic flavored with winter spices. Good spiced rums work well in holiday classics, such as eggnog (and the eggnog relative served at San Francisco's Burritt Room, the Caribbean Flip), as well as in classically styled cocktails, such as the Cable Car, developed by Tony Abou-Ganim as the signature cocktail for the Starlight Room in San Francisco.
It may still take some time for spiced rum to overcome its boozy-training-wheels reputation, but Thrasher says the holidays are the perfect time to revisit this part of the rum world: "Spiced rum warms the soul."