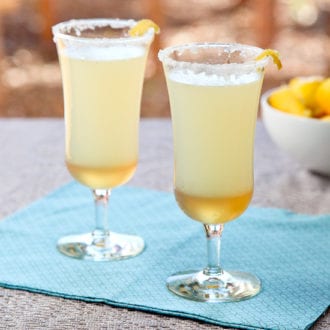 Lemony and bright, this ginger-spiked mocktail is a great option when you're looking for an alcohol-free drink that's festive enough to serve at your next party.
3 inches of ginger root, peeled and sliced
¾ cup sugar
1 ½ cups water
½ cup fresh lemon juice soda water, chilled
Tools: saucepan, spoon
Glass: flute
Garnish: candied ginger
Heat the sugar, water and ginger slices over medium heat. Stir until sugar melts. Boil for about 20 minutes until the syrup begins to thicken. Remove from heat, strain the ginger and let it cool. Toss the ginger pieces with sugar to coat and set aside. Combine the syrup, lemon juice and soda water in a pitcher with ice, stir to combine, and divide evenly among 4 wine glasses. Garnish each drink with a piece of candied ginger. Serves 4.