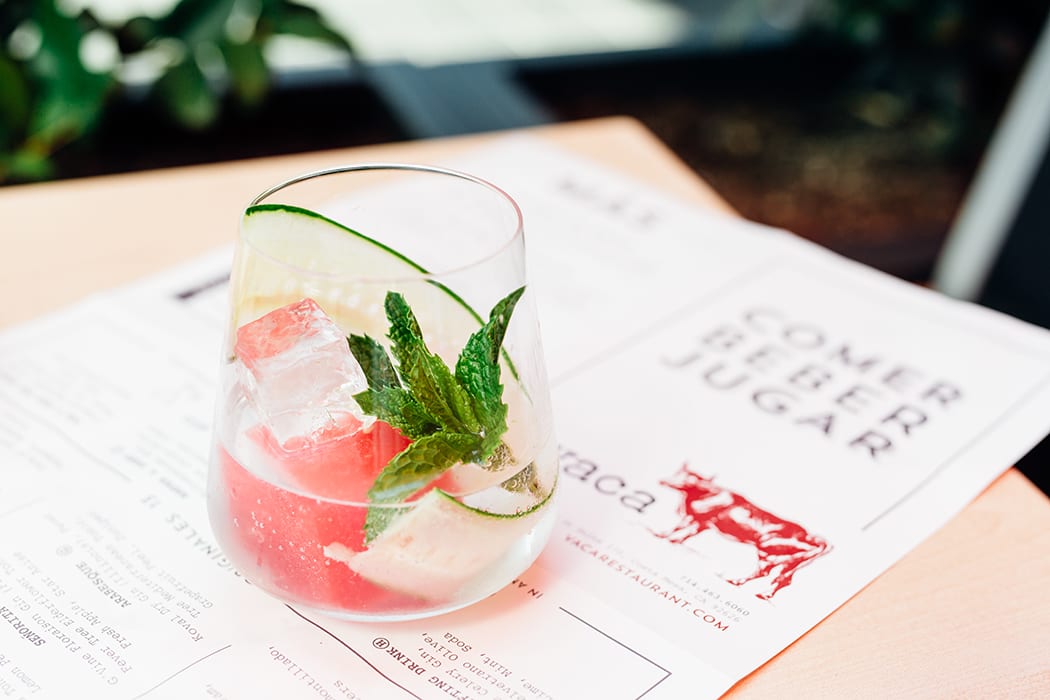 In Spain, the Gin & Tonic is no simple affair. Typically served in wine glasses or goblets packed with ice, Spanish G&Ts combine the two base ingredients with seasonal fruits, veggies and herbs and spices to stunning effect. Recently, North American bartenders have begun following suit, pairing specific gins with complementary tonics and garnishing with ingredients beyond a lime slice. Here's a tour.
Bellota, San Francisco
At San Francisco's newest Spanish restaurant, bar manager Collin Nicholas organizes a G&T menu by gin style. Once guests choose their preferred gin (juniper-forward, citrusy or earthy), the drink arrives in a deconstructed style: the gin separate from the tonic and the garnish carefully set into the glass filled with large ice cubes. "This allows guests to add more or less tonic and integrate the aromatic, botanical garnishes," says Nicholas. "It also preserves the lifespan of the cocktail."
Sable Kitchen & Bar, Chicago
Sable rolls out a new Spanish-style G&T menu (in addition to the normal cocktail menu) every quarter since the idea first debuted in 2013. Current head bartender John Stanton and former head bartender Mike Ryan brought the idea to life after getting inspired from a visit to Madrid. Especially notable is the Strawberries and Old Tom recipe (featured in the July/August 2016 issue), but the current selection also features the Citadelle Gin + Grapefruit + Mint + Mediterranean Fever-Tree Tonic and an earthy, spicy combo of Genever + Golden Raisins + Clove + Fever-Tree Indian Tonic.
La Vara, NYC 
Less is more at this Brooklyn tapas restaurant, which features two house G&Ts. "Chef Alex isn't a believer in having a million variations of the Gin and Tonic on a menu," says general manager Kim Lavine. "Aroma and texture are key, so we make sure to use great ingredients in careful balance." Their classic version combines Plymouth Gin, Fever-Tree Tonic and a lemon garnish. "We opt for a horse's neck garnish, which helps add bright citrus flavor, not to mention some style. The lemon is more Spanish than the typical lime you get stateside, and we make sure to press the oil from the rind into the drink and along the rim to make sure it pops." The second G&T is called La Cinchona, which combines Plymouth gin with a housemade tonic and lemon garnish. The housemade tonic makes for a bolder flavor profile.
Vaca, Costa Mesa, CA (pictured)
Spanish G&Ts are a permanent fixture on the menu at Vaca in Costa Mesa, California, where the house favorite is a frozen G&T. Three other offerings rotate, featuring a ratio of 2:1 gin to one of the nine tonics stocked behind the bar. There's also always a British and Spanish–style offering, as well as the Senorita, a mix of G'Vine gin, elderflower tonic, fresh apple and star anise, and the upcoming Martin Miller G&T with Indian Tonic water, watermelon, cucumber and mint. For the more adventurous, the La Jacaranda combines Spanish Mahon gin with East Imperial Burma Tonic, lavender blossom, lemon peel and coriander.
Juniper, Vancouver, BC
Juniper's gin-focused menu features a rotating selection of six G&Ts, overseen by Shaun Layton. "[The G&T] is a great way to showcase gin, and we're a very cocktail-forward place, so it also makes execution very easy," says Layton, who was inspired by a trip to Barcelona. Simon's G&T, a combination of Ford's gin, Noilly Prat vermouth, lemon, olives and Fentiman's tonic brings a splash of brine to the glass (get the recipe here), and a more traditional Juniper G&T marries Aviation gin with juniper berries, lemon peel and Fentiman's tonic.