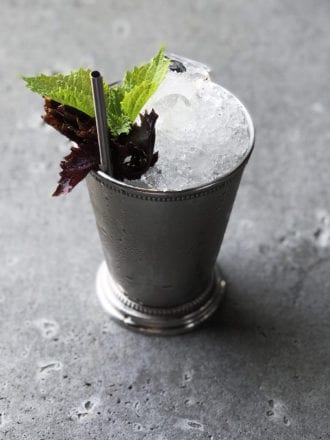 Herbaceous shiso takes the place of spearmint in this Japanese-inspired julep. Honeydew syrup adds a summery sweetness.
2 oz. Japanese whisky (McDermott uses Suntory Toki)
½ oz. honeydew syrup
3 large shiso leaves
Tools: muddler, barspoon
Glass: julep cup
Garnish: purple and green shiso leaves
In a julep cup, muddle the shiso leaves with the honeydew syrup, then add the whisky. Fill ⅔ of the cup with crushed ice, stir to combine, then add more crushed ice to fill cup. Garnish.
Honeydew Syrup: Combine 2 cups of sugar and 2 cups of water in a saucepan over medium heat. Add honeydew segments (about half of a whole honeydew, which has been deseeded, rind intact), let simmer for 5-10 minutes. Remove from heat and strain through chinois pressing all the liquid from the honeydew. Store in the refrigerator for up to 2 weeks.
Danny McDermott, Longoven, Richmond, Virginia
---
Did you enjoy this recipe? Sign up for our newsletter and get weekly recipes and articles in your inbox.