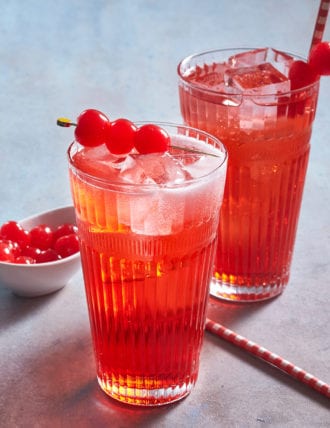 Despite being one of America's most recognizable child actors, Shirley Temple achieved the near impossible: She made it to adulthood, assuming the role of, well, an adult. And a good one at that. Temple, who earned an honorary "Oscar" at the age of 6 and starred in more than 20 films before retiring from cinema at 22, had metamorphosed by the mid-20th century. She came out the other end of Hollywood as an active member of society and a diplomat. The U.S. ambassador to Ghana and later to then-Czechoslovakia, Temple was also publicly outspoken on topics like mastectomies (she underwent one herself) and multiple sclerosis (from which her brother George suffered). Her eponymous drink, however, never made it past adolescence. "The Shirley Temple is pretty much synonymous with a nonalcoholic beverage," says Miguel Feliciano, head bartender at Los Angeles' The Hollywood Roosevelt hotel on whose star-powered steps Temple danced with the legendary Bill "Bojangles" Robinson.
In the most widely believed lore regarding the origin of the Shirley Temple cocktail, ginger ale was first mixed with grenadine and decorated with Clifford the Big Red Dog-red maraschino cherries at L.A.'s Brown Derby at some point during the 1930s. (Rumors also attribute the invention to Beverly Hills joint Chasen's, as well as Waikiki's The Royal Hawaiian hotel.) "Shirley Temple was a huge star by the time she was 10," Feliciano says. "She was going to Hollywood parties and cocktail hours. I think originally it was just so she could have something she could enjoy while the adults were mingling and talking; she [could be] part of the experience."
While the term "mocktail" has been appropriately laid to rest, admittedly it remains a snug fit on the Shirley Temple. Dressed up in a highball glass, the drink's ruby-red glow, lively fizz (many of today's bartenders reach for lemon-lime soda's brightness over classic ginger ale), and rip-roaring sugar levels (sufficient enough to pull an all-nighter performing single-handed back handsprings) made it a co-conspirator to food ordered from the kids' menu. And yet, it didn't come at the touch of a soda-gun button or the crack of a can. Rather, the Shirley Temple's made-to-order nature served as the first real introduction to hospitality for countless kids.
At Musso & Frank Grill, famed bartender of 52 years Ruben Rueda paid equal attention to the bar's legendary Martinis as he did to its Shirley Temples, which he served in glasses manufactured for the former. "In an effort to make everybody happy, including kids, he would use this special touch," says Andrea Scuto, Musso & Frank's general manager. "So the kids that were sitting at the table with the adults felt like they were not left out and that [they had] something that was very classy and very elegant to cheers with the adults." In summary: No one with a Shirley Temple was ever overlooked at the table, and all were taught the importance of a rousing round of cheers—which can never be learned too young.
For grown-ups who were once drawn to the drink by the invoked celebrity alone, the Shirley Temple has become a mixable time machine. "I have adults order Shirley Temples," says Feliciano. "It's comfort for a lot of people. It's something they turn to because it makes them remember a more innocent time in their life, or a time they hung out with their parents at their first party."
Alcohol-free mixed drinks have undeniably "matured" since the first Shirley Temple set foot on the bar. Booze-less concoctions are built from homemade syrups and fresh juices, premium mixers, and distilled alcohol-free spirits; nostalgia no longer a qualifier. And yet, Shirley Temples are ordered on repeat today. "It's like our Martini … our Martini never had a moment where it wasn't popular," says Scuto. Sure, for younger generations the Shirley Temple is more likely a pull for its candy-like qualities rather than its sentimental callings. And while the the key to any good drink is balance, sometimes a little extra sweetness is exactly what we need.
As Franklin D. Roosevelt famously declared to a Depression-embattled United States in 1935, "As long as our country has Shirley Temple, we will be all right." And maybe the message still stands: The drink's resistance to growing up is precisely why it's endured. Especially during times like these, it offers hope for maraschino cherry-cheer and optimism worth holding on to.
---
Did you enjoy this article? Get more of the best of liquid culture when you sign up for a print or digital subscription to Imbibe Magazine. Click here for special savings!