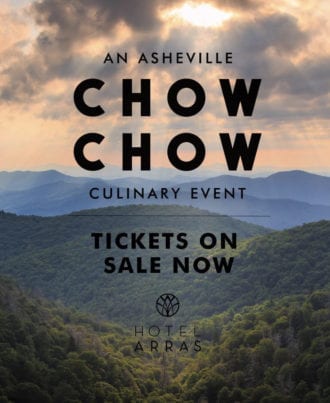 Asheville, North Carolina, has always been one of our favorite places to visit, so we're very excited about the launch of Chow Chow, which will celebrate the best of the city's thriving food and drink community.
Happening September 12-15, this event will feature workshops, seminars, tours, parties and a grand tasting showcasing the talents of chefs and drinkmakers from throughout the region, and we will be sponsoring workshops covering everything from coffee to beer, wine and cocktails.
Here's a sneak peek of the workshops and seminars we'll be presenting, and click here to purchase tickets and get more event details. You can also follow @chowchow_avl for updates.
HANDS-ON WORKSHOPS & SEMINARS
FRIDAY, SEPTEMBER 13
1-2 P.M.
SPILL THE COFFEE BEANS 
Ride the third wave of coffee at an educational tasting experience by Counter Culture Coffee. Try specialty-grade coffees from around the world, paired with local products to bring out flavor nuances, while drinking in the art of palate development and evaluating brews using the industry's sensory lexicon and coffee flavor wheel.
2:30-3:30 P.M.
SUSTAINABLE WINE
Ever wondered what makes organic and biodynamic wines so special and the difference between the two? Join an advanced sommelier for a guided wine tasting and discussion about the highs and lows of sustainable viticultural practices. Alongside a stellar lineup of organic and biodynamic wines, enjoy small bites of farm-to-table food pairings from a celebrated local restaurant.
BEER COCKTAIL (MAKING) HOUR
Happy hour has never been so fun. Live out your bartending dreams at a class featuring all local ingredients, including soda, spirits, and beer. Shake things up making two beer cocktails and make an alcohol-free shrub mix to take home.
4-5 P.M.
BREWING A CULINARY REVOLUTION: INGENUITY IN YOUR GLASS AND ON YOUR PLATE
Which comes first: the chicken or the, er, beer? Innovative local brewers and chefs come together to discuss the unexpected ways that culinary inspirations bubble up in beer glasses and on plates. Hear all about fresh uses for ingredients ranging from herbs and spices to flowers, heirloom grains, and more.
HISTORY ON THE ROCKS 
Embark on a spirited drinking tour of state history led by acclaimed bartender Gary Crunkleton. Sip modern moonshine and learn about the outlaw spirit's notorious legacy in Appalachia. Sample the pre-Prohibition fruits of North Carolina's apple heritage—apple brandy—and hear about its resurgence. Then sip your way through the medicinal liquors of Prohibition and antique whiskey. This is a once-in-a-lifetime tasting not to be missed.
SATURDAY, SEPTEMBER 14
12-1 P.M.
BEER, WINE, VERMOUTH, AND SPIRITS: THE COLLABORATIVE NATURE
Forget what you know about the rules of fermentation: Craft beverage innovators are shaking things up with unexpected collaborations that defy genres. Hear and taste from local makers who are working together with their peers to make beer, wine, vermouth and spirits in creative new ways.
1:30-2:30 P.M.
THE ART OF WINE BLENDING
Single-varietal wines celebrate terroir. Wine blends, on the other hand, reflect the skill and artistry of the maker. During this hands-on workshop, explore the fundamentals of this unique culinary art form while learning characteristics and flavor profiles of different varietals. Try your hand at composing a red blend using Biltmore wines, tasting the process along the way, and take home a bottle of the final concoction.
THE WILD WORLD OF FERMENTED FOOD AND BEER
Discover the intersection between fine dining and beer fermentation, and delve into the wild and wooly worlds of beer yeast and bacteria such as Brettanomyces and Lactobacillus. Hear about the challenges of this natural, old-world process while enjoying a three-course tasting experience that pairs fermented bites and small pours.
GIN UP: DISTILLING MOUNTAIN BOTANICALS 
Some 2,500 plant species grow in the micro-habitats of western North Carolina. Hear how creative distillers work with local farmers to infuse gin with some of those native-grown botanicals, which results in a spirit with a distinct mountain terroir. Taste an array of these bathtub gins to get a sense for the diverse flavor profiles, then build your own blend of gin botanicals and learn how to infuse them into vodka at home.
3-4 P.M.
FLIGHTS OF TEA
From loose-leaf tea grown in the mountains to sweet iced tea, the worlds second-most consumed beverage is at home in southern Appalachia. Enjoy an afternoon tea tasting of six artisanal varieties paired with sweet and savory treats, and participate in a lively discussion of flavor notes, health benefits, and sourcing of native ingredients. Plus, gain an understanding of the history of tea and herbal infusions as well as the beverages influence on southern food heritage.
TOAST THE TOWN: WALKING TOUR AND COCKTAIL HOUR
The Jazz Age roared in Asheville, with the city doubling in population and building its first skyscraper as well as many Art Deco landmarks. At Biltmore in the 1920s, Cornelia Vanderbilt-daughter of the late George Vanderbilt-was coming of age and playing hostess to legendary parties. Join an urban historian for a walking tour past some of downtowns enduring architecture from that era and learn about the dramatic transformations that took place here, then sip a Prohibition-era tipple.