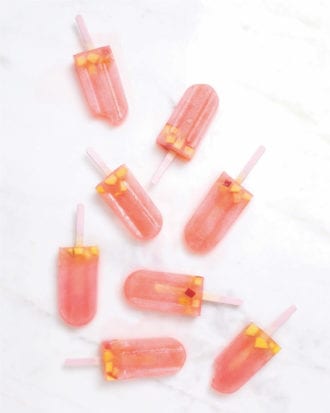 These rosé popsicles by Yes Way Rosé founders Erica Blumenthal and Nikki Huganir make for a summery, grown-up version of frozen pink lemonade.
10 oz. rosé
10 oz. water
6 oz. fresh lemon juice
6 oz. rosé simple syrup (below) or regular 1:1 simple syrup
1 Tbsp. grenadine
1 peach, diced
Combine all ingredients except for the diced peach in a large bowl. Use a liquid measuring cup to carefully fill popsicle molds about halfway with the mixture. Freeze until just set, about 1 hour. Add a few cubes of peach to each mold (the set layer prevents the peach from sinking to the bottom) and add more of the rosé lemonade mixture—just enough to fill the molds about three-quarters of the way. Insert popsicle sticks and freeze until completely set, about 4 hours. Run the molds under warm running water for a few seconds to loosen the popsicles, then remove and serve. Makes approximately 16 popsicles, depending on the mold. Any leftover liquid can be used to make ice cubes.
Rosé Simple Syrup: In a small saucepan, bring ½ cup granulated sugar, ½ cup dry rosé and 3 Tbsp. rosewater to a boil. Simmer until the sugar is dissolved, about 3 minutes. Remove from the heat and let cool completely. Store syrup in a glass jar and use within 1 month.
Reprinted with permission from YES WAY ROSÉ, copyright 2019, by Erica Blumenthal and Nikki Huganir, Running Press.
---
Did you enjoy this recipe? Sign up for our newsletter and get our favorite drink recipes of the moment in your inbox every month.