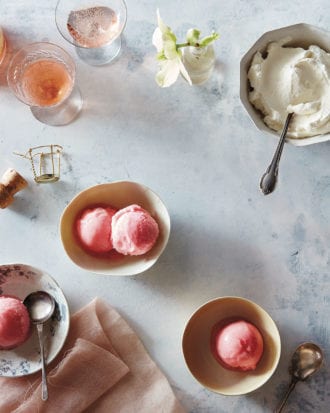 Yossy Arefi's springtime sorbet recipe captures the vibrant flavor of fresh rhubarb and lime combined with the botanicals of gin. Try a spoonful straight from the freezer, when the texture is perfectly pillowy and light, and top with Arefi's rose cream for an even more decadent treat.
Sorbet
1 cup sugar
1 lb. rhubarb, chopped
2 Tbsp. freshly squeezed lime juice
2 Tbsp. light corn syrup
2 Tbsp. gin, plus more chilled gin for serving
Rose Cream
½ cup heavy cream
2 tsp. sugar
4–8 drops rose water
To make the sorbet, dissolve the sugar in ½ cup (120 ml) of water over medium-high heat. Add the rhubarb and simmer until the rhubarb is very tender and beginning to fall apart, about 10 minutes.
Blend until smooth, then add the lime juice and corn syrup and pulse to combine. Chill completely in the refrigerator for at least 4 hours but ideally overnight. When the base is cold, stir in the gin.
Pour the base into an ice cream maker and churn it according to the manufacturer's instructions.
Spoon the sorbet into a container and freeze.
To make the rose cream, in a bowl, beat the cream on medium-high speed until soft peaks form, about 2 to 3 minutes. Fold in the sugar, followed by the rose water, one drop at a time, until you like how it tastes.
Scoop the sorbet into bowls and top with a few drops of chilled gin and a spoonful of whipped cream. Serves 8.
Reprinted with permission from Food52 Ice Cream and Friends: 60 Recipes and Riffs for Sorbets, Sandwiches, No-Churn Ice Creams, and More by the Editors of Food52, copyright © 2017. Published by Ten Speed Press, an imprint of Penguin Random House LLC.