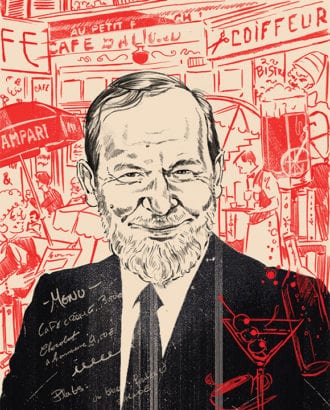 Since publishing The Great Good Place in 1989—which coined the "Third Place" term to describe bars, coffee shops and other public spaces that function, in addition to home and work, as essential community components—Ray Oldenburg has seen his work influence everyone from Starbucks co-founder Howard Schultz to the owner of your neighborhood bar. Now 84, and a professor emeritus at Western Florida University in Pensacola (and currently at work on The Joy of Tippling, a book about the benefits of the moderate use of alcohol), Oldenburg spoke with us as part of our Year of the Neighborhood Bar, sharing his insights into what makes a proper Third Place, the obstacles facing today's communities and the utility of having a home bar.
Imbibe: What drew your attention to what you came to call Third Places, and how did you come to recognize their importance?
Ray Oldenburg: I grew up in a small town where everything you needed was within walking distance. When I moved to Florida in 1967, for the first time in my life, I lived in a modern subdivision, and I couldn't believe these things were desirable—you couldn't walk to anything. I started to notice a bakery I'd pass on the way to work; they had big windows, and I saw the same guys in there every morning. One day I stopped, and then I stopped again, and by the third time, I was one of those guys. I really appreciated that, and I came to see that there's a hard reality about the ways communities function, so I became an environmental sociologist.
Beyond simply serving food and drink, what kinds of roles do you think bars and cafés play in a neighborhood? What's their value?
The development of the individual depends on meeting people from different walks of life, and getting to know them. That's good for the individual, and it's good for the community. Coffee shops are great, and bars are great—they offer an edge because of what you consume, and you can relax and warm up to other people. There are two liquids going for us: coffee and alcohol bring people together. In some cities, when there's a disaster, they put taverns and coffeehouses low on the list of places to repair. That's very unwise for three reasons: First, when Hurricane Andrew hit Florida [in 1992], people who wanted to help had no place to get together. Second, so many people live alone, but in a disaster, you need to be with other people—where do you go? And third, the tavern or coffeehouse may have electricity. The response after a disaster can be slow, but people who live in the area or come to the area to help gather at these kinds of places, and that serves a function.
For you, what differentiates a bar or café that's simply a place of business from a place that fits that Third Place role?
For bars and coffee shops, my measure of success is if they have a coterie of regulars. It's the regulars that make a place. When I used to travel a lot, I always found that the extent to which a city offered hospitality was found in a good tavern. When you find one, everybody's friendly and you enjoy being there, and it's the regular clientele that make a place like that. Hosting is really, really important. I go to a place where I like the food, and if I go in and there are more TV sets than people, I don't go back. A lot of owners have the idea that either TV or loud music, there has to be something going on—and that's all too true for a lot of people, but not everybody. I had friends in Duluth, Minnesota, and they'd go to a neighboring town to go to a bar. I went with them one time because I was curious, and it was dead quiet—they could sit and yak in the booth.
How have you seen cities change over time in ways that are more or less supportive of local bars and cafés and what they bring to a neighborhood?
We're a consumer society, and in some ways that's an anti-community arrangement. We used to buy groceries and have a beer at corner places, but now that's not the norm, and that's been quite harmful. It was done to create a safe world for the chain stores, and a world in which every family needs at least one car. Sociologists have what we call the "use-value" of neighborhoods—what's around it? What can you walk to? In our local paper, there's a section on houses, and all the time the house is glowingly described, but there's never a word of what's around it.
When you first moved to a subdivision in Florida, you converted your garage into an informal bar since nothing else was available—you made your own Third Place for friends and neighbors. Is that still going?
I'm 84 now, and my pool game isn't what it used to be. I got rid of the pool table and have a beautiful piece of mahogany furniture that holds 83 bottles of booze. I've got beer in the fridge and wine on hand, and the great thing is my wife uses it, too—she's a portrait artist, and she filled one wall with her paintings. Friends come over twice a week; we have regular groups. We don't do it much anymore, but we used to entertain neighbors a lot—and I even added on a little hidden spot at one point to step away to if I needed, because some people are so boring they'll kill you as you stand there.
Many American downtowns are changing—cities are promoting livable downtowns, but prices are also going up, driving out some older bars and restaurants. How can these cities keep the Third Place idea alive?
Money rules. I recall years ago in Colorado, a big-name movie star would move into a beautiful mountain community, and within 10 years, nobody could afford to live there anymore. It's just awful. In some cities today, people are upset because they live near people who don't have as much money as they do—but that's a wonderful thing. But something positive has happened. Not long ago, some friends bought a little house, and they selected it because every evening they could walk to the pub and have one or two beers and talk to people, meet their neighbors. If you choose your own friends all the time, they'll be too much like you. But if you go to another place, you have no control over who's around you, and that's the beauty of it—that's the charm.