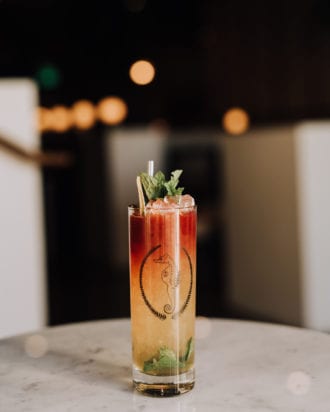 The classic Queen's Park Swizzle served as inspiration for this recipe from Lady Jane general manager Minetta Gould. "The rum, dry yet full of vanilla and butterscotch, was the perfect backbone to merge the power of Fernet with the subtly of the curaçao," she says.
1 oz. aged rum
1 oz. dry curaçao
¾ oz. fresh lemon juice
¼ oz. rich simple syrup (2:1)
¾ oz. Fernet-Branca, to float
5-10 mint leaves
Tools: swizzle stick
Glass:
Garnish: mint
Place 5-10 mint leaves at base of glass then add the remaining ingredients, except Fernet-Branca. Add crushed ice and swizzle until glass is frosted, approximately 20 seconds. Add straw, then slowly pour Fernet over the top of the ice. Top with crushed ice and garnish.
Minetta Gould, Lady Jane, Denver
---
Did you enjoy this recipe? Sign up for our newsletter and get our favorite drink recipes of the moment in your inbox every month.