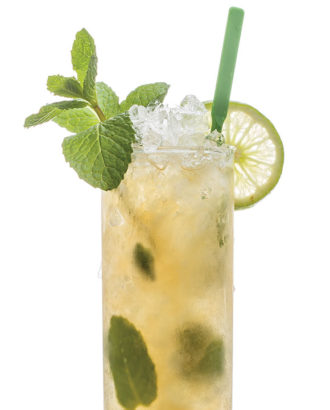 The Queen's Park Swizzle was named for the Trinidadian hotel where it was first concocted in the 1920s. It combines overproof Demerara rum and rich simple syrup with a bouquet of fresh mint, a squeeze of lime and several dashes of Angostura bitters.
3 oz. 80-proof Demerara rum
½ oz. rich simple syrup (2:1)
½ oz. fresh lime juice
2 dashes Angostura bitters
8 to 10 mint leaves
Tools: lele twig or barspoon, muddler
Glass: chimney or highball
Garnish: mint sprig, squeezed-out lime shell
Place the mint leaves in a glass and gently bruise; use a muddler to guide the mint leaves up the sides of the glass, coating it with the fragrant oils. Add the remaining ingredients and fill with crushed ice. Use a barspoon to swizzle—gently twirl the spoon between the palms of your hands—until a frost forms on the outside of the glass. Top with additional ice if needed. Garnish.
To make rich simple syrup, combine 1 cup Demerara sugar with ½ cup water in a saucepan over medium heat. Stir until the sugar is completely dissolved and syrup just comes to a boil. Cool and store in refrigerator.