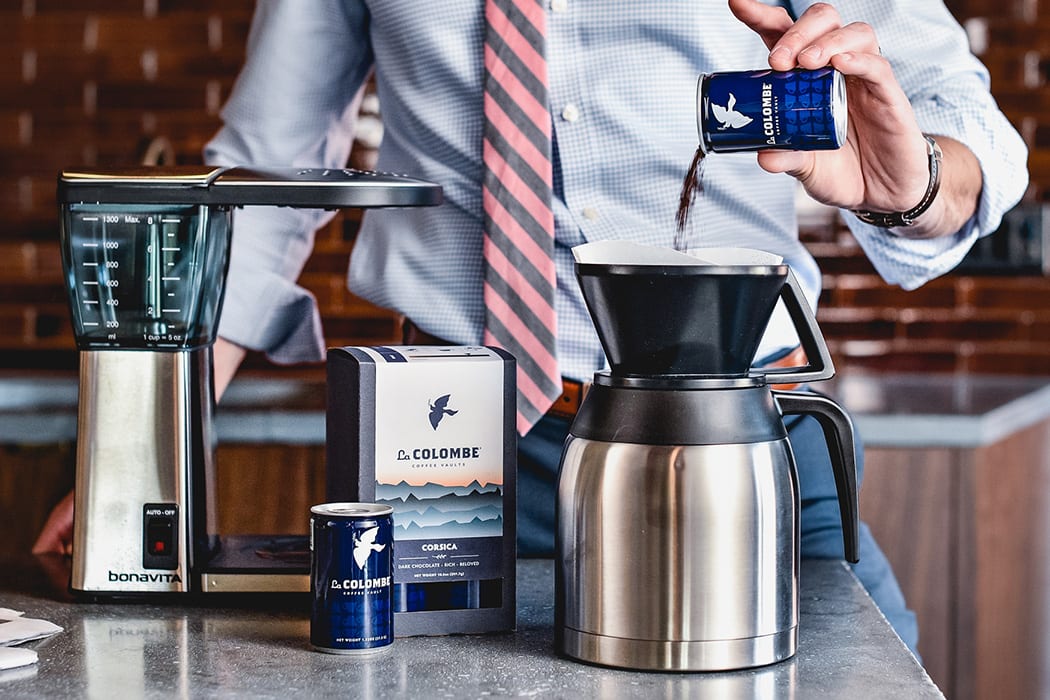 If there's one undebatable takeaway from the third wave coffee movement, it's that the best coffee is fresh coffee. When whole beans meet the grinder, quality diminishes in minutes as the beans oxidize and lose key components that contribute to flavor. So when companies like Perfect Coffee started to tout new technology that would preserve the freshness of coffee for months after being ground, many industry pros, including Blue Bottle's James Freeman, were skeptical.
"When Neil Day, founder of Perfect Coffee, initially approached us to taste his pre-ground beans, we were certain that we would be able to pick his pre-ground coffee out of a lineup of our own just-ground coffee beans. I truly intended to hate his product," Freeman recalls. Then Ben Brewer, Blue Bottle's director of quality control, encouraged Freeman to host a blind tasting. Turns out there was no detectable difference between ground-to-order Blue Bottle beans and Day's pre-ground packets. "We were stunned that we couldn't discern a difference in flavor and quality. No one had been able to do this before."
Recognizing the potential, Blue Bottle purchased Perfect Coffee in 2015 to get ahead of the trend. The system is simple: Customers receive a box containing five envelopes of single-portioned ground coffee, packaged using Day's proprietary sealing technology. The coffee in each packet is custom ground to suit a chosen brewing method (think French Press, AeroPress, pourover, etc.), and coffee options range from single origins to blends. Simply pour the grinds in a coffeemaker of choice, add a specified amount of water and brew. "We took the guesswork out of [making a good cup]," says Freeman. "At Blue Bottle, our baristas spend months learning how to 'dial it in'—that is, how to find the grind most appropriate for a specific roast and brewing method. A package of Blue Bottle Perfectly Ground is as close as you can get to a roaster's and barista's specific expertise."
Blue Bottle isn't the only specialty roasters to recognize the potential. Earlier this summer, La Colombe debuted The Vault, a special release of their Corsica coffee blend that comes ground specifically for drip, pre-measured and packaged in cans. Like Blue Bottle, La Colombe CEO Todd Carmichael says part of the impetus for the line was "to simplify the brewing process without sacrificing the integrity of the product." La Colombe preserves the grounds under pressure, which extends the coffee's life by five times. "Coffee naturally degasses, so in this case roughly 16psi is naturally released into the can from the coffee," Carmichael says. "Eventually, the gas in the can and the gas in the coffee find an equilibrium, halting the aging of the coffee and preserving it in time."
Meanwhile, in Salt Lake City, Saint Anthony Industries has spent the last 18 months refining their process for preserving pre-ground coffee. "The idea came from my love for good coffee, combined with my laziness when I'm at home," says founder Khristian Bombeck. "We have really phenomenal grinding technology at work, but I don't have that setup at home, so for me the loss of quality I was getting when I switched to my home grinder was noticeable."
With the help of one of Saint Anthony's board members, an MIT grad, Bombeck and his team developed a proprietary process that displaces atmospheric gas with some more inert gasses, to preserve quality within the package. The new project, called SurpriseBrand, will launch this month as a subscription-based service that distributes pre-ground packets from a handful of major roasters, sealed in their proprietary 97 & Better packaging. "The reason we call it 97 & Better is because if a perfect coffee experience scores 100 percent, by going to pre-ground [in the proprietary system], we've minimized the loss of quality to about 3 percent," Bombeck says.
In addition to simplifying the morning coffee routine, Bombeck hopes Saint Anthony's pre-ground coffee program will appeal to a wider audience of coffee drinkers. "There's the idea that it will make coffee more available to people who had not really considered it and open them up to specialty coffee in a way that they might not have had time for before."
---
Like what you see? Get more of the best of liquid culture when you sign up for our bi-monthly magazine. Subscribe now and save up to 59%—it's just $21.95 for one year or $32.95 for two years. Click here for details.