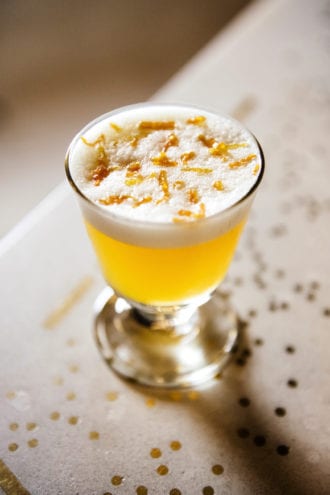 Detroit bar Castalia doubles as a perfume shop by day, and in this Pisco Sour Riff, pisco blends with chai-infused orange juice and a tincture of coriander, cardamom and nutmeg. Read more about their fragrance-inspired cocktails here.
1½ oz. pisco
½ oz. fresh lemon juice
¾ oz. chai-infused orange juice
¾ oz. caramelized simple syrup
½ oz. fresh egg white (pasteurized if you like)
1 gram of coriander, cardamom, nutmeg tincture (optional)
Tools: shaker, strainer, fine strainer
Glass: coupe
Garnish: candied orange and lemon zest
Add all the ingredients to a shaker and dry shake vigorously, then shake again with ice to chill. Double strain into a glass and top with candied orange and lemon zest.
Chai-infused orange juice: Add 5 grams of a loose-leaf chai tea to 8 oz. of orange juice and simmer for 5 minutes. Strain out the tea, then add 8 oz. of sugar and whisk to dissolve. Bottle and refrigerate for up to 2 weeks.
Caramelized simple syrup: Add 1 cup of sugar to a heavy-bottomed sauce pan and cook over medium-high heat until the sugar has dissolved and cooked to a caramel color. Removed from heat and whisk in 1 cup of water. Bottle and refrigerate for up to 2 weeks.
Spice tincture: Combine 1 gram of ground cardamom, 2 grams of ground coriander and 2 grams of ground nutmeg with 100 grams of a high-alcohol neutral spirit (like Everclear) in a sealable glass container. Let sit for 1 week, shaking once daily. Strain through a coffee filter and bottle for use.
Jaz'min Weaver, Castalia, Detroit
---
Did you enjoy this recipe? Sign up for our newsletter and get our favorite drink recipes of the moment in your inbox every month.