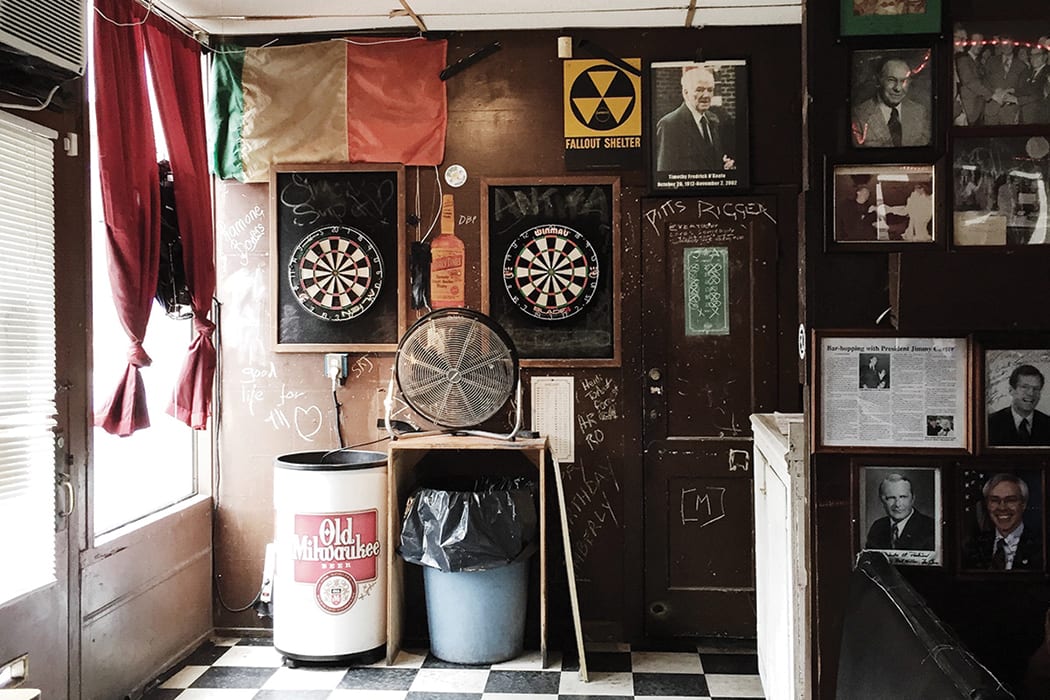 On the evening before St. Patrick's Day 1978, President Jimmy Carter slipped out of a side door at the Desoto Hilton in downtown Savannah, Georgia. He was in town to address the Hibernia Society, but that evening, flanked by Secret Service agents and sheriff's deputies, he and his security posse quietly crossed Drayton St. and slipped into a local dive bar.
Pinkie Master's was easy to find at night: the back-lit plastic Pabst Blue Ribbon sign shone as a beacon. No one to my knowledge has ever described Pinkie's as "presidential;" it was once, however, described as "not the kind of bar you're going to take home and introduce to your parents."
This was not Carter's first visit to Pinkie's. As state senator and Georgia governor, Carter made regular campaign-season stops at the bar, which was opened in the 1950s by Luis Christopher Masterpolis—more widely known as Pinkie. Pinkie loved politics, and had been one of Carter's earliest and most stalwart supporters, someone who didn't scoff when the low-profile peanut farmer admitted to high-flying ambitions.
Pinkie lived to see Carter elected, but he died a few months prior to Carter's 1978 visit. So the president clambered atop the bar to offer a few words of remembrance. About 125 people were present that evening, and they briefly interrupted their beer drinking to hear him out. It may not have been Carter's first time atop the bar; a plaque long maintained that Carter first announced his run for president from this same spot, a claim backed by considerable hearsay and lore.
From George Washington and his whiskey distillery at Mount Vernon, on through Benjamin Harrison's "Log Cabin and Hard Cider" slogan, presidents have long been friends of drink and drinkers.
"From the standpoint of the prohibitionist, none of the Presidents has been strictly a 'temperance man,' as all have indulged in wines and liquors, moderately or otherwise," wrote Ben Truman in 1898. (Foreshadowing Gawker, Truman added: "[Andrew] Johnson was a temperate man, notwithstanding the fact that he indulged too freely of John W. Forney's excellent Monongahela whiskey the night before and morning of his inauguration as Vice President.")
The affinity of politics and drink is a natural one. Drink is known to distort truth and prompt exaggeration; evidence suggests that a career in politics will do much the same. In Colonial days, bars attracted all social classes, with free-flowing alcohol fertilizing the seedbeds of ideas both good and not. Bars have been a natural petri dish to try out campaign themes and notions, and a place where feedback is often instant, explosive and profane. Bars are where populism becomes popular.
Alcohol has also served as the lubricant of many presidential campaigns, and drink helped sway votes in the early years of the republic. As Mark Will-Weber wrote in his recent history of presidential drinking, Mint Juleps with Teddy Roosevelt, "Long before candidates raised money with, say, $10,000-per-plate dinner parties in the Hamptons, West Palm Beach, or Beverly Hills, politicians used alcohol to guide voters into making the 'right' choice."
Several things are striking about Jimmy Carter's 1978 visit to Pinkie's: first, that a president could slip out and head to a bar without the moment being Instagrammed or Tweeted. Also, that Carter—often ridiculed for his cardigan sweaters and pious Baptist background—would deign to visit a bar best known for the cheapness of its beer. An occasional contradiction was not only allowed among politicians, but celebrated.
Carter's walk across the street to Pinkie Master's marked another, more significant turning point: It was about the time politics and public drinking began discussing a divorce.
Presidential aspirants have avoided bars in recent campaigns as if they were political tar pits, places sure to mire and doom any who darken their door. During the rare moments when alcohol does venture near a president in public, it's carefully stage managed, as at Barack Obama's much-hyped 2009 "beer summit," in which the president tentatively sipped a Bud Light.
Drink is no longer integral to public discourse; it has been consigned to the shadows.
As far as I know (and as of this writing), not a single one of the many candidates in 2016's presidential election has been photographed so much as near a bar, never mind inside with a drink in hand and holding forth. No one has scrambled atop a bar to make an announcement.
By most accounts, Pinkie Master's began to flag after the Carter years. It was adorned with handwritten signs reading "Absolutely no arms on property" and "cash only." It was plagued by fights. A Confederate flag was displayed behind the bar, driving away a more urbane generation. A stabbing in August 2015 was followed by lawsuits, filings of bankruptcy, and disputes between the owners of bar and building. Pinkie Master's closed its doors in January 2016.
The current owner of the bar has moved ahead to reopen nearby. The landlord at the old location announced that he would open a new bar in Pinkie's former spot, with initial reports surfacing that it would be called Pinky's, spelled with a "y." Instead, it reopened as "The Original," with a PBR sign and cash-only policy. It's all slightly confusing and edged with bravado—but after all, this involves both local politics and drinking, so exaggeration and fiction may be involved.
What is clear is this: No candidate for president is likely to stop by either place, now or in the foreseeable future. And America will miss out on one of the great traditions of presidential politics.