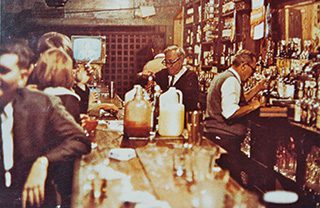 Walking from barroom to bathroom at Nick's Original Big Train Bar in New Orleans, you'd have walked past a colorful mural of a speeding train. About 15 feet long and two feet high, it had been painted by regulars from Dixie Beer, a vast, Dickensian brick brewery just across the street. Most afternoons the bar filled up with brewery workers getting off shift; if they couldn't get a stool at the bar, they'd grab some cartons of empty Dixie long-necks and make their own. And if they couldn't even get in the bar—a common occurrence—they stood outside and shouted their orders, and customers clotting the doorway passed the money in and drinks out.
It was a classic workingman's beer-and-a-shot joint except for one thing: Nick Castrogiovanni, the owner, banned beer sales promptly at seven every evening; after that time, only cocktails could be had. "Nick thought bars were for drinking," says Albert Kattine, Nick's grandson—and proper drinking required cocktails. "People could nurse a beer all night," Kattine says. "He wanted people to drink and have fun, and he wanted people to have one of his signature cocktails." Nick also banned music and allowed only one small black-and-white television.
Nick's signature drink was the Pousse Café, possibly the fussiest drink ever invented, involving intricately layered and precisely separated liquors and liqueurs, one atop the other. Nick regularly served 10- or 12-layer drinks in a pony glass, and it was widely reported that he'd once set the world record of 32 layers. He made them without the aid of a spoon—he'd just put his thumb on the mouth of the bottle, then the lip of the bottle on the rim of the glass, and he'd pour evenly and slowly. " 'Watch,' he'd say," Kattine recalls. "'I'll slide this between layers three and four." (Pro tip: It's all about the density; former Nick's manager Walt Purcell says Nick sometimes tweaked it by adding vodka to some liqueurs.)
Nick kept a cot in the back for nights he didn't make it home. Kattine remembers lying on this cot as a kid and peering through a gap in the door, watching the action unfold one night. His grandfather topped a Pousse Café with a layer of high-proof brandy, then shut off the bar lights and set it aflame. "All the colors lit up," Kattine says, still dazzled by the memory, "and it looked almost like a disco ball."
As one might suspect of a man who could layer liquor in a busy, crowded bar, Nick was a man of considerable equanimity and composure. That is, right up until the moment a customer stirred his precisely built Pousse Café, turning it into a muddy slurry. "He'd kick them out," Kattine says.
Nick's began as a grocery around the time Prohibition started and added a package liquor store after Prohibition ended. Seeking to boost liquor sales, Nick began serving drinks in a "beer garden" out back. Over time, walls went up and a roof went over, yielding a full-fledged bar—although one with chronically cracked concrete floors. The compound prospered until 1965, when Hurricane Betsy knocked the grocery off its foundation; it was demolished, and only the bar remained.
During weekdays, brewery workers mixed with doctors from the nearby hospital and judges from the nearby courthouse. On nights and weekends it was often packed with university students. "He was creative ahead of his time," says Tales of the Cocktail founder Ann Tuennerman, who included Nick's on her regular rotation as a university student. Humor columnist Dave Barry once stopped by and wrote of a memorable drink he ordered at Nick's. It was called A Wild Night at the Capri Motel, and "was served in a large foam container shaped like a commode."
"It was different back then," Purcell says.
Nick died of natural causes at the age of 86. His wife, Dora, kept the bar much as Nick had run it, and when she died a decade later, Albert Kattine kept it going from afar as he pursued a medical career in Tennessee until the bar was devastated by Hurricane Katrina. The lot where Nick once sold Banana Banshees by the hundred is now vacant, and the industrial feel of the neighborhood is fading. Like Nick's, Dixie Beer failed to reopen after Katrina. A sprawling new hospital complex is now arising across the street, with the brewery being incorporated into a new research facility.
Kattine still plans to rebuild the bar—maybe in a larger building more in keeping with the more newly urban feel—but with a small, narrow bar on the ground floor. He wants a place where all will feel welcome. "I want a respectful tribute to my grandfather and what he did there," Kattine says. "It's been almost nine years, and people still ask me about Nick's." Whether it will serve Pousse Cafés remains to be seen.