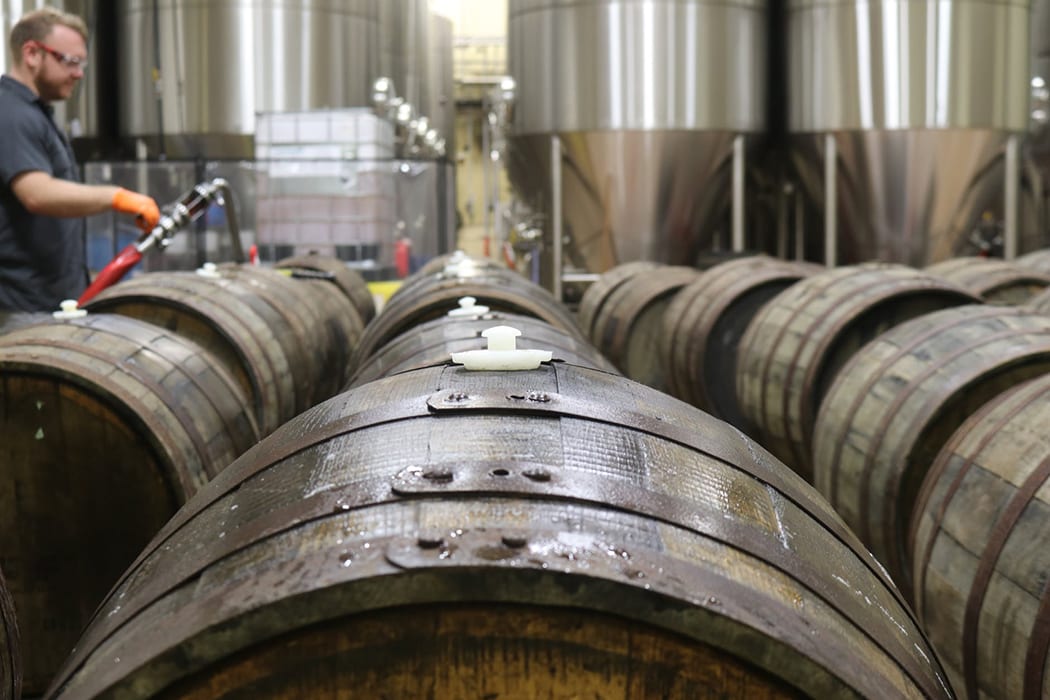 The classic pilsner is a wonderfully uncomplicated style of beer beloved for its crisp, refreshing structure and clean balance of hops and malts. The pale, golden lager originally hails from the Czech Republic, and since its inception in the mid-1800s, has found loyal fans around the world. But as often happens in America's beer landscape, brewers have been tinkering with the classic elements of the style. At places like The Brewer's Table, Threes Brewing, Hill Farmstead and beyond, brewers are bringing wood into the pilsner equation, experimenting with fermenting the lager in oak foudres and aging in wood barrels, to create a more nuanced take on the style.
At Threes in Brooklyn, head brewer Matt Levy has spent a lot of time experimenting with wood fermentation and aging. He's quick to point out that the practice has roots stretching back to the style's inception. "In the past, most beers were fermented in oak, and today in Europe some brewers still hold firm to this tradition," he says. Beers like Pilsner Urquell and Shlenkerla Helles are prime examples of lagers that traditionally meet wood at some point during the production process. "We aren't reinventing the wheel here. It was only a matter of time before brewers in the states started to pay homage to this old-world technique."
Kicking & Screaming was Levy's first foudre-fermented brew, a version of their flagship lager called Vliet, that transforms in the oversized wooden vessels for six weeks. Levy first brewed the beer over a year and a half ago to see what would happen if he altered a single variable in an existing recipe, but he liked the results so much that he's continued to tweak the parameters since. "The first batch was really exciting. It had a substantial oak character that added depth and creaminess to the crisp lager without overpowering the style's simplicity," he says. "We love the way the oak adds a subtle toasted marshmallow note that softens the hop character and makes these beers especially great for autumn drinking."
In addition to Kicking & Screaming, Levy has also seen good results with Short Fuse, a foudre-fermented smoked helles, and he will soon be making a new foudre-fermented festbier for October. He's also conditioned pils in freshly emptied Syrah barrels as a collaboration with Highland Park, and if they had more space in their small Brooklyn facility, Levy says they'd do even more. "If we had a lager cave somewhere that stayed cold, there is no question we would experiment with fermenting in spirit and wine barrels."
Levy has also experimented with aging lagers in wood barrels, a practice that is currently more common than foudre-fermentation. At Liquid Riot Bottling Co. in Portland, Maine, head brewer Greg Abbot chose to age his pils in a barrel spiked with wild yeast for added interest. Named after the white peaches that flavor the beer, Blushing Star is an American pils that's fermented in stainless steel tanks before moving to oak barrels, where it's spiked with Brettanomyces. The funky yeast slowly works its magic for six to nine months before Abbot transfers the beer back to stainless steel with Kelly Orchards peaches for an additional 2-3 months. Once the fruit flavor fully steeps in, the beer heads into the bottle and conditions for another month. "Not an easy one to re-create, but it seemed like a really cool, unusual approach to barrel-aged beer," he says. The peaches contribute an aroma and flavor that perfectly match the character of the wild yeast. The next batch will be aged in foudre barrels to see what a difference the size and shape of the barrel will make (foudres can hold up to 1,000 liters of liquid). "The goal was to create a pleasant, relatively clean barrel-aged beer to contrast the intensely funky barrel-aged saisons and other Belgian-inspired beers with bold yeast character [that are common in today's beer world]," Abbot says.
Other brewers are experimenting with the type of barrel used. At Half Acre in Chicago, director of brewing operations Matt Young sourced 15-gallon gin barrels from Corsair Artisan Distillery for their barrel-aged version of the popular Pony Pils. "Gin barrels contribute complex botanical flavor and aroma to delicate beer styles that might be overwhelmed by more traditional barrel-aging in bourbon or whiskey barrels," Young says. In his view, the smaller barrel size is an additional benefit. "Small gin barrels impart their characteristics quickly, which helps protect more vulnerable beer styles from the oxidative staling reactions inherit to extended aging in porous wooden vessels."
After Pony Pils spends a few weeks in the Corsair barrels, Young blends the beer with a percentage of the un-aged version of the beer, to balance the oak and botanical flavors. "I think the more delicate botanical flavors from the gin worked well with the herbal/spicy hop character in this style for sure! I would think it'd be real easy to overdo it on barrel character if you were using a full sized whiskey barrel," he says. Not surprisingly, Young is already running with the next idea. "We recently riffed on this idea with Wild Gin Pony, which is a gin barrel-aged pilsner blended with pale sour beer from our wild beer program and allowed to condition for many additional months." 
---
Like what you see? Get more of the best of liquid culture when you sign up for our bi-monthly magazine. Subscribe now and save up to 59%—it's just $21.95 for one year or $32.95 for two years. Click here for details.