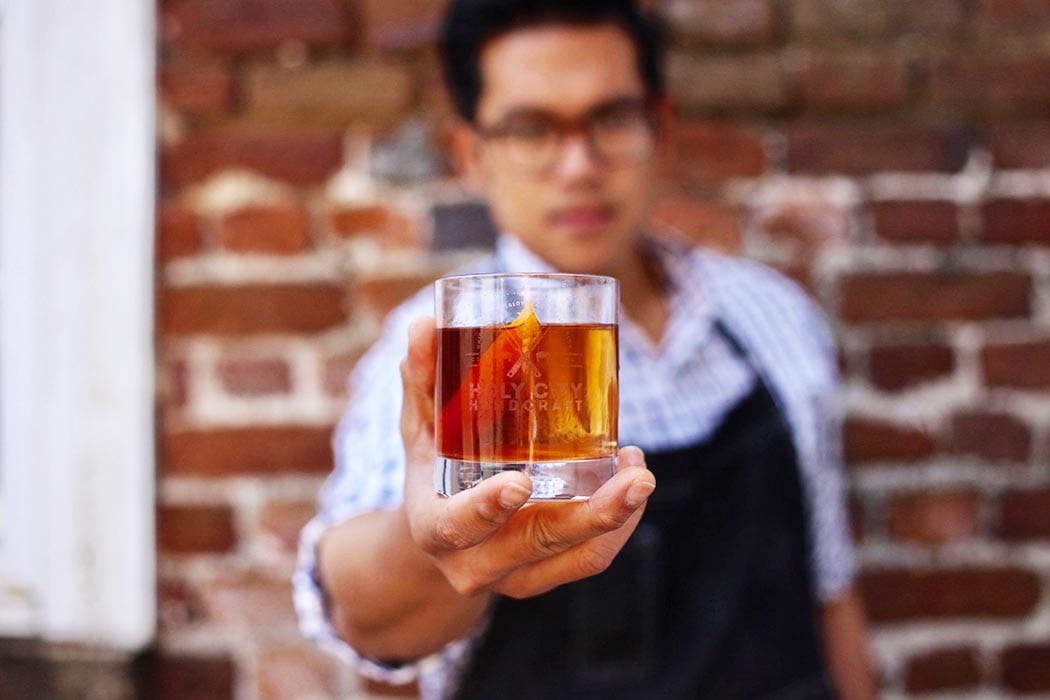 The best way to discover a new city is often by asking locals about their favorite places to eat and drink. In Charleston, South Carolina, one of the first people you'd want to tap for suggestions is Miguel Buencamino, the writer and photographer behind Holy City Handcraft. A software quality assurance engineer by day, Buencamino's interest in food and drink started at an early age. Inspired by the traditions and recipes of his Filipino grandmothers, the blog began as a record of his cooking experiments and the food scene in Charleston. But once he started getting into cocktails, things started to shift. "I learned how to make cocktails watching people like Charlotte Voisey, Robert Hess and Jamie Boudreau on YouTube. It was inspiring to learn how to do that at home, because it's very similar to cooking—there are certain flavors that go together and certain ratios of ingredients that are important," he says. "The first time I posted a cocktail on my Instagram feed the response was so great that I thought maybe I should keep doing cocktails."
Now, his Instagram feed and blog are filled with beautiful images of homemade ice experiments, whiskey research, and cocktails from around Charleston. Here's what a perfect day of eating and drinking in Charleston looks like for Buencamino.
Breakfast: Scram + Black Tap Coffee
"Egg sandwiches are making a comeback, so I'd start the day by visiting the Scram food truck," Buencamino says. Former Fig pastry chef Melanie Durant runs the show at the mobile sandwich trailer, where breakfast is always the star of the show. The menu is small, with just a few different kinds of options available at a time, but it's worth the pitstop, Buencamino says. "The reason why it's so good is that everything down to the bread is homemade. I would get one of those to-go and head over to my favorite coffee shop, Black Tap."
Black Tap is a tiny coffee shop on Beaufain Street known for their cold brew and pour-over. "I usually bring my laptop and order a pour-over and catch up on blogging," Buencamino says. "They have three different bean grinds, it changes every few weeks or so. It's gorgeous, with really cool vibes, and the coffee is always really good."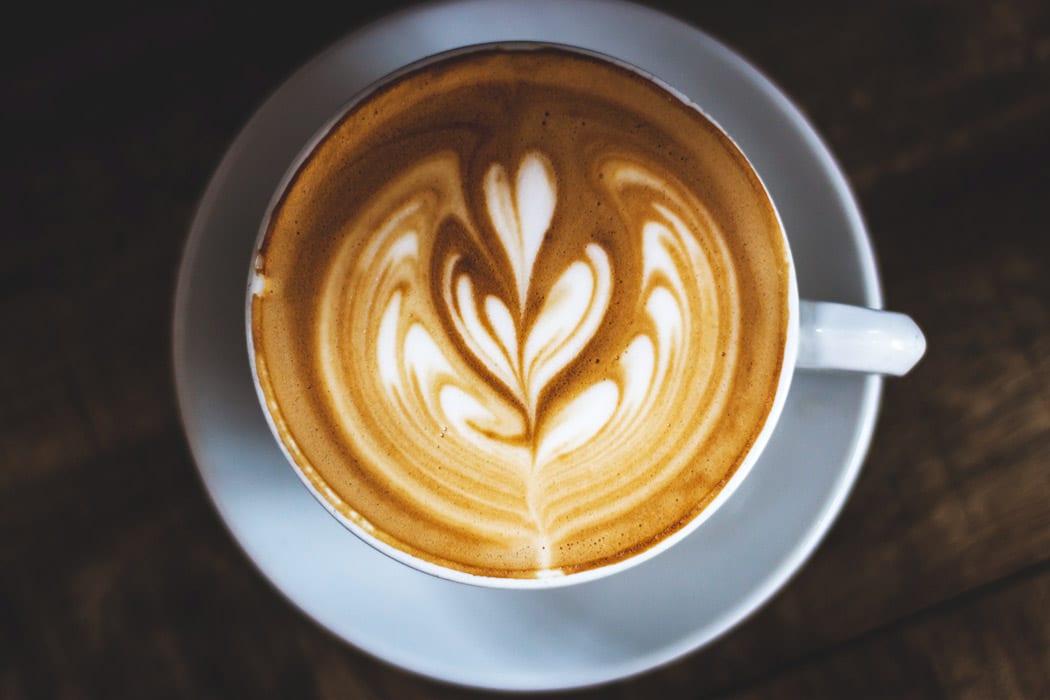 Lunch: Home Team BBQ
After a walk through South of Broad, Buencamino heads to Home Team BBQ in North Morrison (or NoMo to Charleston folks) for lunch. "It's misleading because people think its just a Southern BBQ restaurant, but it's more of a chef-driven restaurant that happens to serve BBQ too," he says. "One of the best things on the menu, arguably in Charleston, are the smoked wings. They're dry-rubbed and served with Alabama white sauce." Buencamino never passes on the house Michelada, made with a local blonde Bloody Mary mix, the house hot sauce, vinegar, lime juice and a pour of Banquet beer. In the summer, he opts for one of the house cocktails or the frozen Negroni. "They tip over a High Life pony inside it. It sounds insane, but it's one of the most refreshing summer drinks I've ever had."
Afternoon Snacks: Edmund's Oast + The Workshop
"If I still feel like drinking after that, I'll head over to Edmund's Oast's new brewery," Buencamino says. The production brewery opened this fall to complement the restaurant and taproom, which is located less than a mile down the road. The 65-foot bar features 20 taps of house-brewed beers, plus six taps with wine, coffee and cocktails. "The restaurant is one of my favorites, but the brewery is awesome. It's an open, inviting space that reminds me of the outside seating area at the restaurant, but there are no picnic tables, so it's courtyard-style." Buencamino says the barrel-aging program is a must-try.
Buencamino also recommends heading over to The Workshop food court for a visit to Pink Bellies, a Vietnamese eatery with a twist. "It appeals to me because I'm Filipino, so they have lumpia egg rolls and congee, but they also have dumplings," he says. "The weirdest thing they have on the menu is a burger similar to the one at In-and-Out. It's amazing. If you've been drinking and want to soak it up, you can literally walk next door."
Cocktail Hour: The Gin Joint + Spectator
For a pre-dinner drink, Buencamino has two favorites. The first is The Gin Joint. "It's one of the first places in Charleston that made me fall in love with the cocktail scene," he says. "They're one of the only bars in town with a Clinebell and an ice program. They also have a rotating menu, so they don't have house staples. I always get what's new and seasonal."
If you're looking for a more stately vibe, head to The Bar at The Spectator, a relatively new hotel near the historic city market. "They hired Allen Lancaster to run the bar program. He is the friendliest, most jolly guy you could ever meet, and he's super knowledgable about cocktails. I don't know if there is anyone more creative," Buencamino says. "For Thanksgiving he made a Turducken cocktail that sounded awful, but it was the essence of Thanksgiving in a glass in the best way possible. Another was a pad thai-themed drink that was funky and amazing. You wouldn't expect a pad thai cocktail to be good, but it was!"
Dinner: Little Jack's Tavern
Charleston's Brooks Reitz struck gold with the opening of Little Jack's Tavern, a place Buencamino calls "super casual." Their claim to fame is the burger, with two all-American beef patties, cheese a special sauce made with sunchoke relish. "The buns are fried perfectly over this oozing, juicy burger and it's served with garlic and herb fries. I don't share that one." The cocktail menu focuses on classics. "They play awesome music, everyone is relaxed and happy, and Bon Appetit just named them as one of the best burgers of 2017. You need to eat there," Buencamino says.
Nightcap: Dewberry + Bar Mash
"The Dewberry is a place to wind down and have one more drink and go home. The cocktails are gorgeous and delicious, and you have one and it's your nightcap," Buencamino says. "You guys just named it your Bar of the Year, so I won't go into more detail than that."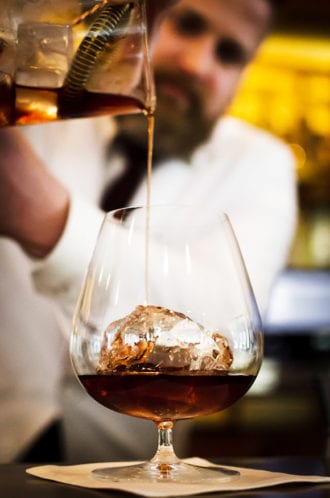 Another favorite spot for late-night drinks is Bar Mash. "It's a lot of fun, a totally different scene. They have one of the biggest whiskey selections in town next to the bar at Husk, and they're all fun bartenders that take care of you." Games like bocce ball and shuffleboard help pass the time, and it's not uncommon to catch a local band as part of the new Soul Sessions. "I usually wind the night down with a Boulevardier. I love the vibe there—it's one of my favorite bars."
From there, Buencamino heads home or if the late-night snack bug hits, he'll head to Callie's Biscuits for the chicken biscuit. "They go next door and get the chicken from Rarebit (they have Moscow Mules on tap), and they use it in the biscuits to make a cheesy chicken biscuit. After that, you're ready to go to bed," he says. "If we're going for Perfect Day, it's jam-packed with eating and drinking, but that's what Charleston is for, right?"
---
Like what you see? Get more of the best of liquid culture when you sign up for our bi-monthly magazine. Subscribe now and save up to 59%—it's just $21.95 for one year or $32.95 for two years. Click here for details.