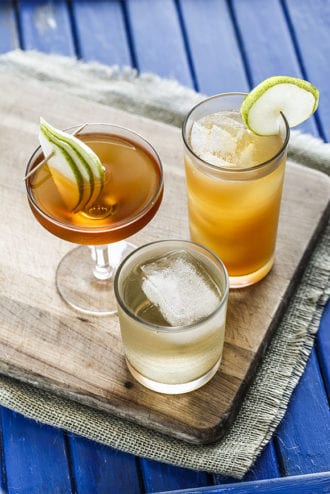 Pears often play second fiddle to apples when it comes to drinks. The world has long heralded Calvados, applejack and hard apple cider, but for centuries the pear has been largely relegated to the realm of the kitchen.
Yet with more than 3,000 varieties growing in Asia, Europe and the Americas, pears are among the most versatile and diverse of fruits. From delicate, crisp Asian varieties to the fleshy, creamy Bartlett, pears offer a broad spectrum of flavors, textures and aromas, and though still not as popular as the apple, pears are finally starting to get their due behind the bar, as bartenders look to liqueurs, unaged brandies (or eau de vie) and even perry, or pear cider, to add a supple sweetness and depth to drinks. "You get a nice acidity out of a pear, but you also get a sugary flavor," says Nate Smith at Park Kitchen in Portland, Oregon.
For his Lust for Life cocktail, Smith uses pear brandy from Portland's Clear Creek Distillery which he matches with the soft bitterness of Cardamaro and the spark of rye whiskey. "There's a wonderful juicy fruitiness, but it still has a bitter quality and a spiciness from the rye," he says.
In autumn, pears lend character to drinks with bold-flavored ingredients such as whiskey, rum, cinnamon, ginger and walnut. Pears also adapt well to brighter botanical flavors like rosemary, anise and fennel. At Dram Bread Bar and Apothecary near Denver, pear wedges add a hint of tartness to the evergreen-forward Pears of Winter, with gin, absinthe and pine syrup. At Drumbar in Chicago, Alex Renshaw used spiced pear liqueur in the Hell Hath No Fury cocktail, made with gin and lemon. "[Pears] pair excellently with baking spice, but you can also brighten it up and make a more delicate cocktail for spring and summer," Renshaw says.
At Beauty & Essex in New York, bartender Megan Hanrahan adds maple syrup and allspice liqueur to fresh pears to re-create the flavors of the baked apples her grandmother used to make around the holiday season, and at Third Rail in San Francisco, co-owner Jeff Lyon uses a delicate pear eau de vie from nearby St. George Spirits, matching its subtle aromatics with ginger liqueur and the dryness of Manzanilla sherry in The Spotlight cocktail. "I wanted something with a lot of layers of fragrance," Lyon says. "I thought about a couple of other eau de vies before pear, but as soon as I imagined what it would be like, it seemed like a natural fit."
LUST FOR LIFE
Rye whiskey, Cardamaro and pear brandy create a bold combination in this cocktail from Portland bartender Nate Smith.
1 ½ oz. rye whiskey
1 oz. Cardamaro
¾ oz. pear brandy
2 dashes Angostura bitters
Tools: mixing glass, barspoon, strainer
Glass: coupe
Garnish: thin slice of Bartlett pear
Combine all the ingredients in a mixing glass and fill with ice. Stir until chilled; strain into a chilled coupe. Garnish.
Nate Smith, Park Kitchen, Portland, Oregon
THE WOODSMAN
Fresh Bartlett pears lend texture to this autumnal cocktail flavored with allspice liqueur's touches of baking spice and bourbon's hints of oak and vanilla.
1 ½ oz. bourbon
½ oz. fresh lemon juice
¼ oz. allspice liqueur
¼ oz. maple syrup
3 slices ripe Bartlett pear
Tools: shaker, muddler
Glass: rocks
Garnish: dried pear chip or slice of fresh pear
Place all the ingredients except the bourbon in a shaker and muddle the pear. Add the bourbon and fill the shaker with ice; shake to chill. Pour, unstrained, into glass; garnish.
Megan Hanrahan, Beauty & Essex, New York
THE SPOTLIGHT
Pear's sweet fragrance and ginger's spice balance the savory flavor of celery and Manzanilla sherry's salty dryness in this aromatic aperitif.
2 oz. Manzanilla sherry
½ oz. pear brandy
½ oz. ginger liqueur
2 dashes celery bitters
Tools: mixing glass, barspoon, strainer
Glass: rocks
Garnish: thin slice of fresh pear
Combine all the ingredients in an ice-filled mixing glass and stir to chill. Strain into a rocks glass filled with a large ice cube. Garnish.
Jeff Lyon, Third Rail, San Francisco
---
Like what you see? Get more of the best of liquid culture when you sign up for our bi-monthly magazine. Subscribe now and save up to 59%—it's just $21.95 for one year or $32.95 for two years. Click here for details.