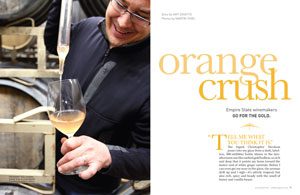 "Tell me what you think it is." The liquid Christopher Nicolson pours into my glass from a dark, label-less, 500-milliliter bottle shines in the late-afternoon sun like melted gold bullion, so rich and deep that it points my brain toward the lustier end of white grape varietals. Before I can even get my nose in the glass, the aromas drift up and I sigh—it's utterly tropical, but also rich, spicy and heady with the smell of honey and vanilla beans.
"A barrel-aged Chardonnay?" I ask. Nicolson, winemaker-in-residence at Brooklyn's Red Hook Winery, shakes his head and grins. "Nope, try again." I'm totally hoodwinked; it's not at all what I expected. It's super-dry and as grippy as a mountain climber on my palate and yet has a luxurious texture, like wearing cashmere over thermals. It's briny and spicy and leaves me feeling like I've been sucking on a peach-pit, but in a good way. As I'm standing there scratching my head over what the heck this is, Nicolson reveals the mystery: It's a skin-fermented Sauvignon Blanc, and I've never had anything quite like it.
This is orange wine. White wine that has been left to get chummy with the grape skins and seeds. It's a technique most wine drinkers aren't used to, since white wines are typically stripped from their tannin-holding grape skins to create the more familiar Pinot Grigio, Sauvignon Blanc and steel-tank Chardonnay profiles. But skin fermentation makes for some incredibly unique wines, and the technique has actually been used for thousands of years, with ancient roots in European regions like Georgia, Slovenia and Friuli, Italy. But it's modern-day New York winemakers who are leading the charge in America to bring these sometimes bizarre, sometimes mind-blowing and always food-friendly wines out of the amphorae and to a table near you.

Copper Tone
"I've been intrigued and inspired by the category of skin-fermented whites since they started appearing more in the marketplace in the late '90s," says Christopher Tracy, the innovative winemaker at New York's Channing Daughters Winery on the South Fork of eastern Long Island. "That's when Gravner's first skin-fermented whites were coming out." Tracy is referring to the famous Friulian oenological Italian cowboy, Josko Gravner, who was disenchanted with how certain modern winemaking techniques seemed to strip away not just the true character of grape varietals, but the ancient craft of winemaking altogether.
After studying the writings of ancient Roman viticulturist Lucius Columella, Gravner decided not only to ditch the modern chemicals he'd been using and spontaneously ferment his wines via natural yeasts, but to do so on their skins—a technique not often used for whites these days anywhere in the world—and to bury the whole kit and caboodle underground in clay amphora jars at his winery near the Slovenian border. The results were fascinating—white wines that were richly colored, spicy, smoky, intense. Some were even oxidized in character, like the dry, briny whites from Jura, France, or even a sherry.
Sommelier and wine director for the Momofuku family of restaurants, Theresa Paopao has served several skin-fermented New York whites at Momofuku Ssäm in Manhattan, something she fell for after a tasting experience in Friuli, Italy, near the Slovenian border. Paopao visited the cellar of Stanko Radikon—a contemporary of Gravner who was simultaneously in the mode of returning to a more natural (and food-friendly) style of vinification for whites in the town of Oslavia "It was there that I had my first real taste of skin-fermented wine, out of the barrel," she recalls. "I hadn't heard of orange wine at that point, and I don't even think the term had been coined yet. I was tasting a suspiciously bronze and cloudy wine that was exploding with a range of flavors and textures I had never experienced before in wine made from white grapes."
Gravner's and Radikon's experiments not only inspired some of his nearby peers in Friuli—winemakers now famous for their own esoteric skin-fermented whites, like Carlo Schiopetto, Silvio Jermann, Paolo Bea in Umbria, Frank Cornelissen in Sicily, among many others—but winemakers in America, too. Around the time Gravner's wines were turning heads in the late '90s, Tracy began working at Channing Daughters, making his first wines in 2001 and taking over as the full-time winemaker in 2002. By 2004, he released New York's first skin-fermented whites, and to very good reception: Meditazione, a blend of Sauvignon Blanc, Chardonnay, Tocai Friulano, Muscat Ottonel and Pinot Grigio garnered a page-long opus entitled "The Best White Wine in America" from Paul Grieco on the wine list at his Hearth Restaurant in Manhattan. The heady, exotic, richly hued Envelope is composed of Chardonnay, Gewürztraminer and Malvasia and named as a cheeky nod to that very thing Tracy likes to push.
Both of those wines have become staples of the Channing Daughters portfolio and have spurred him to work with more skin-fermented white wines, like his field-blend Mosaico and the more recent Ramato, which he makes from 100% Pinot Grigio and which you can find by the glass at spots like Daniel Boulud's DBGB, Momofuku Ssäm and Roberta's in Brooklyn.

Inspired?
Like Gravner, the pioneering Tracy kicked off a whole new facet of New York winemaking and inspired other New York producers, as well. Since those first releases in 2004, Abe Schoener of Red Hook Winery, Anthony Nappa, Alie Shaper of Brooklyn Oenology and Conor McCormack at Brooklyn Winery have all been drawn to uniquely textured orange wines. It's a mouthfeel your typical crisp, easy-quaffing whites generally don't have, thanks to the healthy shot of tannins these wines get from macerating and fermenting on their skins from anywhere from a week or two to a year. "The chemistry is going to change over time," says Anthony Nappa, who launched his eponymous label, Anthony Nappa Wines, in 2007 while still the winemaker for Shinn Estate Vineyards in Mattituck, New York. "It's like a red wine—if you tasted a red in barrel now and then in a year and a half, it will change dramatically, and that's the case with orange wines."
Under the Shinn name, Nappa crafted two skin-fermented white wines in the 2009 vintage—a golden, slightly cloudy, unfiltered Chardonnay, and a mauve-orange colored dessert wine called Veil, in large part because Nappa feels that wines made in this way need time to soften. "Oxidation [the exposure of wine to air] is something we choose to do, to drop out some of the tannins and bring them back to balance," he says. "Only problem is when you drop out too much tannin, you lose a lot of fruit flavor, too. And if you're going to skin-ferment, you need really ripe skins but at the same time a lot of acid."
Which is why New York producers are able to yield such lovely results—even though each vintage brings its own surprises in the northeast, the climate generally affords the right amount of ripening, but with high levels of balancing acid. "We were surprised by how good skin-fermented whites were in New York," says Abe Schoener, a California winemaker who's also a partner in Brooklyn's Red Hook Winery. "We thought the level of ripeness in California might be absolutely essential to avoid harshness and to balance the acidity."
A philosophy professor turned winemaker, Schoener gained fame for the boundary-pushing cult wines he makes with his label, the Scholium Project, but his experience with orange wines began in the early 2000s when he took over as winemaker of Luna Vineyards in Napa, California, where the previous winemaker's experiments with skin-fermented whites inspired Schoener to make one himself. "The upper management considered that experiment wacky, but I convinced them it was one of the best wines we made, and I continued making it every year," he recalls. "The best was a Tocai Friulano that had a 30-day skin contact. It went against all of my expectations."
Schoener continues to defy expectations with the stunning skin-fermented whites he makes at Red Hook Winery, which opened in 2008 on a quiet corner of the hard-scrabble, waterfront neighborhood it's named for. Schoener divides his time between the Scholium Project in California's Suisun Valley, where he's made several skin-fermented whites, and New York, where he works with day-to-day winemaker Christopher Nicolson on wines crafted from all-New-York–sourced grapes.
In 2009 he had six different skin-fermented whites in progress, but don't call them orange wines. "I tend to avoid that term because the orange [color] can come from two sources that are different," Schoener says. "Chardonnay, for instance, can turn from golden to orange from exposure to air, but others don't oxidize as readily, like Tocai and Sauvignon Blanc," he says. "But the orange color can leach out from the seeds under influence of alcohol, too. So often people think the color simply comes from oxidation, and in many cases it has nothing to do with it; it's from the tannins and lignin, which is a general term for what makes woody stuff taste, well, woody."
Even barrel-tasting Schoener's skin-fermented whites at an early stage in their liquidy life is breathtaking; they have the kind of luscious structure, incredible aromatics and cleat-like tannins that make you wonder why the entire winemaking world isn't producing wines like this more often. They also show how the choice of how long to leave the skins and seeds in the mix can transform certain recognizable varietal traits into entirely new facets of flavor and aroma.
For instance, recently bottled are two Sauvignon Blancs—one that spends about a month on its skins and shows typical Sauv Blanc grassiness and grapefruit but picks up dry, briny, peach-pit characteristics. The other was the one that kept me guessing when tasting it with Nicolson—for that one, Schoener and Nicolson ferment only a portion of the grapes on the skins in steel for about five weeks, but it winds up with such intensity that you'd swear it was a Chardonnay or Viognier that had been in a barrel. It's something Nicolson gets nearly giddy about: "Every one of these will have its own little story to tell."

Bronze Ambition
Alie Shaper, owner and winemaker of Williamsburg's Brooklyn Oenology, just made her first orange wine—63 cases worth—from 100% Pinot Gris from New York's northerly Finger Lakes region. Its color is stunning—a bright, glorious hue that lies somewhere between rosy and burnt orange, from fermenting on the skins in neutral oak barrels for about two weeks and macerating with them for six weeks. The aroma is like a mandarin orange lollipop mixed with pears, daffodils and an underlying cigar-box spiciness. In the mouth, it's a wash of dry citrusy pith, hazelnuts, baking spices and pears. The finish is a long echo of dried apples. "It's a funky little thing!" Shaper laughs, "I still don't know what it is yet."
But for Shaper, it's what making wine in New York is all about. In addition to the "how's it going to turn out?!" excitement that trying something new can engender, Shaper saw white wines of this ilk as a way to stretch her creativity—to do something outside of the guidelines within which she'd been working so far. "New York City is a particularly educated wine community, and it gives me the opportunity to turn out something offbeat," she says. "When New York was coming on the scene as a wine region, it was the same time the American public became wine drinkers. We've all grown up together as a region and found our identity. We get to do our own interpretations of classics here."
And orange wines seem to be holding the attention of New York's finicky wine drinkers. More and more, skin-fermented vino from Europe and New York is showing up in shops and on wine lists around town—on Bryan Burnett's Italian-centric list at Lincoln; at downtown darling DGBG and understated Bushwick pizza joint Roberta's, which both serve Tracy's Ramato by the glass; at Grieco's Terroir; and at Má Pêche and Blue Hill, which have embraced Red Hook Winery's outpourings with open arms.
Beyond novelty, skin-fermented whites are remarkably versatile at the table—which is why they've been the slow-burn darling of young sommeliers across the city, delivering both the stand-up qualities of reds that make them work with meatier, weightier meals and the aromatic, palate-refreshing qualities of whites. "You can put them in places where you would normally drink a high-acid red, like Barbera or Pinot, because you still have that acid and those tannins to cleanse a fatty dish, like pork belly," says Tracy. "I was blown away the other day. I took some short ribs with roasted root veggies that we had for dinner one night, pulsed the leftovers in a Cuisinart, stuffed ravioli with it, and served it with my Envelope. And we were like, 'Wow!' It sang."