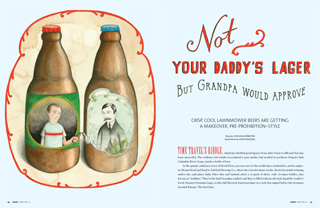 Time travel's riddle, which has thrilled great figures from Jules Verne to Bill and Ted, has been unraveled. The evidence isn't inside an academic's gray matter, but nestled in northern Oregon's lush Columbia River Gorge, inside a bottle of beer.
In the quaint, outdoorsy town of Hood River, you can wave to the world-class windsurfers, nod to majestic Mount Hood and head to Full Sail Brewing Co., where the real adventure awaits. Resist its medal-winning amber ales and piney India Pales Ales and instead select a 12-pack of short, wide 11-ounce bottles, also known as "stubbies." They're the kind Grandpa cradled, and they're filled with an old-style liquid he would've loved: Session Premium Lager, a rich, full-flavored American lager in a style last sipped before the Germans invaded Europe. The first time.
Session is a crisp, light, slightly floral beer; a delicate, thirst-quenching balance that makes it compulsively quaffable. "It's like beer I snuck from my dad when he was mowing the lawn," says Full Sail's executive brewer Jamie Emmerson, "but better."
Yet say "American lager" to beer purists, and noses often wrinkle, eyes fearfully widen. Lager, simply put, is beer that's made with bottom-fermenting yeast and matured in cold conditions, from pale pilsners to amber Viennese-style lagers and dark, Munich-style bocks. Pre-Prohibition lagers were bracing and nuanced, thanks to high-grade barley; afterward, many American lagers degraded into bland, watery, mass-market brews, using cheaper ingredients, like rice. "What happened to lager is no different than Constantinople being overrun by the Turks," says beer historian Alan Eames*, author of Secret Life of Beer: Legends, Lore & Little-Known Facts. "America's genius is to take a good idea and beat it to death. I've been drinking professionally for half a century, and lager nowadays is the least interesting beer you can find."
Not anymore. While craft beer headlines are often reserved for genre-busting extremes—psychotically hoppy IPAs or bourbon-flavored, blackout-dark stouts—retro-leaning brewers are rewriting America's lager legacy. From Brooklyn to Indiana and Oregon, craft brewers are digging into dusty recipe books to create beer that's definitely not your daddy's lager—unless he was of drinking age in 1903.
Back in Time
The story of lager is, like America itself, a story of immigration. Until the mid-19th century, our republic loved hearty, fruity ales. But with the arrival of German brewers, who had perfected lagering back home, Americans developed a taste for this newfangled tipple. "This crisp beer that was pretty to look at" was a hit, says historian Gregg Smith, author of Beer: A History of Suds and Civilization from Mesopotamia to Microbreweries.
By the 20th century, lagers were outselling ales. Then Prohibition hit. When the sobering cloud lifted, American-style lager evolved again. The twin blow of the Depression and the Dust Bowl meant money and raw ingredients were scarce, and conditions worsened by World War II. American brewers started mass-producing a cheaper lager. People drank it anyway, because "they just came out of 13 years of no beer," Smith says. "So brewers thought, 'We're having success with this, so why should we go back to the higher-priced product?'"
But by the late '80s and '90s, it was time for brewers to go back in time to find the lager's future.
Surprise in a Stubby
All Full Sail's Jamie Emmerson cared about was the bottle. "It's a grenade," the dimpled, youthful, 43-year-old says of the stubby brown bottle. "I wondered, 'What could I fill a grenade with?' "

In a simpler post-atomic era, lager beer was synonymous with stubbies of Lucky, Pearl and Rainier. These were solid suds, the kind blue-collar Joes kicked back with after work. But America's stubby era ended when Rainier Brewing Co. closed in 1999. When the brewery was shuttering, Emmerson noticed that "people were buying pallets upon pallets of the stubbies. Drinkers loved the bottle—and the beer that was in it."
Problem was, Full Sail didn't brew lagers. Sure, it crafted the occasional one-off, but its name was staked on premium, flavorful ales. For three or four years, Emmerson and Co. kicked around ideas for a stubby-bottle beer. A potent porter? Brazen barleywine? Light and fizzy lambic?

"Let's look at something that's been done before," Emmerson remembers thinking, "but something that no one's doing." Voilà! Pre-Prohibition lagers. Creating one took nearly a year of formula-tweaking—the mix was too sweet, then too hoppy. The just-right recipe resulted in a light yet rich, flavorful but not overwhelming lager called Session, so-called because it's ideal for a long beer-drinking session. "I took a sip and said, 'This is going to do just fine,' " Emmerson recalls, laughing.

Packaging firm Owens-Illinois supplied the stubbies. After a $70,000 bottling-line overhaul, Sessions rolled off with a little something extra: In a nod to bygone stubby caps, often imprinted with decals like anagrams and playing cards, Session caps are stamped with an image of a rock, a piece of paper or scissors.
Despite the old-time recipe and the kitschy bottle, Emmerson says it's tough to get today's drinkers over the expectation that American lagers are bland. "We're going to fight that for a while." But he has some unlikely allies in the battle. "My dad and his buddies are all old-school, light-beer drinkers, and they love Session," he says. "You don't get much more macro-drinking approval than that."
Old Brew, New Attitude
Across the country, in a former brewing capital, Brooklyn Brewery staked its entire fate on an old-world lager. As late as 1962, 10 percent of American beer was brewed in Brooklyn, most of them lagers made in the 12-block "Brewer's Row" in the area known as Williamsburg. By the time Brooklyn Brewery was founded in 1987 (by reporter Steve Hindy and banker Tom Potter), legendary breweries like Rheingold and Schaefer had vanished.
To bring back Brooklyn lager, Hindy and Potter tapped William Moeller, a fourth-generation beer maker whose grandfather had brewed in Brooklyn during its sudsy heyday. Moeller found an old family recipe in his grandpa's notebooks, and the new brewery's Brooklyn Lager was born. The lightly hoppy, traditional amber lager became the brewery's flagship brew. At first, distribution was a struggle. "When we came out with Brooklyn Lager, few people had even heard the word 'lager,' " says Garrett Oliver, the current brewmaster. The founders bought a van and beverage truck and personally trekked cases of their lager—labels proudly stamped PRE-PROHIBITION—to the city's retail stores and bars. Bottle by bottle, the lager intrigued tastebuds, and Brooklyn Brewery's gamble paid off. Nowadays, bottles of Brooklyn Lager are guzzled as far afield as Tokyo. In 1996, the brewery moved into an old matzo ball factory on the former Brewer's Row.
Jolly, goateed brewmaster Oliver is pleased by the lager's success, though his happiness is tempered by the sobering thought that "what you're seeing now is just a return to normality. This is how we used to—and should—drink. We haven't even gotten back to where we were 100 years ago."
But they have in Terre Haute, Ind. At the turn of the 20th century, this western Indiana city of 60,000 bustled with iron and steel mills, coal mines, distilleries and breweries. In the 1890s, the lager-crafting Terre Haute Brewing Co. was America's seventh-largest beer maker. The brewery went dry during Prohibition, then was resurrected in 1934 by Terre Haute–born Oscar Baur. His company eventually employed more than 900 people in producing Champagne Velvet, "the beer with the million-dollar flavor"—the recipe was insured for $1 million.
By 1958, however, the million-dollar beer had lost its luster, and the operations were bought by the Atlantic Brewing Co. One year later the Terre Haute plant was locked, and Champagne Velvet disappeared within a decade. Its trademark was shuttled among Stroh's, Schlitz and, finally, Pabst, where it lingered in limbo from the '60s onward. Fast-forward to 1990. Terre Haute native Mike Rowe, 52, and his wife, Teri, bought the original 1837 brewery, planning to convert it into apartments.
As the Rowes revitalized the condemned structure, they got a call from a local guy who had found an old hand-written beer recipe in his basement. "'It's got something about beer in it. Will you give me 20 bucks?'" Rowe recalls the guy saying. "At the time, I felt like that was too much."
It was a bargain. This was the original, 1901 Champagne Velvet recipe, which called for flaked corn. So began twin odysseys to win back Champagne Velvet's patent and to resurrect the long-dead beer. For the former, Rowe embarked on a five-year litigation journey and recovered the trademark in 1999. Re-creating Champagne Velvet was far easier.
With the recipe as a guide, Rowe and two brewers created a trio of pre-Prohibition lagers: light, sparkling Champagne Velvet Pilsner; smooth, caramel-colored Champagne Velvet Amber; and the dark, potent Champagne Velvet Bock. "Our recipes are as true to the 1901 recipe as we could get with modern ingredients," says lead brewer Geno Booher, 45. "We're confident that if somebody had a Champagne Velvet in 1958 and they sat down with one today, they couldn't tell the difference."
People scoop up six-packs to take to their grandfathers' retirement homes as far away as Texas. "They say, 'Oh, he's going to be so thrilled! He used to drink this beer before he went to Korea, and he never thought he'd drink it again!' " Booher says.
Other brewers have joined Terre Haute, Full Sail and Brooklyn Brewery in re-creating lagers of the past. Some of America's finest lagers are crafted in Pennsylvania, thanks to its staunch German heritage and beer makers' Prohibition perseverance. "Though we lost breweries like every other state, Pennsylvania retained enough—like Lion, Straub, Yuengling and Pittsburgh—to keep our lager beer-making tradition alive and uninterrupted," says Bill Covaleski, president of Victory Brewing Co. In addition to its popular Victory Lager, the Downingtown brewery also makes a limited-release Throwback Lager using yeast from bygone Philadelphia brewer Christian Schmidt. "Pennsylvania consumers want to drink lager."
Last year in Reading, Pa., the Legacy Beer Co. started bottling the long-dead lager Reading Beer; Craftsman Brewing Co. in Pasadena, Calif., makes a 1903 Lager; Detroit's Motor City Beer makes a before–doo-wop Motown Lager; and even Budweiser recently released Select, a higher-grade lager using European two-row barley, a staple ingredient in classic Bavarian lagers.

The future of American lager is looking much like its history, which gives Rowe no small measure of pleasure: "We're drinking the classic German recipes again," he says, "but with an American twist."
*Special thanks to beer historian Alan Eames, who passed away in February 2007.