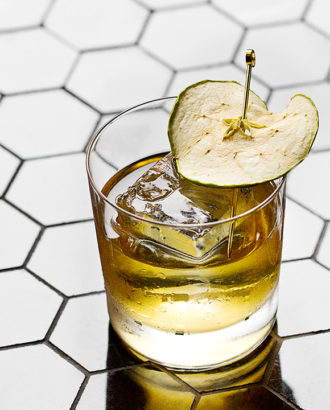 The Normandie Club's cocktails are adventurous spins on familiar classics, and this nutty riff on an Old Fashioned has an added spark of spice. Read more about the new Los Angeles bar in our Q&A with owners Alex Day and David Kaplan while you mix up this delicious treat using the instructions below.
1 ½ oz. coconut bourbon
½ oz. apple brandy (such as Clear Creek's 8-year-old)
1 tsp. spiced almond syrup
Combine ingredients in a mixing glass with ice and stir to chill. Strain into a glass filled with a large ice cube; garnish.
Coconut Bourbon: Toast 1 ½ oz. of coconut flakes in a dry pan over medium heat until golden, about 5 minutes. Add to a zip-closed plastic bag along with 10 ½ oz. of bourbon (Normandie Club recommends Old Forester). Press the bag to remove as much air as possible, then seal. Fill a large saucepan with water and bring to a boil; remove from heat and add the bag containing the bourbon mixture (Water should completely cover the bag); cover the pot and let soak for two hours. Remove the bag and chill it in ice water until cool, then strain the infusion into a plastic container. Place the mixture in the freezer for 24 hours, then strain again to remove all the solids, and bottle for use.
Spiced Almond Syrup: Mix 7 oz. of demerara sugar with 3 ½ oz. of water in a saucepan and stir over low heat until the sugar dissolves. Add a scant ¼ cup of sliced almonds, 1 cinnamon stick and 2 whole clobes, and simmer for 10 minutes, stirring occasionally. Remove from heat and let cool; strain into a container and keep refrigerated for up to 1 month.
Devon Tarby and Alex Day, The Normandie Club