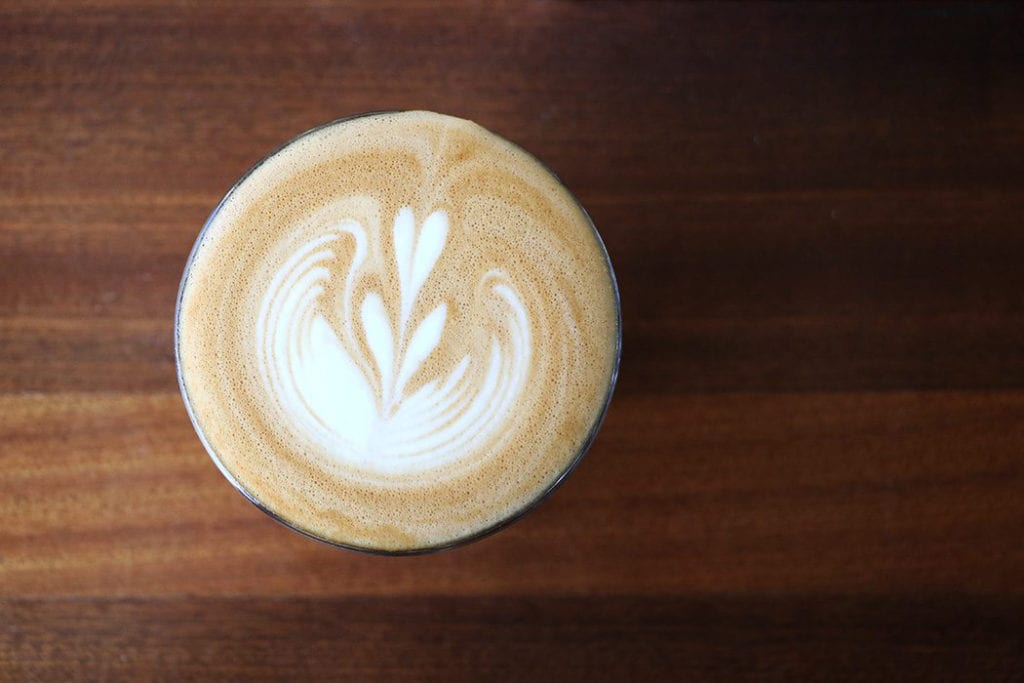 Alt milks have made huge strides in recent years, and while soy once dominated coffee shop menus, today there are myriad options that yield velvety, delicious espresso-based drinks for non-dairy drinkers. To find out which ones work best, we tapped a few seasoned coffee pros around the country to weigh in on five of the most popular and widely available milk alternatives.
Soy Milk
Soy has long been a ubiquitous option at coffee shops for those who don't drink dairy. At Stay Golden in Nashville, beverage director Nathanael Mehrens likes the alt milk in coffee drinks because of its clean, nearly neutral flavor. "While soy has fallen somewhat out of fashion in favor of other milks, I still think it's one of the best available," he says. "Especially in contrast to almond milk, which is incredibly unsustainable and, in my opinion, less complementary to the natural characteristics in a lot of the coffees we work so hard to source and roast. I find that it varies from brand to brand, but some of the higher-quality soys do pretty well [when steamed]," he says, recommending Barista Series Soy Milk by Pacific Foods as a good option where the flavor stays fairly subtle and allows the coffee to still be in the forefront. The one downside can be the texture. "[Soy] can be somewhat airy, which can make achieving a creamy micro-foam a little more difficult," Mehrens adds.
The verdict: "In terms of flavor, I think soy is a good option, but in my experience, oat milk gives the best results in terms of texture when steamed," says Mehrens. "There are multiple brands that give nearly identical results to cow's milk and incorporate beautifully into the milk, making even, intricate latte art a breeze."
Almond Milk
Almond milk tastes great cold with cereal and in smoothies (and even straight up), but steamed is a different story. Many almond milks tend to lose natural sweetness and texture when heated, creating no visible microfoam and seeming to curdle almost instantly. The solution? Onyx Coffee Lab uses Pacific Barista Series almond milk, which is formulated specifically for hot coffee drinks. "Barista Series products steam very comparably to standard dairy and have a smooth, harmonious texture that pours and tastes great," says Onyx co-owner Andrea Allen. "The texture is small-celled microfoam, and the flavor works really well with espresso or cold-brew. What I like about its taste is that it's smooth, creamy, with just a hint of sweetness and a little nutty—it has enough taste to feel nice and substantial but not overly nutty."
The verdict: For both flavor and substance, almond milk can work great in espresso-based drinks, but only if you're using a brand specifically designed for coffee (like the Pacific Barista Series).
Macadamia Milk
The world of nut-based milks has exploded over the past five years, and one of our favorite more recent options for espresso drinks is macadamia milk. With a slightly sweet flavor that "evokes the taste profile of cereal milk," macadamia nut milk has a texture that is lighter than dairy, "so creating consistent latte art is significantly more difficult, but the flavor remains intact through the steaming process and the mouthfeel remains creamy and luxurious," says Ryan Dailey, coffee director for Hogsalt in Chicago (the parent company for cafés including C.C. Ferns and Sawada). "It's unique and tastes great. It's also much more earth-conscious than almond milk or dairy."
The verdict: "If beautiful, clean latte art is paramount, then I would suggest dairy," says Dailey. "But if that isn't a priority, I think macadamia milk is a great alternative with an amazing texture."
Coconut Milk
Coconut milk doesn't add as much of a tropical flavor to a cappuccino as you might expect, and when heated, it loses much of what makes us love the cold version of the alt milk. At Fairgrounds Coffee & Tea, training manager Samya Said says it's not her top pick for steamed espresso drinks. "Coconut milk consistently stays a little sweeter than most [when steamed], but it tends to get a little foamier because there is more sugar in it. When the milk is caramelized to make the foam, the sugar causes it to be thicker, resulting in more foam." For this reason, she reaches for coconut milk mainly for iced drinks and matcha-based drinks.
The verdict: Cold coffee drinks and matcha-based recipes work great with coconut milk, but steaming can create an less-than-ideal texture and a flavor that clashes with the bittersweet qualities of espresso.
Oat Milk
With a higher fat content than most nut milks, oats make for one of the best coffee companions. Just remember that as with many alt milks, quality can vary by brand, so finding the ones trusted by baristas is a good bet. "If I'm mixing coffee with oat milk I want it to be clean and sweet," says Intelligentsia Coffee education and service program manager Bailey Manson. "If instead it comes out more bitter or acidic or showcasing flavors from the milk rather than coffee, then we'll look for another brand." Oatly is a go-to for baristas everywhere for its ability to closely mimic the flavor and texture of dairy, and it's the choice for Intelligentsia. "We like that oat milk (some, not all) is very neutral. It also tastes great steamed," adds Manson. "When we're evaluating new plant-based milks, we taste them hot and cold, and with different amounts of coffee. They need to perform well under all circumstances for us to consider offering them."
The verdict: For its neutral flavor and creamy texture, oat milk is a great option for coffee drinks, both hot and cold.
---
Did you enjoy this article? Get more of the best of liquid culture when you sign up for a print or digital subscription to Imbibe Magazine. Click here for special savings!