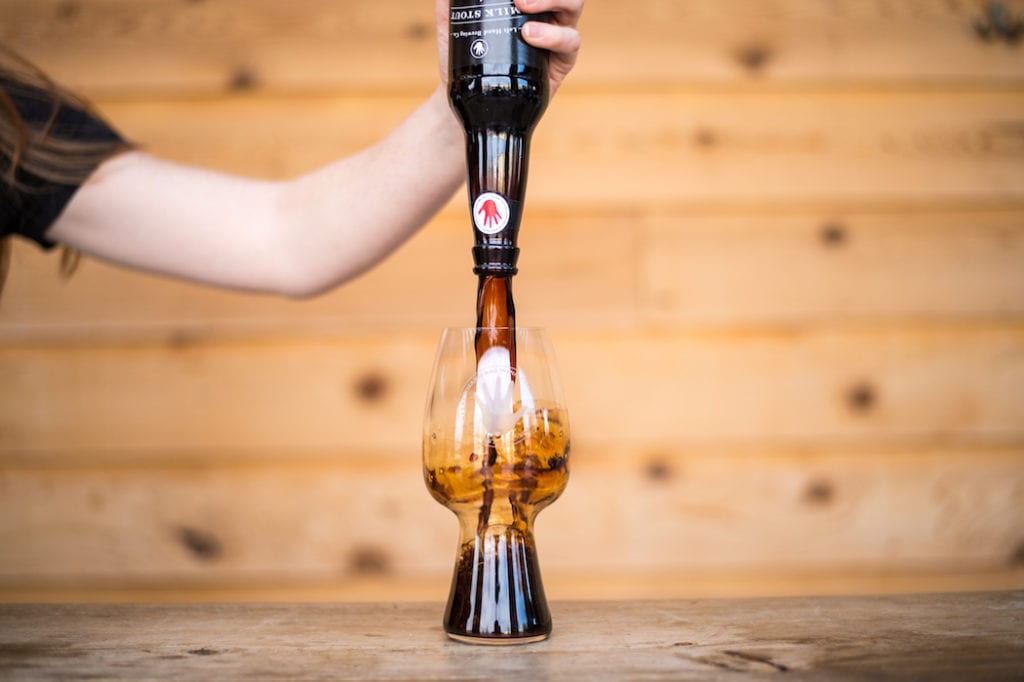 For an element that's tasteless, odorless and colorless, nitrogen dramatically alters the perception of a beer's flavor and aroma. The creamy, cascading appearance of a nitro beer—a brew carbonated with more nitrogen than CO2—pulled from the tap is unmistakable. But while draft systems were once the only vehicle for delivering nitro beer to the glass, that's changed in recent years as breweries are tapping into new canning technologies to bring more styles to the market than ever before. This is no small miracle when you consider the production technology required to deliver that velvety texture to your fridge. "There's a considerable amount of magic that goes into making nitrogen happen in a can," says Matt Thrall, director of brewing at Left Hand in Longmont, Colorado.
Known for their Milk Stout Nitro—a beer that today comprises 48 percent of their portfolio—Left Hand made waves in 2011 at the Great American Beer Festival when they unveiled the beloved nitro brew in bottles, the first American brewery to do so. It was a unique challenge to package the Milk Stout on nitro without the use of a widget, which had been the proprietary technology of Guinness when they patented the idea in 1969 (although it wasn't until the late '80s that they finally released the first-generation widget can). Looking for other methods, Left Hand spent about a year in research and development to land on the process and precise combination of gasses to make nitrogen happen in a bottle. However, without the assistance of a widget, to get the proper effect the bottles have to be turned completely upside down for a vigorous pour. "People who do it their first time typically take a few steps back because it looks like you're about to pour beer all over the table," says Thrall. "But it was quite the leap for a craft brewer to have pulled off back then."
It was a challenge understood by fellow Colorado brewers Breckenridge. When they started offering their Oatmeal Stout on nitro more than 12 years ago, it was a huge success—which led to more problems. Without the specialized equipment or facilities to keg nitro beer, they were hauling kegs into the cooler to manually hook them up to nitrogen bottles one by one. In 2015 when they had the opportunity to expand onto a 12-acre campus in Littleton, Colorado, they went all in on nitro, investing $2 million on the infrastructure and equipment needed to start kegging and canning nitro beers. They sourced new cans designed by the Ball Corporation. Unlike the ping pong ball–style of widget that floats in the Guinness can, the new Ball can uses a widget affixed to the bottom and shaped like a little top hat. During the filling process at the brewery, liquid nitrogen is added into the widget before the can is pressurized. When the can is opened, the drop in pressure causes the nitrogen to quickly release from the widget and the beer is nitrogenated.
"The investment was significant, but we were excited to take on the challenge in order to produce more nitro beers and in new varieties," says Todd Usry, president and brewmaster of Breckenridge. They did just that, now offering a full line of nitros, including year-round offerings Vanilla Porter and Lucky U IPA as well as seasonals like Chocolate Orange Stout and even, yes, a Pumpkin Spice Latte Coffee Stout.
If darker, maltier beers seem like a common theme, it's no coincidence. "Stouts and porters, with their rich and roasty flavors, certainly lend themselves to the smooth texture that nitrogen adds," Usry says. While offering a boost to malt-forward flavors, nitrogen tends to quell the bitterness and aroma of hoppier beers, which is less than desirable if those are the characteristics you're trying to highlight.
But as more brewers continue to experiment with nitro, more styles continues to creep into the category. Often, a bar or brewery will even offer the same beer side by side, with one carbonated and one nitrogenated to allow drinkers to experience the difference themselves. "I think the growth and success of these introductory nitro styles, along with craft breweries' desires to continually try new things and consumers' willingness to experiment, aided the introduction of more nitro styles like the IPA," says Usry.
Left Hand expanded their bottled nitro selection to include styles like a Russian imperial stout, a Scottish-style ale and an ESB. This past June, the brewery began putting the Nitro Milk Stout into cans, utilizing Ball's first production run of the fixed-widget can to be manufactured in the U.S. In the coming months they plan to expand the offerings with a Chai Milk Stout, a Belgian dubbel, and, by summer, a fruity cream ale. With such a large stake in the nitro game, Left Hand even launched Nitro Fest, the first nitro beer festival. "There are strong beer festivals, hoppy beer festivals, sour beer festivals, but there was really no nitro beer festival," says Thrall. Last November marked the event's fourth year, with Left Hand hosting more than 40 breweries from the U.S., Ireland, the U.K., China and Korea.
"Nitro beers have taken on a life of their own beyond their cask ale roots," says Bryan Selders, the brewing ambassador at Dogfish Head, who regularly participates in Nitro Fest. "The style is applicable to a wide variety of beer styles, and the beers take on different textures and express other aromas which can be a unique and surprising experience for the drinker."
---
Like what you see? Get more of the best of liquid culture when you sign up for our bi-monthly magazine. Subscribe now and save up to 59%—it's just $21.95 for one year or $32.95 for two years. Click here for details.