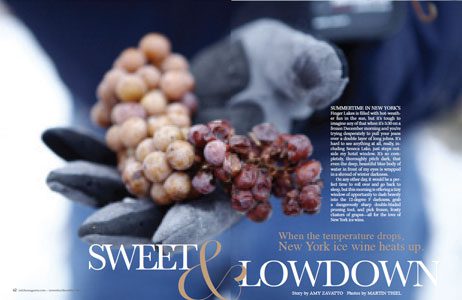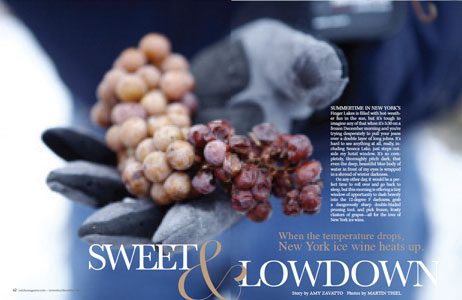 Summertime in New York's Finger Lakes is filled with hot-weather fun in the sun, but it's tough to imagine any of that when it's 5:30 on a frozen December morning and you're trying desperately to pull your jeans over a double layer of long johns. It's hard to see anything at all, really, including Seneca Lake, just steps outside my hotel window. It's so completely, thoroughly pitch dark, that even the deep, beautiful blue body of water in front of my eyes is wrapped in a shroud of winter darkness.
On any other day, it would be a perfect time to roll over and go back to sleep, but this morning is offering a tiny window of opportunity to dash bravely into the 12-degree F darkness, grab a dangerously sharp double-bladed pruning tool, and pick frozen, frosty clusters of grapes—all for the love of New York ice wine.
Craving the Cold
If you've ever tasted ice wine's thick, luscious nectar, it's easy to understand why it's worth this kind of effort. Ice wine—also known as eiswein in Austria and Germany, where it originated, or the one-word icewine in Canada, where the steady freezing-cold winter temperatures have made the dessert wine a local icon around Ontario—is nothing less than a second-harvest miracle and, in all likelihood, one discovered by accident. Although evidence of ice wine's existence can be found in sticky drips and drabs from Roman times on, the best existing records point to Dromersheim, Germany, in 1829, when a particularly frosty winter lead some wine growers to leave grapes lingering longer than usual as tough-times feed for livestock. When the cows seemed to be enjoying their emergency snack more than the usual meal, farmers tasted the grapes and realized the frosty winter temperatures had performed a sweet little miracle on their grapes.
The allure of ice wine is a combination of texture and taste. The thick, concentrated liquid is luscious, almost honey-like and, depending on the grape you're using to make it, full of concentrated fruit aromas and flavors. With white varietals (more often than not, Riesling and, in New York and Canada, the French-American hybrid, Vidal), there's a lot of rich, ripe apricot, peach, and pear flavor, and often some spice and nuttiness. In less-common red-varietal versions (typically Cabernet Franc) it's like drinking strawberry jam. And though ice wine was born across an ocean, New York's Finger Lakes region—with its frosty winters and success with Riesling and Vidal grapes—has become a contender, with ice wines being made in the same traditional, labor-intensive method—and priced below some of the big-name imports. "The quality is great, but to do it you've gotta love it and make a real commitment," says Jim Trezise, president of the New York Wine & Grape Foundation.
Right now, that amounts to 22 New York producers—the first was Hunt County in Branchport, which started pressing frozen grapes back in the '80s. The Finger Lakes region has about 10,000 acres of land under vine, producing over 41,000 tons of grapes, with more than 100 bonded wineries fermenting them. "I'd guess that in any given winter, there is a very modest 10-acre land area of vineyard used for [ice wine]," says  Dr. Tim Martinson, senior extension associate of the statewide viticulture program at Cornell University in Geneva, N.Y.
It makes for very slippery numbers, too. How much ice wine does New York produce? It depends on the year. Winemakers who adhere to traditional methods might not get the right weather conditions one year, which means they won't be able to make ice wine from that particular vintage. The next year might be enough of a frosty boon to satisfy the sweet tooth of the entire state and then some. "Anecdotally, it seems to be a growing segment," says Trezise, who notes that producers like Casa Larga have barely walked away from wine competitions under the weight of all the medals their ice wines garner. And for those who dare to take the chance, the reward is worth the risk. "It's such an interesting product," says Steve DiFrancesco, winemaker for Glenora Wine Cellars in Dundee and Knapp Vineyards in Romulus, with whom I plucked whole frozen clusters on that dark, December morning. "The depth and complexity is amazing and can't be duplicated by easier methods."
If a Grape Freezes in the Woods…
By easier method, DiFrancesco is referring to the sometimes-controversial method of fabricating ice wine results via cryogenic freezing methods, instead of leaving grapes on the vine to freeze naturally. With the shortcut method, grapes are picked earlier and frozen cryogenically to produce a product with somewhat similar results. Winemaker Bruce Nicholson from Canada's Inniskillin, easily the gold standard for North American ice wine, agrees with DiFrancesco. "You have to do it properly or it doesn't really work. You can throw grapes in the freezer and they'll freeze. Heck, you can throw an apple in the freezer and it'll freeze! But grapes for ice wine need to be exposed to the elements; to freeze and thaw—it breaks down the cellular walls and gives the wine character. Cryogenic methods don't yield the same thing."
Germany and Austria have specific laws that a wine producer must follow in order to call a final product eiswein, as does Canada, whose own regulations are strictly overseen by its Vintner's Quality Alliance and modeled after those of Germany. In each of these countries, part of the law says that the grapes must freeze on the vine via Mother Nature and cannot be picked until the temperature drops below a certain point. New York (and the United States in general) doesn't have any such laws, although there are some labeling regulations. "If the grapes are frozen artificially, the wine can't be called ice wine and the label needs to say somewhere 'grapes frozen post-harvest,' " says DiFrancesco, who has made three cryogenic versions. "We call our cryo wines 'iced wines' and say so on the label and don't try to imply they are the real thing."
Still, some producers say it's not enough because the end result creates confusion for the unsuspecting shopper. "It's legal to say iced wine or just ice [e.g., Vidal ice] if it's made via cryogenic extraction, but consumers don't understand that it's not ice wine," says Andrea O'Neill who, with her winemaker brother John Colaruotolo, runs Casa Larga Vineyards in Fairport,  which at up to 600 cases annually, produces the most ice wine in New York. They also are the driving force behind the New York Ice Wine Festival in Fairport, the state's first and only all-traditional-method ice wine shindig, which takes place in February  (there's a second ice wine festival, the nICE Fesitval at the New York Wine & Culinary Center in Canandaigua, where they allow cryogenic producers to show their wares as well). "It's not bad to produce those products, but it's different. I would like to see New York wineries who are not producing ice wine in the traditional method take the word 'ice' off the label."
For now, Trezise is attempting to bring together the traditional New York ice wine producers with the cryo producers to come to a mutually agreed upon label wording. An added incentive comes in the form of a resolution passed by the World Wine Trade Group which put forth voluntary labeling requirements that would ask ice wine makers in Canada and the United States, as well as Chile, Argentina, Australia, New Zealand and South Africa where some producers have dabbled in ice wine as well, to use the words icewine, ice-wine or ice wine on a label only if the grapes were naturally frozen on the vine. Other than that, New York's traditional producers rely only on their good reputations and the cooperation of the weather.
The Colder, the Better
With only our headlights and the occasional Christmas tree bulbs flickering from a window to illuminate the silent, moonless morning, I follow behind Steve's car to a plot of Vidal grapes at the Knapp Vineyards in Romulus, left unharvested in the hope of fortuitously cooperative weather for making ice wine. There, off the northwest shore of 43-mile-long Cayuga Lake, we'll be harvesting whole clusters of frozen grapes from about an acre's worth of Vidal vines, a hearty, French-American hybrid whose thick skin handles the frosty weather well.
I pull into Knapp's dark parking lot as the light is beginning to break in the sky, and I meet my 25 fellow pickers, so concealed by down jackets, thick gloves and warm hats pulled low over ears, that I'm sure I wouldn't recognize a single one of them if we met on the street some other time. As multi-layered and thoroughly caffeinated as we all appear to be, it's impossible to ignore the cold—something that had DiFrancesco giddy for the good fortune of having a perfect picking opportunity, because the deeper the freeze, the sweeter the grapes. In Canada, for instance, the law is you can't pick until the thermometer drops to 18 degrees, but winemakers like Nicholson prefer to wait until even another 5 degrees or so down before plucking the bunches from the vines. In the days before we picked, I checked in daily with DiFrancesco, who was glued to the weather forecast; it wasn't until the day before I arrived that the forecast promised to be just right and he gave me the thumbs up to jump in my car and head north.
"Okay, everyone, we've got to move quickly!" says DiFrancesco to his eager troop. "For those of you who haven't done this before, we'll be picking whole clusters so the grapes don't get damaged before going into the press. That way the less sweet part of the crop, which would be the most frozen, will remain as ice; while the most sweet will press out as very sweet juice."
And therein lies the secret to ice wine: Allowing (or hoping for) late-ripened grapes to stay on the vine when temperatures dip below freezing allows the watery juice to freeze but the concentrated, sugary juice to remain. The grapes must be quickly brought in to be crushed before the sun can warm them, otherwise the juice melts and waters down the syrupy juice. It's an extreme-winemaking kind of challenge that pits a winemaker against time and temperature. It's also an incredibly costly prospect. Leaving grapes on the vine long past the usual harvest makes them ever-more susceptible to disease, the whims of weather, and the hunger of winter-starved birds and deer.
We trudge through the snow to the nearby vineyard plot, grab broad plastic bins and begin, using super-sharp vine pruners to cut the clusters from their vines. It's awkward at first, because thick, winter gloves make it hard to gently but firmly grab the bunches and cut the stems, but as we each get the hang of it, we pick up the pace. Even with hearty winterized hiking boots and three layers of warm socks, my toes feel painfully frozen in the first half hour. My fingers are moving so that keeps the blood flowing, but even through my thick insulated winter gloves, they still sting and make me wince. We fill tray after tray of the plastic bins, and within a very cold but exciting hour and a half, we've picked the whole lot. It's only 8:30 a.m., but the grapes have been loaded into a truck and driven swiftly to a press in a cold, open garage at the winery, waiting to crush the frozen fruit before even a drop of ice begins to melt.
DiFrancesco is on his 32nd vintage of  Finger Lakes wine, but this is only his second ice wine harvest. He's cautiously excited about the way things are looking: nice, healthy bunches of Vidal grapes frozen solid like icy glass chotskies, all ready for the bladder press, a cylindrical shaped wine press with an enormous inflatable pillow inside that puts even pressure on the grapes as it fills with air, and presses the juice through small holes. As the bladder expands and the press spins slowly, the frozen grapes sound like marbles rattling around inside. Ping, ping, ping. Which brings up the other costly part of making ice wine—how little you get back from the grapes in this frozen state. "Even if everything works out, what you lose is yield," says DiFrancesco. "One ton normally gives you about 165 gallons of juice; for ice wine, you get about 40 gallons from the same amount." But what's coming out of the press this day has DiFrancesco feeling nothing less than grape-giddy.
It takes several hours to press a single ton. When the horizontal press door is opened midway through, the frozen skins and pulp have formed an icy wall against the perforated metal drainage walls. I can't help myself and remove a glove to touch it—it feels as smooth and solid as a piece of glazed tile. Steve and his assistant winemaker pry the frozen pieces from the press walls, push it back in, and press it again to remove any remaining juice. Down below in the trough where the syrupy juice has drained, it smells like peaches and honey, even in the artic temperatures that would challenge the most scent-sensitive nose. At 9:30 a.m., DiFrancesco takes his first measurement of the brix of the juice—the big moment we've all been waiting for.
In a normal table wine, the degree of brix in the grapes—or, concentrated sugar levels—is usually somewhere in the 20s; ice wine is typically a minimum of 35, and sometimes higher. Without this minimum, the whole exercise could be for naught. "I'm hoping for the high 30s or low 40s," DiFrancesco had nervously said when we started that day. We all gather and hold our breath as he loads his refractometer—a small, hand-held device used for measuring brix—with juice.
After keeping the grapes in good shape for months on end, all the days of nail-biting about the weather, the freezing cold early-morning work in the vineyard, the slow-as-molasses crushing, would it be worth it? It's so quiet you could hear a grape drop as we all stare at DiFrancesco squinting one-eyed into his refractometer. His face is emotionless when, finally, he breaks into a huge grin. "It's 49 brix!" Cheers whoop from all of us. Vineyard manager Chris King raises a triumphant gloved fist in the air. The pickers jump up and down, as much for glee as for warmth. Assistant vineyard manager Tom Fish and lab assistant Natasha Nichols high-five. "If it had been 42, I would have been happy with that," says DiFrancesco. "But this …" This is pure New York gold.